Dr. Jill Biden Promises Joe Biden Will 'Make a Nation Whole' in DNC Speech
Former Second Lady Dr. Jill Biden likened the state of America to a "broken family" that could be healed with "small acts of kindness" during the Democratic National Convention on Tuesday evening.
Biden spoke at the virtual convention after Democratic delegates voted to officially nominate her husband former Vice President Joe Biden for the presidency. She recalled her relationship with the former vice president and his sons Hunter and Beau forming in the years following a 1972 car accident that claimed the lives of the newly elected Senator Biden's first wife and his daughter.
"I never imagined, at the age of 26, I would be asking myself: How do you make a broken family whole?" Biden said. "Still, Joe always told the boys, 'Mommy sent Jill to us,'—and how could I argue with her?"
"How do you make a broken family whole?" she added. "The same way you make a nation whole. With love and understanding—and with small acts of kindness. With bravery. With unwavering faith."
The former second lady's speech was delivered from her former classroom at Wilmington, Delaware's Brandywine High School, where she taught English from 1991 to 1993. Biden highlighted the detrimental impact of the COVID-19 pandemic has had on education, lamenting empty classrooms that are "heavy" with silence and saying she has been "heartbroken by the magnitude" of loss the virus has caused.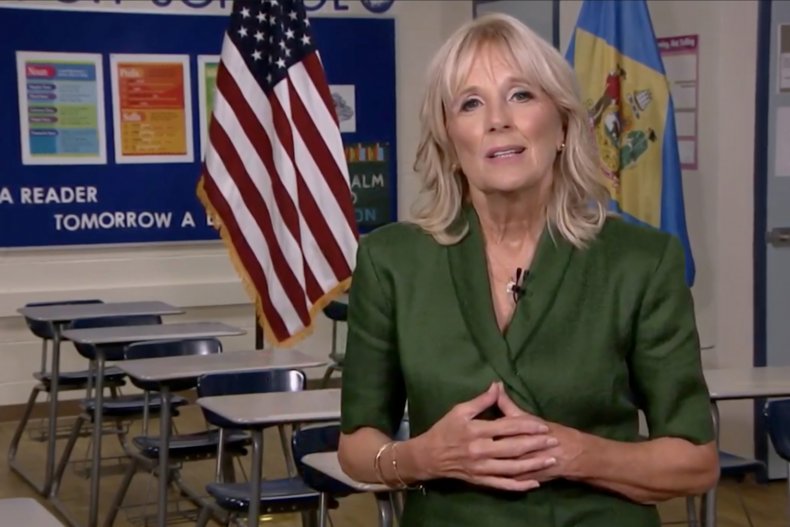 "So many classrooms are quiet right now. The playgrounds are still. But if you listen closely, you can hear the sparks of change in the air," Biden said. "Across the country, educators, parents, first responders—Americans of all walks of life are putting their shoulders back, fighting for each other. We haven't given up."
"We just need leadership worthy of this nation," she added. "And with Joe as president, these classrooms will ring out with laughter and possibility once again."
Joe Biden walked into the classroom and embraced his wife at the end of her speech, praising her as "the strongest person I know." He asked Americans to "think of your favorite educator that gave you the confidence to believe in yourself," adding "that's the kind of first lady Jill Biden will be."
During a CBS interview aired on August 9, Jill Biden said she plans to resume her role as an educator, which she put on hold during the campaign, if her husband wins the presidency. During her eight years as second lady, Biden continued to teach English courses at the Northern Virginia Community College.
"I would love to. If we get to the White House, I'm going to continue to teach," Biden told CBS. "And I want people to value teachers and know their contributions and to lift up the profession."
Newsweek reached out to the Biden campaign for comment.