'Dr. Mario World' Release Date and Features Detailed in New Trailer
Nintendo fans won't have to wait long for its next mobile game; the company announced Dr. Mario World is coming to iOS and Android devices in July.
Originally announced last year, Nintendo's surprise announcement Tuesday showed off the first Dr. Mario World gameplay. Fans will be able to play the mobile puzzle game starting July 12. Check out the gameplay trailer below.
GAMEPLAY
Dr. Mario World's gameplay is different from the classic Nintendo title. While the match-three format is still there, players will be able to touch and drag capsules to their desired locations on the board to eliminate viruses. Match the colors to get rid of those dastardly viruses. Each level will only give players a certain number of capsules so be sure to strategize and use each one wisely.
Like other mobile games, Dr. Mario World has a stamina system that limits the amount of time a person can play. It will cost one heart to play a stage, though hearts will replenish over time.
After completing a stage, players will earn Stars depending on their performance and the number of capsules remaining. At launch, there will be more than 200 stages with more to come in the future.
Players will also be able to face off against friends and other players in real-time online matches.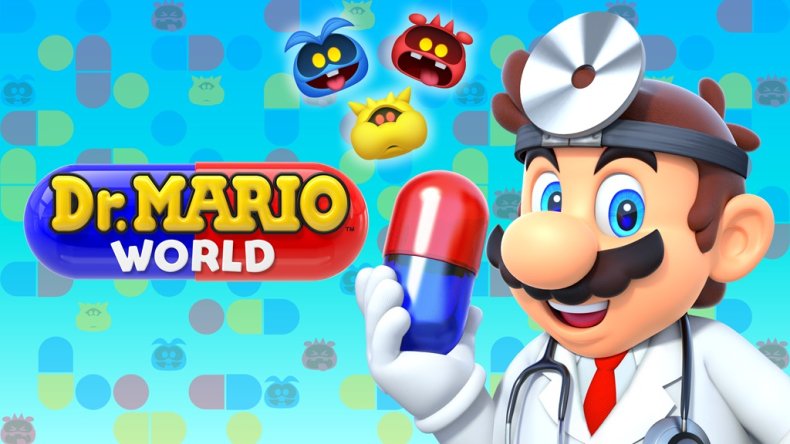 CHARACTERS
Dr. Mario World features a host of familiar characters to play as: Dr. Mario, Dr. Bowser, Dr. Peach, Dr. Toad, Dr. Luigi and more will each have their own special abilities, which can be purchased using coins and diamonds.
Dr. Mario's can eliminate one row of viruses no matter the color. Dr. Peach can clear one random column of viruses. Dr. Yoshi can eliminate three random objects on the board, while Dr. Toad can select 10 locations at random and eliminate them. Each character's abilities will have a different effect based on whether you are playing PVE or PVP, and can be leveled up.
Every match will fill up your skill gauge to use your character's ability or to create a rainbow capsule, which will match any color.
IN-GAME CURRENCY
Like other mobile games, Dr. Mario World will have its own in-game currency and monetized gameplay. Players can use real-world money to purchase more Diamonds in the in-game store, which can be used to add more capsules to your round if or to refill your stamina.
Items can be purchased with coins or diamonds. The Capsule+ will likely grant more capsules in a particular stage, while Skill Up will increase the rate at which your skill gauge will fill. There's also Score+ to increase your score at the end of a world, which helps players earn Stars. The Random boxlikely gives a random buff to your character.
Dr. Mario World will launch as a free-to-start title on July 12.
What do you think of the next Nintendo mobile game? Let us know your thoughts in the comments section below.