Dr. Mehmet Oz Holds 10-Point Lead Among Republicans Seeking Pennsylvania Senate Seat
Dr. Mehmet Oz, host of the daytime talk program The Dr. Oz Show, currently leads all other Republican candidates who have announced a run for an open Senate seat in Pennsylvania, according to a poll released on Monday.
The poll from the Trafalgar Group asked respondents who they would vote for if the 2022 Republican primary for U.S. Senate "were held tomorrow." Oz led the field of candidates, with 18.8 percent of the likely GOP voters surveyed saying they would vote for the celebrity physician.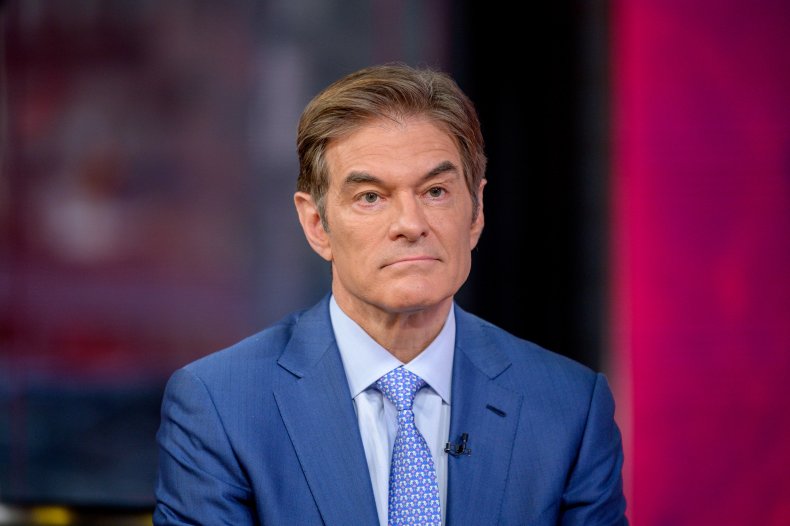 Kathy Barnette trailed Oz by more than 10 percentage points, with 8.0 percent of respondents saying they'd vote for the political commentator. Following Barnette in the poll were businesswoman Carla Sands (7.4 percent); businessman Jeff Bartos (3.2 percent); and attorney Sean Gale (1.0 percent).
An overwhelming percentage of the respondents hadn't made up their minds, though. More than half (50.8 percent) said they were still undecided about who they would support, while 10.8 percent chose "another candidate."
At least eight other candidates have announced runs for the Republican nomination in addition to the five people who made the top of the poll. They all look to replace the incumbent Senator Pat Toomey, a Republican who has said he will fulfill a campaign pledge of not serving four terms.
Sean Parnell, an Army veteran and former congressional candidate, was once a GOP front runner. However, he suspended his campaign in November after his estranged wife was granted physical custody and sole legal custody of the couple's three children.
The judge who made the custody decision also determined that Parnell, who was endorsed in the Senate race by former President Donald Trump, had committed past abusive acts toward his wife.
Oz announced his candidacy the week following Parnell's campaign suspension. In an online statement announcing his run, Oz criticized the COVID-19 pandemic response by "elites" who "mandated" policies and "closed our parks, shuttered our schools, shut down our businesses and took away our freedom."
Oz, who came to public prominence as a regular health expert on The Oprah Winfrey Show before launching his own show, has courted controversy in the past with comments regarding COVID-19. In March 2020, Oz endorsed using hydroxychloroquine to battle the virus, which has been called ineffective by many experts.
A month later, he said opening school during the pandemic would "only cost us 2 to 3 percent in terms of total mortality" of the population. He later said he had "misspoke."
When Oz served as a guest host for Jeopardy! in March, a petition denouncing his temporary role was signed by a group of former contestants of the show and shared online.
On December 13, Sony Pictures Television announced The Dr. Oz Show will end in after 13 season on January 14, 2022.
The Trafalgar Group polled 1,062 likely 2022 Republican primary voters in the statewide survey. The margin of error was 2.99 percent. The poll was conducted December 13 through December 16.