Dr. Oz Hammering Fetterman on Crime Could Be the Edge He Desperately Needs
Facing rising unfavorable numbers and polls in the Democrats' favor, Mehmet Oz—the Republican nominee for one of Pennsylvania's two seats in the U.S. Senate—is placing a new emphasis on crime in his bid to defeat the state's Democrat lieutenant governor, John Fetterman.
Appearing on Fox News Monday, Oz pivoted from concerns about the national economy to discuss the issue of crime facing Pennsylvania, particularly in the urban southeastern portion of the state. The move built on weeks of attacks against Fetterman's support of reducing the state's prison population and other progressive criminal justice reforms alongside recent reports in conservative media alleging his embrace of gang culture during his early days in politics in the early 2000s.
"We have the highest murder rate in our history in Philadelphia, we're probably going to break that record this year," said Oz. "John Fetterman is probably the most pro-murderer candidate in America."
Oz's campaign has deployed a number of attacks against Fetterman, including hits on his fitness to serve following a high-profile stroke earlier this summer and national anxieties around the state of the economy. However, the focal point of Oz's offensive strategy as of late has been crime.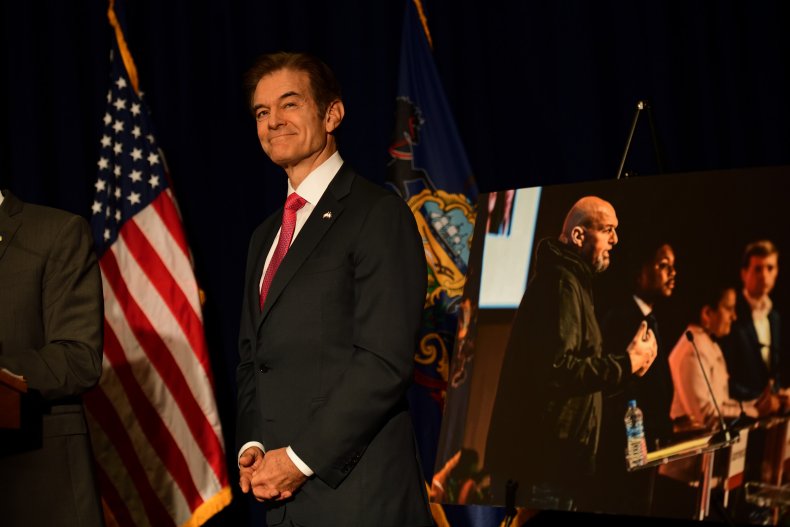 Both Oz and groups like the Republican National Committee have targeted Fetterman for his advocacy of progressive criminal justice reforms over the course of the campaign, while sheriffs in some conservative counties across the state—organized by Oz—have raised concerns with Fetterman's record on crime.
An August poll from Franklin and Marshall College showed crime (6 percent) to be the fourth-most important issue for all voters, behind taxes (7 percent), the economy (19 percent) and the state of politics writ large (22 percent.) An approximate 16 percent of voters saw either gun violence or crime as the state's top issue in a swing state poll by The Environmental Voter Project, with 14 percent saying abortion access was their top concern. And a CBS News Poll earlier this month revealed issues like crime, drug addiction and gun violence were seen as major problems facing the state by at least two-thirds of Pennsylvania voters.
The topic is of particular concern in the state's urban centers. After the 2018 election of progressive District Attorney Larry Krasner in Philadelphia, the number of people in the city's jails declined by 30 percent, according to his office's estimates, while the number of children charged as adults fell by 50 percent. While lauded by progressives—and effective enough to be reelected—polling has showed crime remains a salient issue in the city that contains nearly 13 percent of Pennsylvania's population.
June polling by A Greater Philadelphia—a Pennsylvania nonprofit that opposes progressive police reforms in the city—showed a majority of Democratic voters in Philadelphia saying the city was "on the wrong track," with policing and public safety the primary concern of more than 40 percent of voters there.
Other polling of registered Democrats showed two-thirds were worried about being the victim of a crime, while April polling by the Pew Charitable Trusts showed approximately 65 percent of city residents had heard a gunshot at some point in the previous 12 months.
Newsweek has contacted Fetterman's campaign for comment.
But are Oz's attacks enough to overcome the national bump from Democratic fears over abortion access? Fetterman hasn't run away from his position on criminal justice reform—often touting its successes in his campaign ads. And while his strategy has focused more intently on digging into Oz's unfavorable ratings among Pennsylvania residents—now at 52 percent, according to a recent Monmouth University poll—abortion access has remained a centerpiece of his campaign.
"They want to take away your choice," Fetterman said in a September 7 digital advertisement digging at Oz and GOP gubernatorial candidate Doug Mastriano. "I would fight for it."
Some polls have indicated that the national fervor around the overturning of the 1973 Roe v. Wade ruling could make a difference in the race between the two men. While the economy is by and large the most important issue to voters, according to the Monmouth poll, a greater number (13 percent) named abortion as a top concern over crime (9 percent). August polling by Emerson College yielded similar results.
The disparity was even greater in a September poll by Muhlenberg College, which found crime to be a top concern for just 3 percent of voters, compared to 20 percent of those who considered abortion their top concern. CBS polling has also shown abortion to be the top issue among the Democratic base, giving Fetterman a sizeable bump. According to the CBS poll, nearly three-quarters of Democrats said the overturning of Roe v. Wade made them more likely to vote this year, compared to just 30 percent of Republicans.