New Dr. Pepper Dark Berry Flavor Honors Spider-Man's Mysterio: When and Where to Buy the Limited Edition Drink
A new Dr. Pepper Dark Berry flavor is on its way. Find out when and where you can buy the limited-edition soda offering, here.
A new Dr. Pepper flavor has been spotted in the wild and fans of the cherry-vanilla flavored soda pop can hardly contain their excitement. Dubbed Dark Berry, just hearing the name has us practically salivating in anticipation. The new flavor was teased roughly six months ago in posts on Instagram and Twitter. The posts surfaced around the time that Jake Gyllenhaal joined Spider-Man: Far From Home as the villain Mysterio. The packaging for the new Dark Berry Dr. Pepper suggests the soda will release as a promotional item to fire up interest in the upcoming Spider-man Far From Home film, debuting July 5, 2019. The can is a dark cobalt blue and the artwork on the cans show Mysterio with London's famous Big Ben in the background.
When Does Dr. Pepper Dark Berry Release? Where Can I Buy It?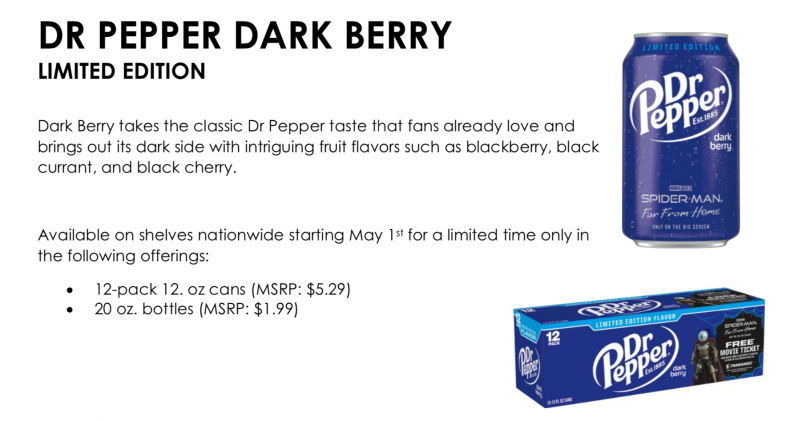 UPDATE: A representative for Dr. Pepper has confirmed that the new Dark Berry flavor will be available nationwide on May 1, 2019. Pricing and availability information is listed above. You can also purchase it on Amazon.
Earlier this month Dr. Pepper's official Instagram account posted a photo with the date 05/01/19 and a caption reading, "This date seems … important." It's possible May 1 will be the official release date for Dr. Pepper Dark Berry. Newsweek has reached out to Dr. Pepper for confirmation. The date makes sense in terms of marketing the new Spider-Man film. Samples of the new flavor were also provided at Utah's FanX Salt Lake Comic Convention last weekend.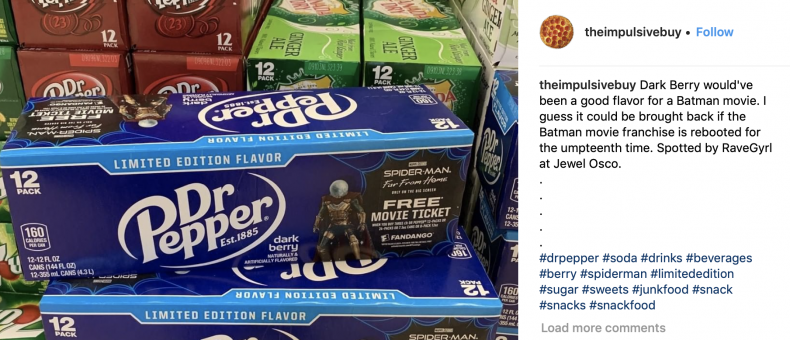 In terms of where Dark Berry Dr. Pepper will be sold, no specific locations have been named. A post on The Impulsive Buy website indicates that boxes of the new Dark Berry flavor have already been sited at a Jewel-Osco supermarket. Our guess is the new soda flavor will be made available anywhere soda pop is regularly sold. This would include places like Walmart, Target and your local grocery marts.
Are you excited to try the new Dark Berry Dr. Pepper? Share your thoughts in the comments below!
​