Dr Ruth Westheimer Keeps Talking About Sex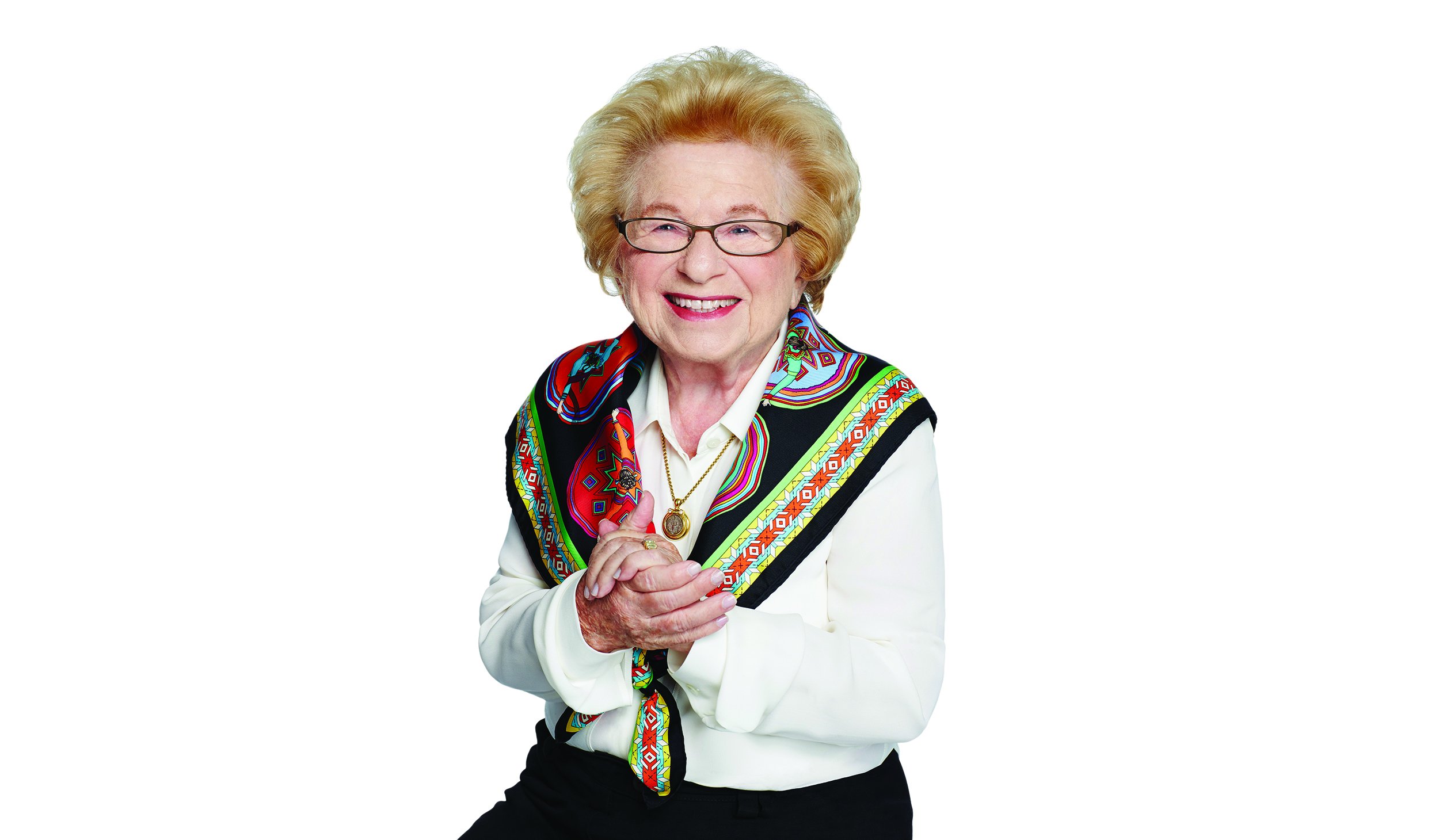 By Senior Editor Lesley Savage
Dr. Ruth Westheimer has been talking about sex for almost four decades, and she has no intention of stopping anytime soon. Her latest book, The Doctor Is In: Dr. Ruth on Love, Life and Joie de Vivre, is out just in time for her 87th birthday in June.
What do you love about sex, and why do you think you'll never retire?
Well first of all, I think it's a life-force. I think that without it none of us would be here, and I think that me being so Jewish helps because in the Jewish tradition, sex has never been a sin. I use the phrase every day, "Not to retire but to rewire."
How has the way we discuss sex changed since you began your career?
In this country, we now have the best scientifically validated data about human sexual functioning that has ever been available. When I started on the radio in 1980, there were very few people that were talking in explicit sexual terms—like orgasm—and I was able to do that. I was already 50 years old, and because of my accent, people knew it was me.
What else has changed?
We have less women who don't have sexual satisfaction. Sigmund Freud was a brilliant psychiatrist, but he was sexually unknowledgable because he said that any woman who needs clitoral stimulation or who doesn't have an orgasm during intercourse is an immature woman, and we know much better now that just is not so.
If there is one thing that a couple could do to have better sex, what would it be?
The one thing I hear the most about, and that I think we need to talk even more about, is boredom. If people engage in sex, even the ones who eventually have orgasms, if it's always the same position, if it's always the same day of the week, in the same predictable way, it becomes boring. And boredom is a big problem.
Anything else standing in our way?
One more thing, because of today's world, is unrealistic expectations. What is shown in movies is not happening in the bedrooms of America. People need to know the difference.
Speaking of which, have you seen Fifty Shades of Grey?
I haven't seen the movie, but I have read all three books and don't think it's required reading. But it makes the point that I've been making all these years, which is that women get aroused by sexually explicit material. They used to think that only the men did, but that's not so.
Do you believe that our brain is our main sexual organ?
I think that sex is not between the waist and the knees but up in the brain. That's the main thing, but the body has to be involved; the woman has to communicate, and the man has to have an erection in order to be sexually active. But the brain has to be a part of it.
How has science affected the way we discuss and view sex?
The studies by Masters and Johnson of actually showing an orgasmic response and the studies they did in a scientific way with validated data were instrumental. That's why I'm saying I'm standing on the shoulders of giants, and now we need another study like that, another scientifically validated study by a university or medical center to go even further than what Masters and Johnson did.
What do you think about the research that says because kids watch so much porn from a young age, they can't connect in real life?
I doubt that. The sex drive—the libido—is a very strong one. So I don't think that youngsters who used to look at Playboy would have been prevented from being good lovers. I used to say to parents that if you know your kids are reading Playboy, pretend that you never saw it. A certain amount of secrecy has to remain in the teaching of sexuality.
What is the difference between sex and love?
The best sex is when there is a relationship. I'm not saying that one-night stands don't happen and that they can't be a good sexual experience between two people. But sex in relationships is better sex.
Do you think romance still exists today?
Absolutely, and when I talk about anything that has to do with good sexual functioning, I talk about relationships and the importance of keeping romanticism and that spark alive. It is very sad when people start to believe that courtship and relationships don't matter.
Some scientists say sex might not even be necessary in the future. Do you think we're headed to a sexless future?
God forbid! I want people to have good sex for the rest of their lives!
This article appears in the Newsweek's special edition, Science of Sex, by Issue Editor Lesley Savage of Topix Media Lab.