Dr. Sanjay Gupta has shared a behind-the-scenes insight into working on Jeopardy!, as he becomes the latest star to guest host the quiz show.
The chief medical correspondent for CNN is currently hosting the syndicated show, after succeeding Savannah Guthrie, as producers search for a new permanent presenter to replace the late Alex Trebek.
And in an essay for CNN, Gupta has revealed that he worked under tight security while pre-recording his episodes, in a bid to ensure none of the clues fell into the wrong hands.
Gupta wrote: "[The] show's standards and practices team was omnipresent on set. They shared some of this history with me and also gave practical tips, reminding me to keep close tabs on any papers that contained clues, even asking that I put them in the hotel safe whenever I left the room.
"I wasn't supposed to share clues with anyone, obviously, not even my spouse. While I was given multiple show scripts, I wasn't told the order we would tape them until just before filming began. And, even after that, the order could be changed again to ensure no one had advance notice of the clues.
"Even the contestants themselves weren't certain when they would be called into a new show. There was a constant and purposeful shuffling of schedules and content to maintain that sterling history of high integrity. I felt it all around me."
Navigating the language of the show—where the clues are read as answers and contestants respond in a question format—was, naturally, a point of much focus.
On the occasion that one of the contestants slipped up and didn't respond in question form, Gupta revealed that he was advised to tell them "watch your phrasing," while accepting the answer.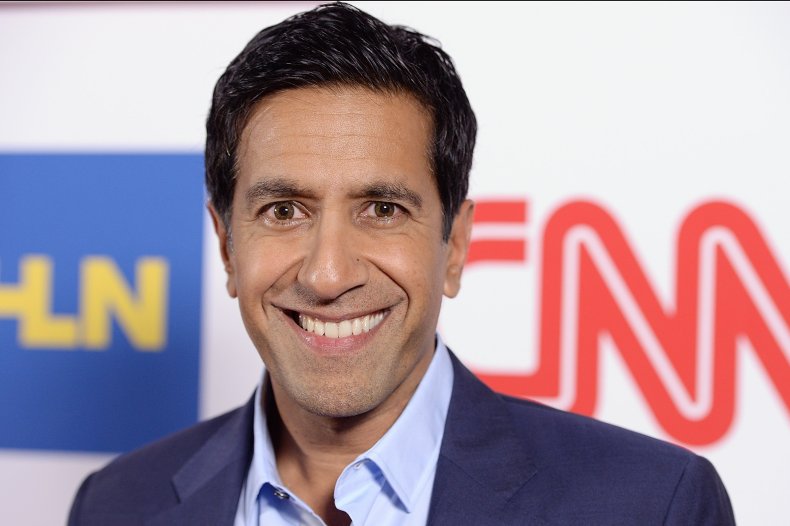 He said: "If it happens during 'Double Jeopardy!,' I was told to 'stare down' the contestant until they either figured out their mistake or time ran out, at which point I would say 'no' and wait for another contestant to ring in. Remarkably, it didn't happen very often."
Explaining how his background as a neurosurgeon prepared him for the role, Gupta went on: "In many ways, I prepped for the guest hosting role the way I prepare for an operation, diligently reviewing not only the diagnosis and anatomy of the patient, but the space and environment where I would be performing the operation."
Gupta, the son of engineers, called the experience "an honor of a lifetime" as he concluded: "Nowadays, I have three teenage daughters of my own and they will usually snuggle in close for that half-hour a day. We enjoy the same competitiveness and camaraderie I had with my parents.
"And for the first time in 16 months, my mom and dad will be coming to visit, as well. They didn't want to miss the chance to once again celebrate knowledge, facts, data and evidence. It will be special, comforting and more important than ever."
After his guest-hosting slot was announced, Gupta took to Instagram in February to pay tribute to Trebek, who died in November 2020 following a battle with cancer.
He wrote: "I used to watch @jeopardy with my parents and now with my own kids. The thing is: there is just something so beautiful and reassuring about facts, simple straightforward facts. I cherish that. An honor to be an upcoming guest host, but seriously miss the great Alex Trebek."
Gupta's guest-hosting stint on Jeopardy! kicked off on Monday, and is set to conclude on July 9. Among the stars set to succeed him are George Stephanopoulos, Robin Roberts, LeVar Burton, David Faber, and Joe Buck.
Jeopardy! executive producer and showrunner Mike Richards confirmed back in May that a decision on the new host will be made before the next season of the syndicated show begins taping later this year.
"You want to make an informed decision," Richards said on The Journal podcast. "We want to go at this with real analytics and real testing and not just go, 'Hey, how about this guy?' which is kind of how a lot of these decisions have been made historically."