Dr. Seuss Cartoons With Racist and Anti-Fascist Images Go Viral
Social media users have reacted to the decision to cease publication of some of Dr. Seuss's books due to racist and insensitive tropes, sharing some of the controversial images that the children's author created.
In a statement on Tuesday, Dr. Seuss Enterprises announced that six titles by the author, born Theodor Seuss Geisel, would no longer be published or licensed.
The books are And to Think That I Saw It on Mulberry Street, If I Ran the Zoo, McElligot's Pool, On Beyond Zebra!, Scrambled Eggs Super!, and The Cat's Quizzer.
"These books portray people in ways that are hurtful and wrong," it said, adding that ceasing the sales of these books is "only part of our commitment and our broader plan to ensure Dr. Seuss Enterprises' catalog represents and supports all communities and families."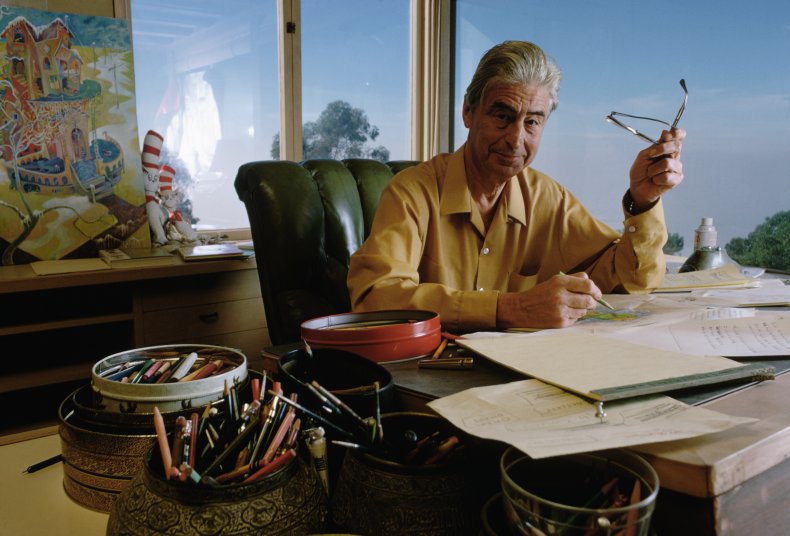 The decision was announced on Tuesday, the 117th anniversary of his March 2 birthday—which coincides with Read Across America Day.
While there has been growing unease among some school districts over how his work depicted ethnic minorities and others, ceasing publication of some of his books sparked much debate on Twitter, as users shared some of the images he drew.
Commentator Tariq Nasheed tweeted one of his cartoons depicting three black men in apparent tribal garb sitting on top of elephants. One of the men is wearing a crown and asked if his wife is on vacation. He replies: "I simply had to swap her for this Flit gun."
Alongside the images, Nasheed wrote to his 264,000 followers: "So people are just now finding out about the anti-Black cartoons Dr. Seuss used to make?"
Nick Jake Pappas disputed the claim it had anything to do with ongoing culture wars, tweeting, "No one is "canceling" Dr. Seuss."
With it, Pappas shared a Dr. Seuss cartoon in which three Asian men are carrying a cage with a large bird in it. The cartoon's text describes them as wearing "their eyes at a slant." Pappas wrote "it's obviously racist", adding that, "Yes, Dr. Seuss evolved. Anyone can."
"Show me someone upset about this and I'll show you someone unwilling to evolve," Pappas added.
However, Twitter users also shared images by the cartoonist that satirized racist American nationalists, referring to a slogan that chimes with today. One from the 1930s shows a man with a Swastika on his front with a beard which is entwined with a man wearing a jacket with the words "America first" emblazoned on it.
Another shows a woman in a top also with the words "America first" on it, reading a book to her children called Adolf the Wolf.
Three decades on from his death in 1991, Dr. Seuss's books are still popular, earning an estimated $33 million before taxes in 2020, more than three times more than their sales generated five years ago.