Dr Seuss Books Spike in Value on Resale Market After Publisher Discontinues Six
Following the announcement that Dr. Seuss Enterprises would stop publishing six of the beloved children's author's books due to insensitive imagery, the books in question have popped up on the resale market with huge markups, and are selling out on some sites.
In a statement released on Tuesday, commemorating what would've been Seuss' 117th birthday, Dr. Seuss Enterprises announced that it would stop publishing and licensing And to Think That I Saw It on Mulberry Street, If I Ran the Zoo, McElligot's Pool, On Beyond Zebra!, Scrambled Eggs Super! and The Cat's Quizzer.
"These books portray people in ways that are hurtful and wrong," the company said. "Ceasing sales of these books is only part of our commitment and our broader plan to ensure Dr. Seuss Enterprises's catalog represents and supports all communities and families."
Given that new copies of these books will not be available for the general public to purchase, it appears that collectors and Seuss' fans are rushing to try to get copies secondhand. A search on the popular reseller ThriftBooks.com shows that all of the aforementioned titles are "Temporarily Unavailable." Mulberry Street appears to have caught the most attention from ThriftBooks shoppers—the site lists 306 people as being interested in the picture book. McElligot's Pool appears to be the second-most popular, with 279 people marked as "interested" on ThriftBooks.
The announcement that the books would be going out of print also likely surprised some eBay users, but that hasn't stopped them for acting fast. A copy of If I Ran the Zoo, which was listed for 99 cents on February 23, was recently bid on 43 times (all on Tuesday) to reach a $395 value as of 10:35 a.m. ET on March 2.
A copy of Mulberry Street was listed for $2.99 on February 26 on the internet auction site and reached a $216 bid by 10:10 a.m. ET on Tuesday. Even a copy with a cover that looks significantly worn and damaged was listed in February for $14.99 and reached a $177 bid by 9:35 a.m. ET on Tuesday.
Other copies of some of the controversial Seuss books have reached even higher prices on eBay, due to sellers' claims that they are vintage or first editions. A copy of The Cat's Quizzer, which the seller implies is from 1976 from the listing, has gone from a $9.99 starting price listed on Monday to a $510 bid as of 9:59 a.m. ET. And that's despite the seller noting that the book has a "few minor blemishes."
One of the most extreme examples of a price hike following the announcement was a copy of If I Ran The Zoo, which the seller claims is a vintage first edition from 1950. It was listed on Monday for $0.99 and has reached an $810 bid as of 10:42 a.m. ET.
And even as we're writing this story, a number of new listings have appeared on eBay. It's unclear if all of the listings are people trying to make a quick buck off of the news about children's books, but a few are obviously playing on it, listing the copies as "BANNED."
Rebecca Romney, CEO at Type Punch Matrix, a rare book firm based in the Washington, D.C. area, wrote to Newsweek in an email that surge in Dr. Seuss books is just a demonstration of that age-old economic model—supply and demand.
"I expect we will see more copies of these books appear on the resale market as owners begin to notice there is new demand for them. The prices of the secondhand market are based in the basic equation of supply and demand. As demand increases, people who have copies of these books will act to meet that demand. Normally the secondhand market doesn't play out quite this cleanly, since sellers can't manufacture their product from scratch to meet new demand. But in this case it does work out in a fairly straightforward way because there are thousands of existing copies out there, ready to meet that demand simply by being made available," she wrote.
And despite the fact that prices may be jumping up now, Romney noted that an author as popular as Dr. Seuss is sure to have many copies of his books out there, even if there aren't new copies being published.
"Dr. Seuss has been an incredibly popular author historically, so there were many, many copies of his books printed and these have been easily available for decades: what people are chasing now is the story that these may become entirely unavailable in the future. There is a certain type of person for whom hearing they can't have something only makes them want it more. But the fact of the matter is that there are thousands of these secondhand copies scattered across the country, and eventually such buyers will realize that there is no practical danger of these books becoming truly unobtainable. In other words, the current Seuss rush strikes me as both psychologically compelling and logically unrealistic. It's a resale hurricane right now, but this chaos will pass," she wrote.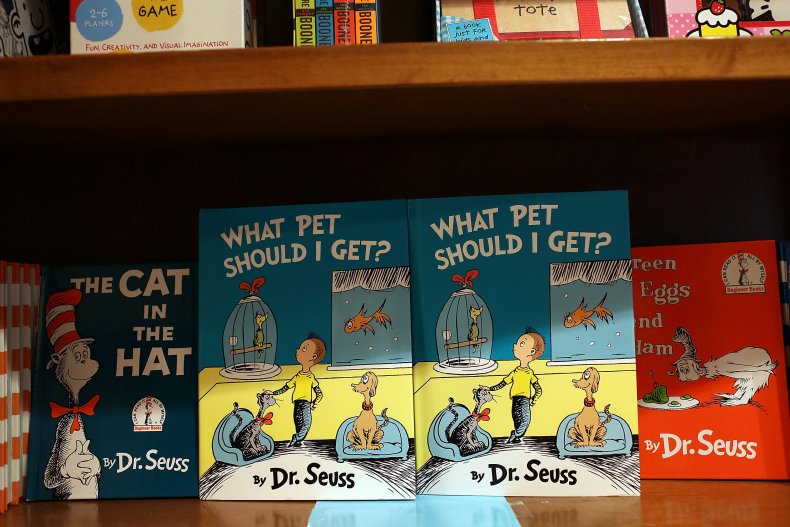 Updated 3/2/2021, 1:57 p.m. ET: This story has been updated to include comment from Rebecca Romney.