Who Was Dr. Wu Lien-teh? Google Doodle Celebrates Surgical Face Mask Pioneer
Dr. Wu Lien-teh is celebrated in today's Google Doodle on what would have been his 142nd birthday. The Chinese-Malaysian epidemiologist invented a surgical face covering that is considered the precursor to the N95 mask, which is widely used today to combat the spread of COVID-19.
Wu was born on this day in 1879, to a family of Chinese immigrants in Penang, Malaya, which is modern-day Malaysia. Wu became the first student of Chinese descent to earn his MD from Cambridge University before joining China's Imperial Army Medical College as vice director in 1908.
In 1910, an unknown epidemic hit the Manchuria region and the Chinese government appointed Wu to investigate. He identified the disease as a highly contagious pneumonic plague that spread through respiratory transmission, which became known as the Manchurian plague.
One of the ways Wu helped to combat the spread of the disease was by designing a surgical mask with cotton and gauze that included several layers of cloth to filter inhalations.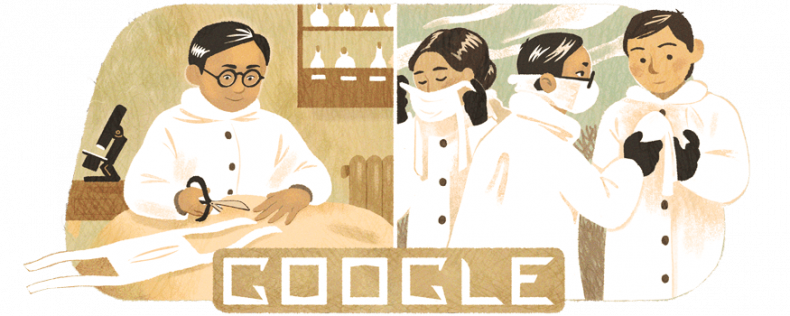 Wu advised people to wear his mask and worked with the government to establish quarantine stations and hospitals, restrict travel and apply progressive techniques to sterilize equipment.
The doctor's leadership helped to end the pandemic in April 1911—within four months of him being tasked with controlling the spread.
Wu founded the Chinese Medical Association, the country's largest and oldest non-governmental medical association, in 1915. Twenty years later, Wu became the first Malaysian, and the first person of Chinese descent, to be nominated for the Nobel prize in physiology or medicine.
Google says: "A devoted advocate and practitioner of medical advancement, Wu's efforts not only changed public health in China but that of the entire world. Happy birthday to the man behind the mask, Dr. Wu Lien-teh!"
Dr. Wu Lien-teh's great-granddaughter, Dr. Shan Woo Liu, is an attending physician at Massachusetts General Hospital and an associate professor of emergency medicine at Harvard Medical School. She has written a children's book about him titled Masked Hero: The Story of Wu Lien-Teh.
Dr. Shan Woo Liu told Google: "We are honored that Google is celebrating our great-grandfather's birthday. Just over a century ago, he helped fight off a plague in China and developed techniques such as mask-wearing that we still use today in our battle against COVID-19."
She added: "A year ago, I was terrified by how little we knew about the coronavirus. Even now, I struggle to imagine how my great-grandfather must have felt as he cared for patients who had contracted the plague.
"But I also feel closer to him than ever as I urge my patients to practise social distancing and to wear a mask—the very techniques he pioneered as he rescued China, and possibly the world, from a scourge. Wu Lien-teh remains as much of a hero now as he was then."