'Dracula' on Netflix: Why a Key Character Was Gender-Swapped
In Dracula, Van Helsing is a fierce vampire hunter, long-time nemesis of the fearsome count...and also a slightly sacrilegious nun. At least, that is the version of the character we see in the new BBC and Netflix version, as played by the actress Dolly Wells.
When we are first introduced to Sister Agatha Van Helsing (named Abraham in the Bram Stoker novel), she is a nun questioning Jonathan Harker (John Heffernen) after he seeks sanctuary in her convent. Emaciated, and possibly dead already, Harker recounts the trials and travails of his life since meeting Count Dracula (Claes Bang) in the first half of Episode 1 of Dracula.
However, it is not until the end of the episode that we learn that Agatha is Van Helsing, described in the novel by Mina Harker as "a man of medium height, strongly built, with his shoulders set back over a broad, deep chest and a neck well balanced on the trunk as the head is on the neck."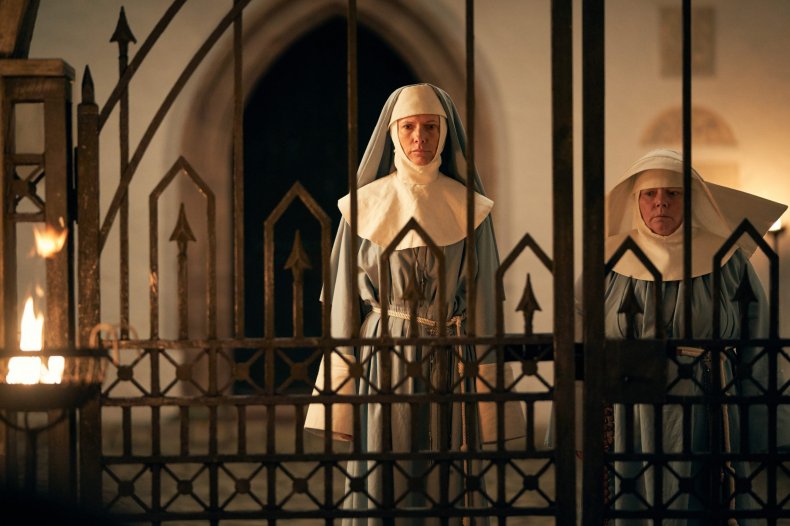 Fans of the 1897 novel may also remember Sister Agatha as the nun who tends to Jonathan after his encounter with Dracula, described by Mina in the novel as a "good creature and a born nurse."
Speaking at the premiere of Dracula, attended by Newsweek, series co-showrunner Steven Moffat revealed that the character started simply as the Sister Agatha from the book, and only became Van Helsing as they began to widen the character's role.
He said, "She's got a tiny, tiny role in the book—she's got a much better agent now, clearly! We were trying to work out how to write these scenes and make them interesting because there's a dead man talking to a nun. It's not potentially that riveting.
"So we came up with the idea of an atheist nun, we just called her 'Atheist Nun,' the nun who didn't really believe in anything and made lots of jokes, and that character immediately leapt to the top of the script. You just thought, 'my god, that's great.'
"And very, very quickly, we thought, 'that's Van Helsing, isn't it, we don't need anyone else, we just need the nun. Then you just think, 'nuns are more or less dressed in the superhero outfit for fighting vampires, aren't they? Why didn't Bram think of that one?!'"
When Dolly Wells was first brought on to play the 'atheist nun,' she had no idea that the character was becoming Van Helsing. She said, "I didn't know at the beginning. I just knew that she was a crazy cool woman, the coolest woman I've ever read on the page, but I didn't know she was Van Helsing. I just knew that I really wanted to be her. Like me, she's a bit Dutch, and I went to a convent school and wanted to be a nun until the age of 12."
Dracula is streaming now on Netflix.