DraftKings NBA Promo: Get $150 Bonus Bets With a Win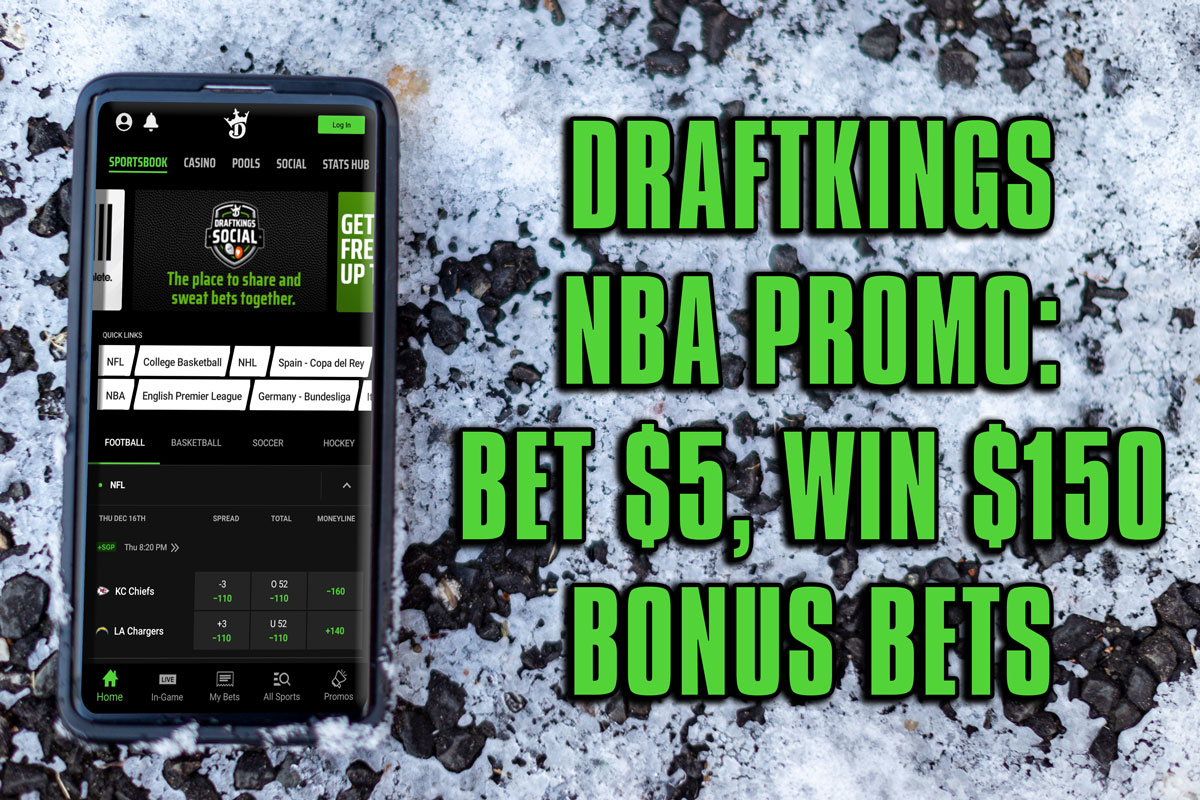 Sports Betting Dime provides exclusive sports betting commercial content to Newsweek, including real-time odds, picks, analysis and premier sportsbook offers to help sports fans get in on the action. Please wager responsibly.
There is a brand-new DraftKings NBA promo now available for basketball bettors this weekend. Players who sign up for an account will be able to turn a $5 wager in to a $150 return in bonus bets if their team wins its game.
This weekend's NBA slate features some huge games, as well as a number of lopsided matchups. You can turn a $5 bet into $150 in bonus bets with a winning money line wager when you sign up for this DraftKings NBA promo.
If you want an easy way to earn a 30x return on a $5 wager, DraftKings Sportsbook has you covered. Their new user promo for the NBA includes a 30-1 odds boost on any team to win its game. You can bet on any NBA team to win, no matter how heavily-favored they are.
Bet $5, win $150 in bonus bets if your team wins its game when you register for an account and take advantage of this DraftKings NBA promo offer.
Bet $5, Win $150 Bonus Bets With This DraftKings NBA Promo
Any sports bettor who plans on wagering on this weekend's NBA action should strongly consider signing up with DraftKings Sportsbook. It's important to note that their NBA promo can be used on any team to win its game this weekend. Since you're not limited to a specific odds requirement, you can throw down $5 on a heavy favorite for a safer shot at earning $150 in bonus bets.
Friday night's heaviest favorite is the Golden State Warriors, who enter play as a -500 money line favorite. That means it would usually take a $750 wager to win the same $150 offered by this promo. Saturday has an even bigger favorite, as the Utah Jazz are a -540 money line favorite against the San Antonio Spurs.
How to Sign Up for This DraftKings NBA Promo
DraftKings Sportsbook's new user promo only takes a few minutes to register for. Once you complete the following steps, you will earn a 30-1 odds boost for the NBA team of your choice to win its game:
Register

for this DraftKings NBA promo
Fill out the necessary information sections
Add $5+ to your account via the deposit method of your choice
Wager $5 or more on any NBA team's money line
If your team wins, you will receive six $25 bonus bets. You can use the bonus bets on games in any sports league this weekend.
NBA Title Odds
The NBA Finals are still a few months away, but DraftKings has some competitive odds on which team will hoist the Larry O'Brien Trophy at the end of the year. Entering this weekend, the Boston Celtics are DraftKings' favorite to win the NBA title at +270 odds. Not far behind are Devin Booker, Chris Paul and Kevin Durant's Phoenix Suns at +425 odds.
The Milwaukee Bucks (+600), Denver Nuggets (+750) and Los Angeles Clippers (+900) are the remaining teams in the Top-5. The Philadelphia 76ers (+1100) and Dallas Mavericks (+1600) have legitimate star power and could be worth taking a flier on. If you believe Steph Curry's eventual return could catapult the Golden State Warriors to the NBA Finals, now might be the time to take them to win it all at +1900 odds.
Sign up for this DraftKings NBA promo to bet $5, win $150 in bonus bets if your team wins its game.
Newsweek may earn an affiliate commission if you sign up through the links in this article. See the sportsbook operator's terms and conditions for important details. Sports betting operators have no influence over newsroom coverage. If you or a loved one has a gambling problem call the National Council on Problem Gambling 24/7 at 1-800-GAMBLER. Must be 21 or older to gamble.