Navy Sailor Performs as Drag Queen 'Harpy Daniels' to Boost Troop Morale
Joshua Kelley joined the Navy, just like his father. Unlike his father, Kelley dresses in drag to help keep troop spirits high.
Kelley, who is his squadron's administrative supervisor, is stationed on the USS Ronald Reagan in Yokosuka, Japan. During events organized by the Navy's Morale, Welfare and Recreation department, the supervisor performs "Harpy Daniels."
"My biggest performances here are the lip sync competitions we hold to build up morale," Kelley, 24, told NBC News. "Once I made it into the (lip sync competition's) finals, I asked to perform every night."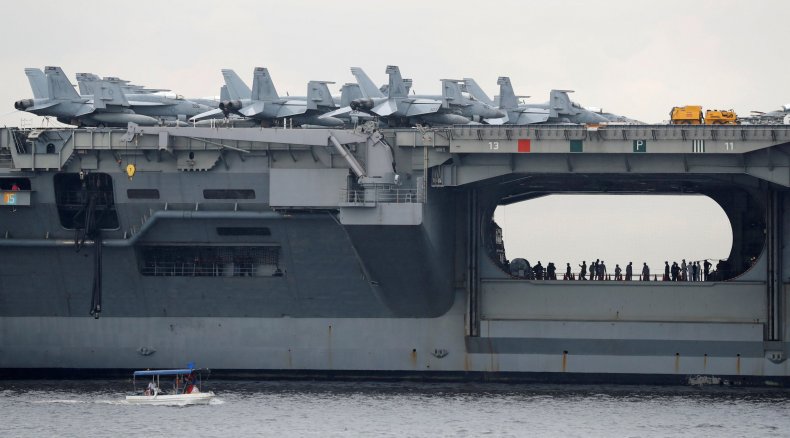 The U.S. military has not accommodated LGBT rights with ease. Less than two decades ago, the Navy recorded 968 anti-gay harassment incidents in just 12 months, according to CBS News.
Even after President Barack Obama officially repealed the controversial "Don't Ask, Don't Tell" policy in 2011, the military still banned transgender individuals from serving. In 2016, the Pentagon altered its policies, allowing transgender individuals to join. But the White House attempted to reverse the former president's directive in March, once again prohibiting transgender service. Courts have repeatedly blocked the Trump administration's attempt to implement the transgender ban.
Human Rights Campaign, the largest LGBT civil rights advocacy group in the U.S., criticized the attempt to ban transgender soldiers.
"A RAND Corporation study commissioned by the Department of Defense determined that there are no readiness implications that prevent transgender people from serving openly and that numerous foreign militaries have successfully permitted open service including the United Kingdom, Australia, Canada, and Israel," the organization wrote in a statement posted on its website. "The policy allowing transgender troops to serve openly does not grant any special exceptions. Transgender service members are held to the exact same rigorous standards as every other service member. They simply are no longer arbitrarily barred from service because of their gender identity."
Despite the military's troubled history of LGBT integration, Kelley said he had not experienced any discrimination.
"I have many LGBT friends here, and if you can stand at attention properly and speak with proper etiquette, that's what it comes down to in the Navy. No one tells me I'm too feminine. I've not once had a bad experience as a gay man in the military," he told NBC News.
Kelley enlisted in the Navy two years ago, but his experience performing in drag began in 2013.
His parents were not initially supportive of his decision to perform as Harpy Daniels.
"When I told my parents about me doing drag, they were worried," he said. "They were like, 'Why are you going around dressing as a woman?'"
But then his father came to a show. "He cried and said, 'I didn't know what this was,'" Kelley said. 'I didn't know it was all this joy.'" While his mother doesn't fully understand, he said, "she wants me to be happy."