Drag Queens Plan Protest at State Capitol Against Bill That Would Jail Librarians for Displaying Age-Inappropriate Material
Drag queens nationwide are planning a large rally at Missouri's state capitol on March 7 in protest of a bill proposed by a state representative who wants to jail librarians who choose to host drag queen story hours—or allow children to take lgbtq-themed books out of the library.
To Republican Missouri State Representative Ben Baker, the Parental Oversight of Public Libraries Act is a matter of safety. "The main thing is, I want to be able to take my kids to a library and make sure they're in a safe environment, and that they're not gonna be exposed to something that is objectionable material," said Baker to KOAM-TV. "Unfortunately, there are some libraries in the state of Missouri that have done this. And that's a problem."
"That's where in a public space, our kids could be exposed to something that's age-inappropriate. That's what I'm trying to tackle," he said to the Kansas City Star.
Under the Parental Oversight of Public Libraries Act, books with "age-inappropriate sexual material" would be moved to an age-restricted area of the library, and no child would be able to check them out. All books intended for children would be subject to review by a five person panel elected by voters who would decide what is appropriate for children to read at public hearings. The panel would also regulate library events.
Librarians who defy the law will be subject to jail time up to a year or fined $500, and libraries who refuse to form panels will be subject to having their access to state funding removed.
"The main thing that I've heard is that I want to ban books or ban content or censor content, and that's not the case. I just think that there's a line between what is open and available access for our children," Baker told KOAM-TV. "If the adult wanted to, and said I'm okay with my child reading this or looking at this, then they could check that out, and have that available for their child. I just think that we need to be careful about funding something with our taxpayer dollars without parental consent."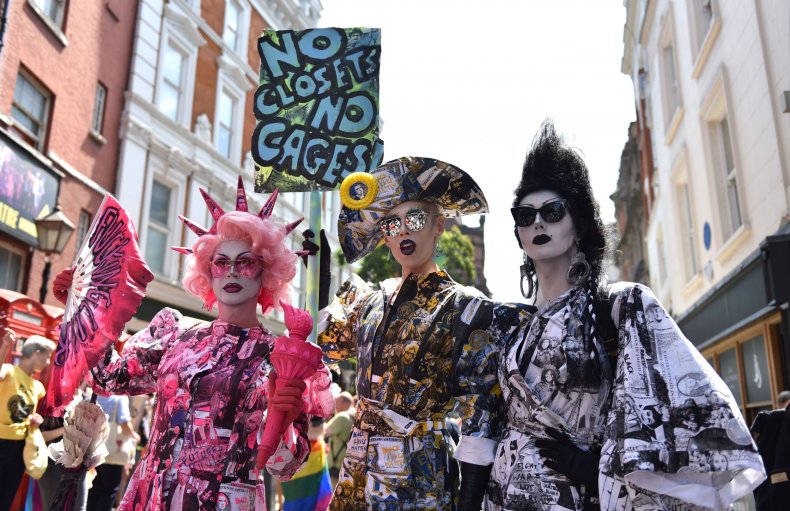 Drag queens and librarians alike are both upset by the bill.
"I was contacted by my fellow directors across the state. They're all very very upset about it," said Carrie Cline, Director of the Neosho Newton County Library, to KOAM-TV, who said the American Library Association (ALA) is aware of the bill "on a federal level."
The Missouri Library Association opposes Baker's bill, with its president, Cynthia Dudenhoffer, telling The Springfield News-Leader that the group "will always stand against censorship and for the freedom to read, and therefore opposes Missouri House Bill 2044."
PEN America, a New York-based nonprofit dedicated to freedom of literary expression, also opposes the bill. James Tager, deputy director of free expression research and policy for PENN, told The Washington Post that the bill is, "a shockingly transparent attempt to legalize book banning in the state of Missouri."
"Every reader and writer in the country should be horrified, absolutely horrified, at this bill," he added.
Drag queen Tanner Rambo, who also represents two of the drag queens leading the protest demonstration, agrees. "Any kind of comment that these story hours are somehow involving nudity or in any way comparable to strippers is just completely erroneous," he told KTTN.
"We absolutely are not trying to indoctrinate anybody," Josh Swindler, children's library director at St. Joseph Public Libraries, where a single drag queen story hour session was met with roughly 24 protesters and 500 attendees. "We're just trying to give an equal voice to every member of our community."
Baker's bill, which has not yet come up for a vote, may be read in full here. He has also sponsored a recent bill allowing adoption agencies to allow workers to refuse to work with anyone who violates their "sincerely held beliefs."
"First of all I support their right to the freedom of speech and encourage citizen engagement in the process of making public policy. This is part of what makes America great. Though I strongly disagree with their position I can respect the first amendment rights of every citizen. However, It is concerning to me that they are protesting the right for children to have access to adult themes and ideas in a public space funded by taxpayers. They are also defending objectifying women with the exaggerated overly sexualized costumes and presenting that to children. I believe that can be very confusing to a child and creates an environment that may invite sexual predators. I can't imagine in the era of the me-too movement how that drag queen events could be acceptable at all, but especially when children are involved. I would also point out that even the drag queen community doesn't all agree that it should be available to children. One suggestion I would make is that they host the protest on a day where lawmakers and the public are at the Capitol. If they host on a Saturday there will be very few if any people in attendance," Representative Baker said when reached for comment by Newsweek.
Updated: (1/28/2020 12:10 a.m.): With comment from Rep. Ben Baker.