Drag Queens And Kings Protest Donald Trump's Visit for Stepping on Their 'Turf'
Drag queens and kings are rallying in London to protest President Donald Trump's visit to the U.K. in a show of hope and unity against his brand of divisive politics taking root on their "home turf".
Trump arrived in the U.K. under the cloud of an interview he gave to a British tabloid owned by friend Rupert Murdoch. In the interview he made several controversial remarks, undermining British Prime Minister Theresa May, blaming London's first Muslim mayor for extremist attacks in the city and insisting that the British public is fond of him.
In actuality Trump's visit has launched a tide of protests in London. Prominent drag queens and kings are joining the fray to show unity and diversity in the face of Trumpism, Iraqi-British drag star Amrou Al-Kadhi, 28, told Newsweek .
"Trump coming to the U.K. is really problematic because it tells fascists in the U.K. that we are, sort of, condoning that kind of behavior," Al-Kadhi, who performs as Glamrou in the drag troupe Denim, says. "I feel like Trump paints people of color like me and muslims and queer people, as really weak and as vulnerable—just parasites on the nation. But what I think today is gonna show is how strong we are."
"The signature of the drag protest is the fact that we're showing that we're not weak, we're not going to be silenced by that level of fascism," Al-Khadi says. "Fascism is really prominent at the moment, white supremacy is, transphobia is. I think there's a part of you that just wants to runaway and hide but I think today what we are going to see is how defiant our community is no matter everything that has happened."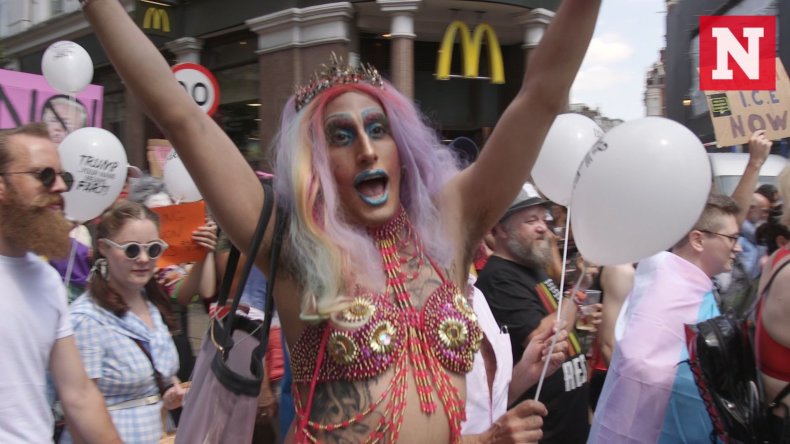 While the protest joins the show of outrage by many groups on the streets of London, Al-Kadhi admits that drag queens are marching against Trump's visit, but also against "sequence of complete horror events that is the nightmare of the past of few years," of which Trump's arrival is only a part. Among those events are extreme far-right ideologies that have received a boost not only from Trump's rhetoric and anti-immigrant policies, but by the momentum of anti-establishment parties in Europe and the vote in the U.K. to leave the European Union.
"Yes, we are protesting Trump but we are also protesting this moment in history and we are trying to show the relationship between far-right nationalism around the world," Al-Kadhi says. "It's not just Trump, it is what Trumpism is part of and i think the entire world is responding to it, not just the U.K."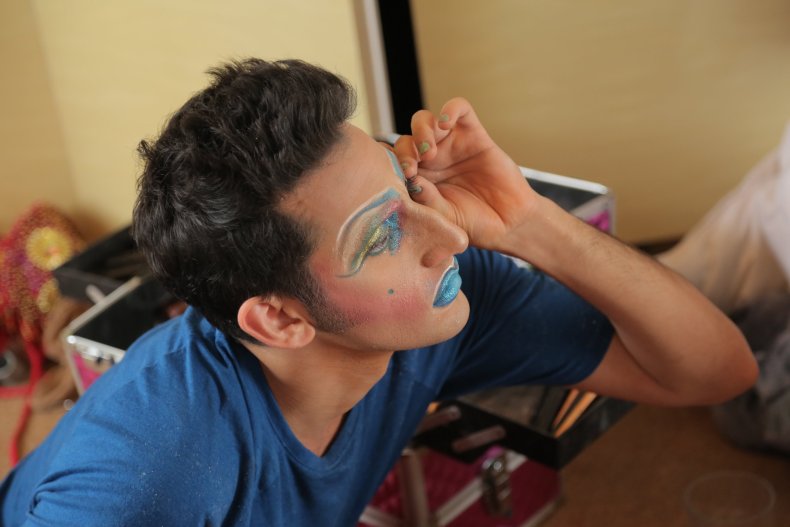 The importance of drag in conveying the outrage against Trump, according to Al-Kadhi, is how multi-layered the response is, providing the salve to the many woes many feel with the present moment. "I think a time of such horror drag is humorous, it is powerful and it is really, really defiant. At a time of such fear mongering, drag queens provide hope, at a time of such nightmarish politics we provide humor and at a time of people feeling really really scared I think drag just provides strength."
The power shift, although not always reflected by Trump or others in government, is already in swing, according to Al-Kadhi. They says that "the irony for Trump is his hate, as intense as it is, is allowing for so much love to be shown in response and I think it's gonna be a real shock to him.
"I think today will show the fascists how fickle their power act is," Al-Kadhi says. "Yes, it is terrifying and they can do a lot of damage but its slippery and its gonna go very very soon."
Additional work on the video in this article by Holly Snelling and Sho Murakoshi.