Nancy Pelosi's 'Drag Race' Cameo: If You Enjoyed Her on the Show, RuPaul Wants Your Political Action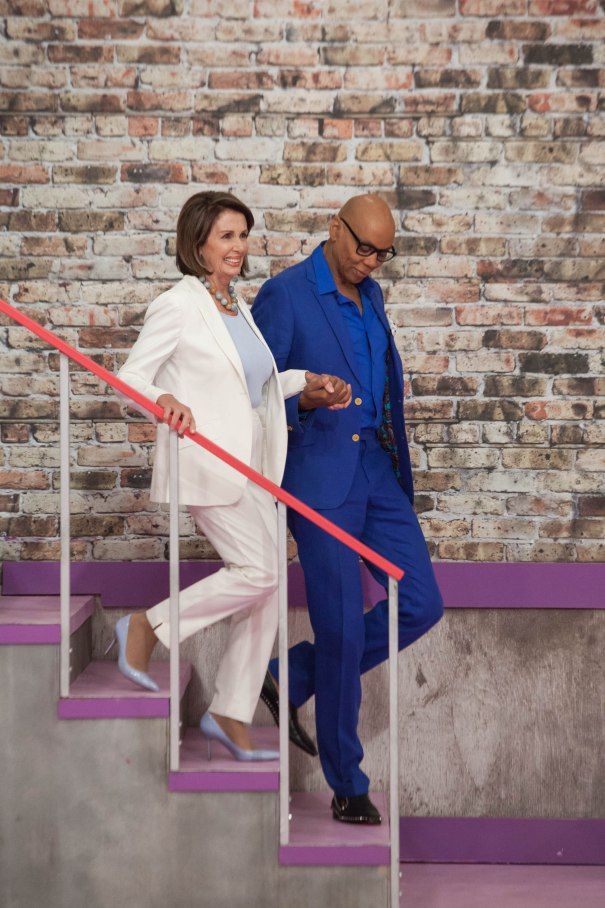 No matter who the celebrity guest is on RuPaul's Drag Race, the show's drag queen contestants tend to gasp and scream when they enter the workroom. In Season 1, it was Lucy Lawless, aka Xena: Warrior Princess; in Season 3, Amber Rose received the contestants' frenzied, giggling reception.
On Thursday's episode of Drag Race: All Stars, the girls expressed a full range of emotions—from shock to joy to tearful gratitude—when RuPaul announced that week's celebrity guest: Congresswoman Nancy Pelosi, Minority Leader of the United States House of Representatives, first female Speaker of the House and longtime ally to LGBT Americans.
"Nancy Pelosi? I'm dying. I just want to say thank you to her, I want to hug her, I wanna be like, 'Kick their ass.' [She] is spear-heading the way through," Morgan McMichaels, the drag persona of Thomas White, said. "For 30 years, she's been a champion for LGBT rights," RuPaul added, and Pelosi raised a fist to reveal a rainbow bracelet on her wrist. Pelosi also got a customary "Halleloo!" greeting from Shangela.
But the queen most enamored with her appearance was Trixie Mattel, who visibly teared up while the politician was speaking. "Every time you get into drag, you make a political statement," Trixie explained in her confessional segment. "We live in a world where a high power politician will walk in the workroom, and it makes me feel hopeful."
Pelosi, for her part, told The Hollywood Reporter that she admires queens like Trixie deeply. She even suggested that politicians could learn a thing or two from Ru's girls: "Authenticity. Taking pride in who you are. Knowing your power—that's what I talk about on my brief segment on the show."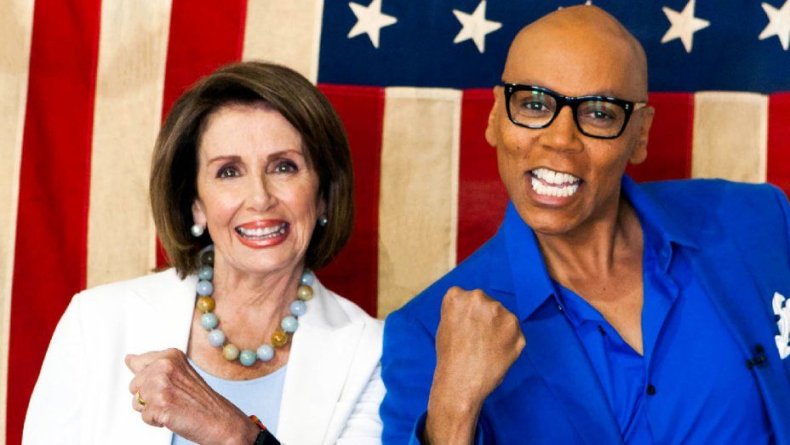 Though Pelosi's appearance was brief—she was not, as many fans hoped, a guest judge on the episode—RuPaul and the judges brought up the subject of voting during the contestants' deliberations backstage. Everyone from Michelle Visage to Ross Matthews pretended to contact their representatives, though the show didn't make clear what issues they were discussing.
Still, Ru seemed to imply that everyone—Drag Race contestants and fans alike—need to be as active in expressing their political views to their representatives as they are in fawning over their favorite queens. And anyone hoping to take the Pelosi episode's message and run with it will have plenty of opportunities.
This week, Alaska is scheduled to vote on Proposition 1, also referred to as the "transgender bathroom bill." It seeks to define which citizens have access to gendered bathrooms and locker rooms "on the basis of sex at birth, rather than gender identity." Other LGBT-related bills on the docket this spring are listed on the ACLU's website, and they range from proposals to roll back LGBT health care provisions to denying same-sex couples the right to adopt if an adoption agency operates according to a certain religion.
On both the state and federal levels, there's a lot to do. And as Ru told Pelosi before she sashayed away, "You better work!"