RuPaul's Drag Race Queen Dusty Ray Bottoms Reveals New Details of Her 'Exorcism' and 'Gay Conversion Therapy'
As much as it is a competition to find America's next drag superstar, RuPaul's Drag Race is a showcase of the human ability to endure and overcome painful hardship, from bullying and drug addiction to being abandoned at a bus stop by a parent as a child. But even by the show's standards, Dusty Ray Bottom's revelation that her family forced her to undergo an exorcism in an attempt to turn her straight was particularly shocking.
Sobbing as tears rolled down her face, the Season 10 contestant described in episode three how her parents confronted her about her sexuality after looking at her internet history. During so-called gay conversion therapy sessions (a practice that has no medical basis) a pastor warned her she'd never find success or love in a gay relationship.
"It was the most humiliating, awful thing of my life," the 30-year-old from Louisville, Kentucky, who lives in New York, told her fellow contestants in the workroom. "Me and my parents don't really talk."
In an exclusive interview with Newsweek, Dusty Ray Bottoms has spoken publicly about her experiences with so-called conversion therapy and exorcism for the first time, as well how she ended up buying a one-way ticket to New York City, and what she hopes Drag Race fans can take away from her ordeal.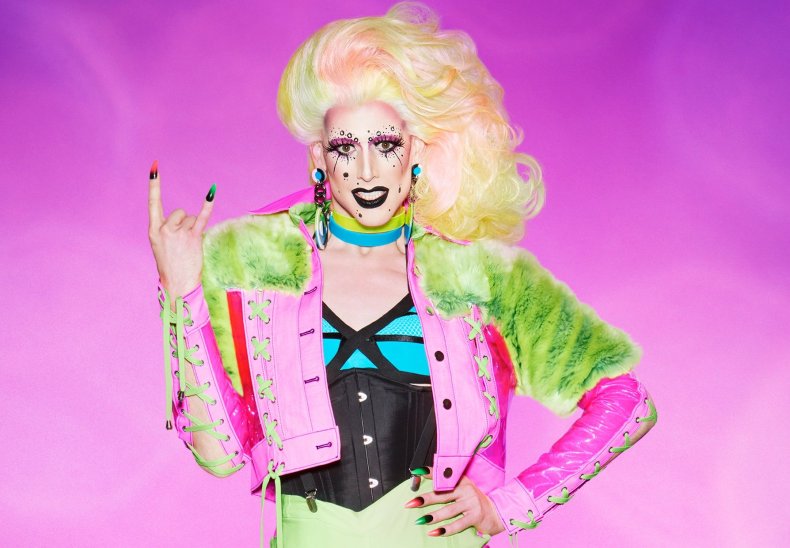 You opened up on the show about your ordeal with gay conversion therapy and exorcism. Can you tell us what happened in more detail?
I was home for spring break from college. I was 20 when this happened, when I came out to my family. I was literally just at the lowest low. I went to school at Wright State in Dayton, Ohio, three hours away from where I grew up. I studied acting and musical theater there.
I was struggling with who I was in college. I was struggling with how I was raised and how I should be. And I just cried out to God and said 'I can't do this anymore I need to change my life. I can't keep secrets. I need something to happen. I just need help, I don't know what to do. Am I broken?'
The next morning that's when everything went down. My dad had seen something on my computer and he asked me about it. And I told him 'it's exactly what you think it means.' It opened up a whole can of worms. I went through my past to my mom and dad, and told them things that they didn't know, very traumatic things that had happened to me. When I told them these things they were devastated and heartbroken and they thought the only way that could fix the situation was for me to go to therapy.
And it wasn't this big dramatic thing where they threw me in the car and drove me to church, or were holding me down and throwing holy water on me and they were screaming. It wasn't that dramatic. That's what I really want people to take away from that. I wasn't mistreated growing up. My mom and dad were everything. They provided for me and they came through for me. It's just that we didn't see eye to eye on homosexuality and who I was. So growing up I never felt comfortable. It was really hard growing up as a gay boy in Southern Indiana, Louisville, Kentucky. I hope if anything that people can take away from my message that there is a light at the end of the tunnel and tomorrow is a better day.
It's interesting that you highlight that people have a vision exorcisms where the person is pinned down, which is wrong. In reality, what was it like?
There was a group of people there and they were all there as prayer warriors as part of the church to help me. I was the only one in the group getting a "cleanse". And it's literally just the utmost stripped away confession. They shine a light in every aspect of your life. You have to talk about everything. They wanted the first names and last names of people that I had had sexual contact with. It's a very humiliating experience and a very scary experience. Although it is not cinematic and dramatic.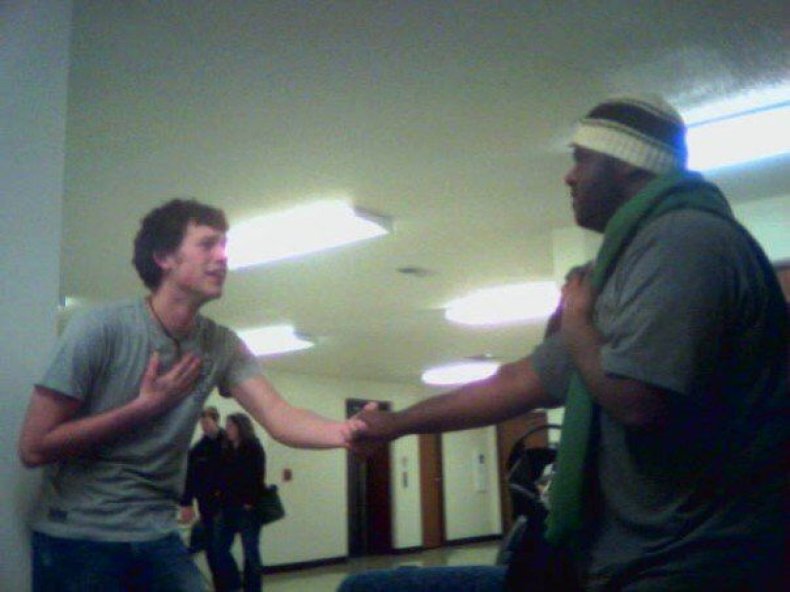 When you went to conversion therapy, what did you think the outcome would be? Did you think you would be "cured" even though that's not possible? Or did you do it for your parents?
I wanted to do it to make my family happy. I wanted to do it to make me happy. I was so confused. I wanted any outlet to make this better. And I was desperate. I wanted to try everything, and if this was the answer, may it could fix me? After the cleanse I felt like a gorilla had been lifted off my shoulders. For a while, I was going to these therapy sessions and I thought 'this is great, I feel this gorilla off my shoulders so it must mean I'm changed and cleansed. I could be straight now.'
I was going to these therapy sessions and I kept hearing this stuff that they were saying to me: I would never be happy; I would never find success; I would never find someone who truly loved me; that gay relationships are drug-driven. All this crazy stuff. Things started to sink in and I started to realize this wasn't right, and what I was going through was messed up, and I had to stop it. That's when I had to pack my car, and move away, and try to finish college and try to live the best way I knew I could.
How long did you attend these sessions for?
The exorcism session was two hours long and that was one time. Every other therapy session was one-on-one with a pastor. I was meeting with him every other day while I was home for spring break, then once a week. I probably went through five or six sessions before I was like 'OK, this is too much."
At the time were you out to your college friends? Did you live a double life in terms of who you were at college and at home?
People in college were very confused and put off by me, because I did date a couple of guys in my freshman year. A couple of those relationships ended because I got freaked out and scared, and I said 'I don't know if I'm gay.' I really, really struggled with identity and I know that a couple of my classmates were also struggling with identity but I don't think many people were they didn't know what I was going through.
When you grew up, was your family religious, and did they tell you being gay was wrong?
It was always one of the forefront rules and something that I heard of and knew at an early age.
Was the day you left the last time you spoke to your parents for a while?
I went up to Dayton and used my student loan to get an apartment and went back to school. We hardly talked. The economy was really bad so I had to move back in with them, and I didn't finish school. I took on three jobs in Kentucky and I worked living with them for a year and a half before I finally was like 'you know what? I am in a darker hole living with them right now than after I came out.'
I had a breaking down moment and I bought a one-way plane ticket to New York City. I put it on the refrigerator and told my mom and dad that in three months I'm moving to New York. And I did. I moved there with $400, two suitcases and me.
Below: Dusty Ray Bottoms with her fiance Marc Singer.
Did you stay in contact with your family?
We are working on our relationship. We definitely have a broken relationship. We don't have issues because of the therapy. We have moved past that: we have talked about it and I've forgiven them. They know that the therapy was wrong.
However, we still don't see eye to eye on homosexuality. That does drive a wedge between us and it makes it hard for me to come home. I have a fiancé now and I just want to feel 100 percent comfortable, and I need my family to feel 100 percent, and it's a work in progress. I talk to my mum once a week, she thinks my fiancé is a great guy, she thinks he's everything. She just isn't too keen about the gay thing. That's the same with the whole family. They think my fiancé is a great guy, but the gay thing trips them up.
What do you want fans to take away from your experiences?
The response I've gotten from sharing my story has been very overwhelming. I haven't been able to get through all of the messages. I have been flooded with them every day. It's so heartbreaking to see all these stories but I'm glad it was finally talked about so people can feel some relief that they're not alone. Because I felt alone in the situation. And now seeing the thousands of messages I've been getting I'm so gagged at how this is happening over and over and over again to so many people. And I look forward to working with the Trevor Project to raise money to end conversion therapy. Please go to Trevor Project and donate money, and read up on their newsletters. This is something very important that we need to fix.
Dusty Ray Bottom's new single Neva Lavd Yah! is out now.