'Drag Race UK' Season 3's Anubis on Being First Out of the 'Hardest Reality TV Competition'
Sadly, already one Queen has sashayed away down the runaway and has left RuPaul's Drag Race UK Season 3. Anubis became the first Queen to be eliminated from the competition, losing out to Elektra Fence during the first lip-sync battle of the series. Anubis spoke to Newsweek about her experience on the show and what it was like to be the first Queen to leave the competition.
Describing her drag as "silly, camp, outrageous and exquisite," Anubis, 19, threw herself into the mini and maxi challenges during week 1, serving two incredible looks on the runway. For her first look, Anubis paid homage to her hometown of Brighton, in southern England, by wearing a dress that paid tribute to the city's helter-skelter on the pier.
Her first look impressed the judges but sadly, her second look inspired by her favorite things did not land too well with the judges, with Michelle Visage describing the look golden glittery dress which was inspired by father as "basic."
Regardless of being the first to go, Anubis shared with Newsweek she would not change a thing about her runway looks and had "no regrets" about her time on the show.
This is not the first time a Brighton-based Queen has been the first to leave the competition. Drag Race UK fans will remember Joe Black was the first Queen to be eliminated in Season 2, where she also paid homage to her hometown of Brighton on the runway.
Anubis joked: "Is it a coincidence? Who knows. I guess only RuPaul knows that."
However, Anubis did share she was "gutted" to have left the competition so early and for Brighton's representation on the show.
She said: "I am gutted really because we have so much amazing talent and so many amazing Queens in Brighton, not just me and Joe. There are so many incredible artists, trans artists, people of color and they need to be celebrated. It's a really amazing, diverse group of people. So it does upset me slightly that we've not had the best representation in terms of track record for Brighton so far."
Anubis was also able to share some details about the filming process of Drag Race UK, describing the show as potentially one of the "hardest" shows on TV.
"We have to be [in heels all day]. It's not like torture but obviously, drag is painful, regardless of how long you do it. You've got your corset, the heels, the make-up, and the tape and the wig glue. The days are long but they have to be," reflected Anubis.
"We are on the runway, we are doing a challenge. Drag Race is intense and it's hard as everybody knows, I mean it's spoken about every year. It is potentially the hardest reality TV competition out there in my opinion."
She joked: "I'm obviously not very good at it, according to RuPaul but it is honestly is one of the best experiences I've ever done. I don't regret anything at all but yes, it is very tiring but worth it."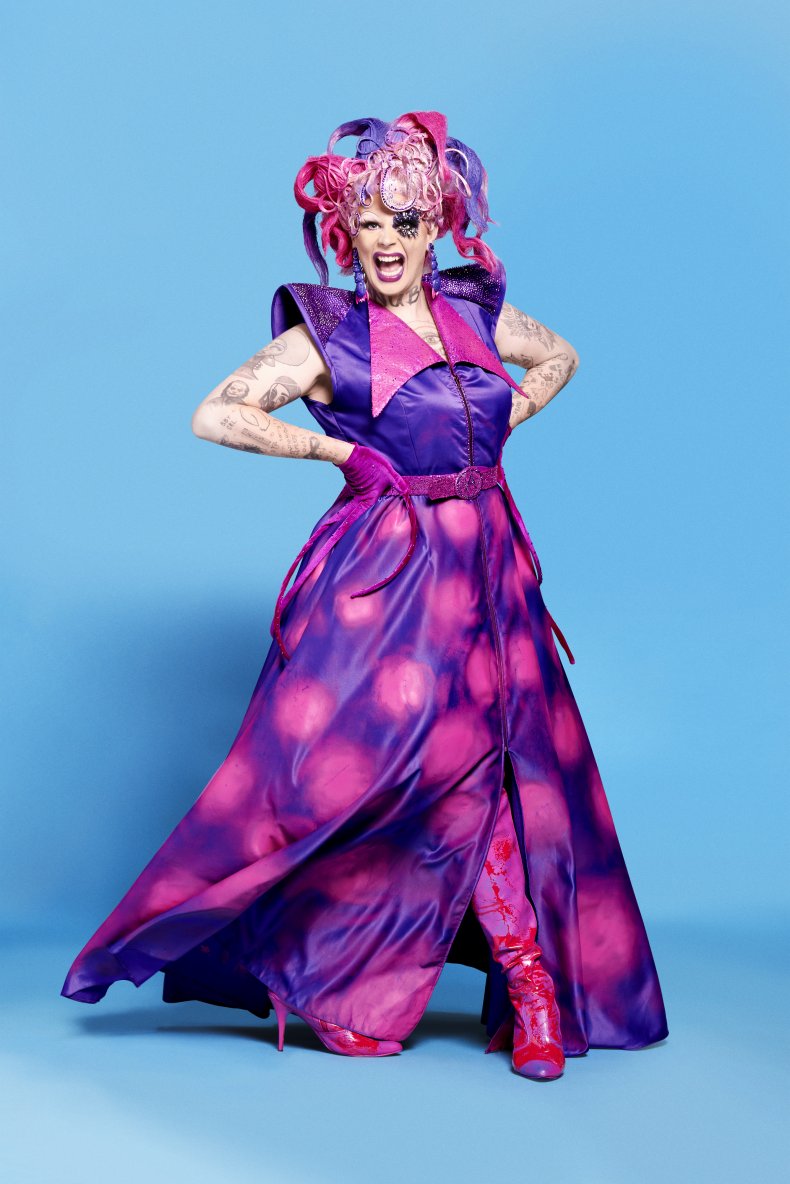 Despite being the first to go, Anubis was lucky enough to perform and show off her talents in front of the legendary RuPaul.
Reflecting on coming face to face with RuPaul, Anubis described the encounter as "intimidating."
She explained: "The one word I would use for it is intimidating and I say this because RuPaul is such a huge queer icon and she's been around for so, so long now that I think growing up with RuPaul and RuPaul's Drag Race, it was a very surreal experience but yes, she is a very daunting character but she is lovely. She is absolutely flawless to look at and I think that is quite intimidating because I'm not flawless to look at all but that makes me the beautiful being that I am."
Anubis fans will be pleased to hear this is not the last they have seen of the 19-year-old up-and-coming Drag Queen. Not only would she return to Drag Race "in a heartbeat," but Anubis will also be sharing all of her Season 3 looks she prepared on her Instagram account @anubisfinch every week.
She will also be revealing the five options she had in mind for the legendary Snatch Game Challenge, despite only being asked to prepare two characters.
Anubis has also been working on some music.
"I've been a jazz singer for five years but I've also dabbled in a bit of musical theater, pop and R&B so it's kind of a big blender of everything if you think Lady Gaga meets Billie Holiday meets Doja Cat. It's a big amalgamation of female pop and jazz. It's very, very camp. You are going to love it!"
RuPaul's Drag Race UK is available to stream via WOW Presents Plus at 2 p.m. every Thursday in the U.S. and airs every Thursday at 7pm on BBC Three via the BBC iPlayer in the U.K.