'Dragon Ball Z: Kakarot' Is a High-Flying, Fury-Fisted Blast
The RPG formerly known as Project Z is now Dragon Ball Z: Kakarot, and it's already one of the highlights of E3 2019. With wide open skies, seas and landscapes to explore as Goku, it feels like you've stepped into the expansive world of the iconic long-running anime series. Frenetic combat bursts with eye-candy special effects, making the game even more difficult to put down. We managed to spend nearly an hour with an early demo of Kakarot, and loved every second of it.
Full disclosure: I have never been particularly into the Dragon Ball series, though as a longtime devotee of the Dragon Quest series and Chrono Trigger, I've been intrigued enough by Akira Toriyama's art style to develop a loose familiarity with the iconic anime's universe and concepts. But I've been daunted by the seemingly impossible task of getting up to speed on 800+ episodes and several movies. But Kakarot just might make a bona-fide Dragon Ball fan out of me.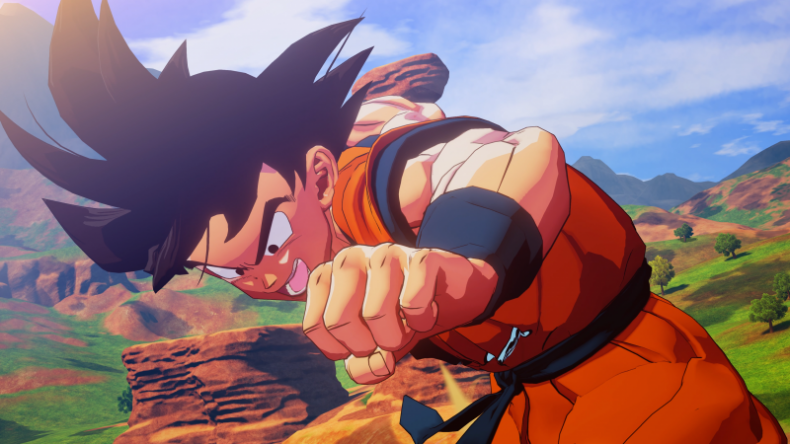 Developed by Cyber Connect 2 and published by Bandai Namco, the Kakarot demo draws from the early hours of the Dragon Ball Z story. The map is vivid and colorful, with easy-to-spot landmarks. Cel-shaded animation style blends seamlessly with modern-day 3D graphics, the stuff of 90s kid fantasies made startlingly real. Even though you're essentially dropped right into the game, it's simple enough to pick up and play, no lengthy tutorials needed. If you've played an open-world action RPG before, you'll know the lay of the land. Dialogue between your party members nudges you toward progressing the story, as do clear red markers both on the main field map and on the right-hand side of the UI.
During the demo, I steered Goku (accompanied by Piccolo) through an early boss battle with Raditz. It took a couple rounds for me to get the hang of combat, but pretty soon I was nimbly dodging and weaving, lobbing Kamehamehas my opponent's way as fast as I could manage. The action has some shades of old-school turn-based RPGs and even straight-up brawlers like FighterZ, but still feels distinctly its own, and particularly well-suited to the bizzaro physics of the Dragon Ball universe. Raditz put up a decent challenge, and our intense bout offered some enticing glimpses toward the degree of strategy that might be needed for tougher story battles (or even optional fights). It wasn't an easy fight, but when it was over I didn't want to rest; I was hungry for the next one.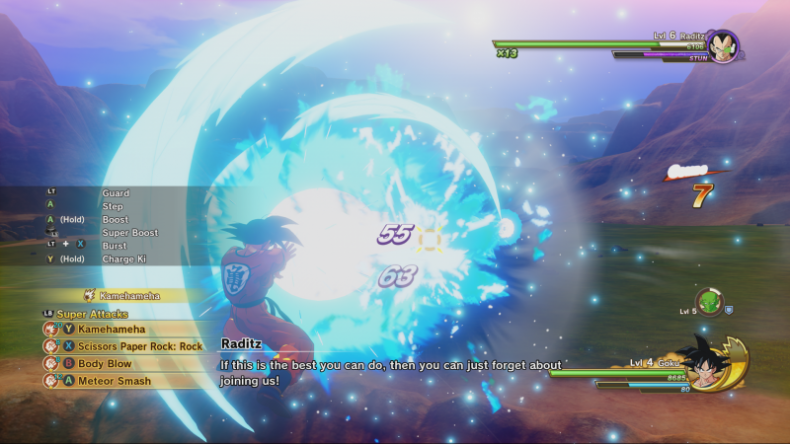 After dispatching Raditz, I soaked up more than my fair share of time at the demo booth exploring the open environments of Kakarot, and boy, is there loads of stuff to see. With loads of little towns to visit, side quests to take on and kooky characters to chat with, the open-world environments feel expansive and rich. There's a dizzying sense of verticality to the gamethat I haven't experienced in an RPG since Breath of the Wild, which is accompanied by an exhilirating sense of speed. Whether bopping around through the skies on Nimbus or zipping around under his own power, navigating Goku through this world is just plain fun, like stepping into Peter Parker's suit and slinging webs all over Manhattan was an absolute blast in last year's Spider-Man for PS4. Soaring through the sky as a Super Saiyan powered by Ki feels just like you'd want it to feel.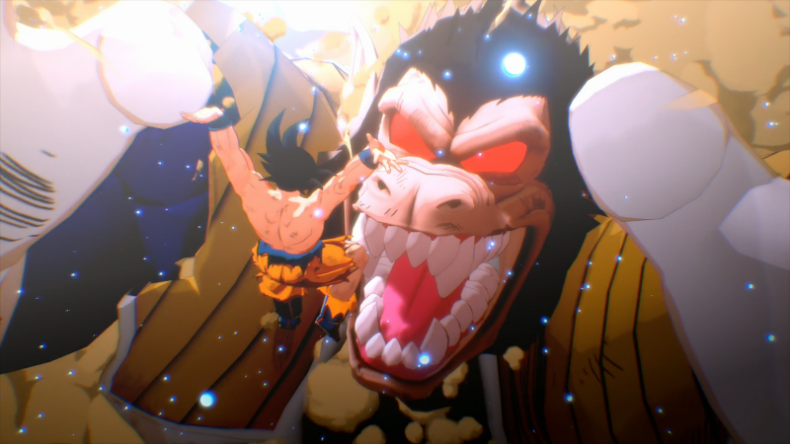 Judging from online chatter about Kakarot, here's a fair few fans who are salty about seeing yet another game centered on the oft-revisited Dragon Ball Z story arc. For someone like myself, who knows the franchise as essentially "jacked dudes screaming a lot," that's not really a problem. However, judging from the reactions of others testing out the game around me, there's a lot of hidden Easter eggs and fan-friendly details scattered throughout the game's world that should hopefully add some new sparks of interest for those already familiar with the tentpole moments of the DBZ plot.
With a new Tales game, Final Fantasy VII Remake and Persona 5 The Royal due out, 2020 is shaping up to be a banner year for JRPG fans. (Now if only someone would make a current-gen Sailor Moon game...)
Dragon Ball: Kakarot launches in 2020. Be sure to check back with Newsweek for more coverage of all the major announcements out of Los Angeles throughout E3 2019.