'Dragon Ball Super' Goku is Getting a Macy's Thanksgiving Day Parade Balloon
Goku, the main hero of the Dragon Ball series, will be one of the giant balloons at this year's Macy's Thanksgiving Day Parade.
Sporting his blue Super Saiyan God Super Saiyan hair, the Goku Thanksgiving balloon comes in at 70-feet deep, 36-feet wide and 56-feet tall. It'll take more than 100 balloon handlers during the Parade to help Goku fly through the New York City streets on Thanksgiving.
Check out the making of the Goku Thanksgiving Parade float below.
"This year's Macy's Thanksgiving Day Parade will redefine spectacle with a jaw-dropping mix of must-see entertainment for millions of spectators," said Susan Tercero, executive producer of Macy's Thanksgiving Day Parade in a press release. "Featuring an amazing line-up of high flying balloons, dazzling animated floats, world-class marching bands and performance groups, the nation's top music artists, and of course, the one-and-only Santa Claus, the Macy's Parade will once again herald the arrival of the holiday season."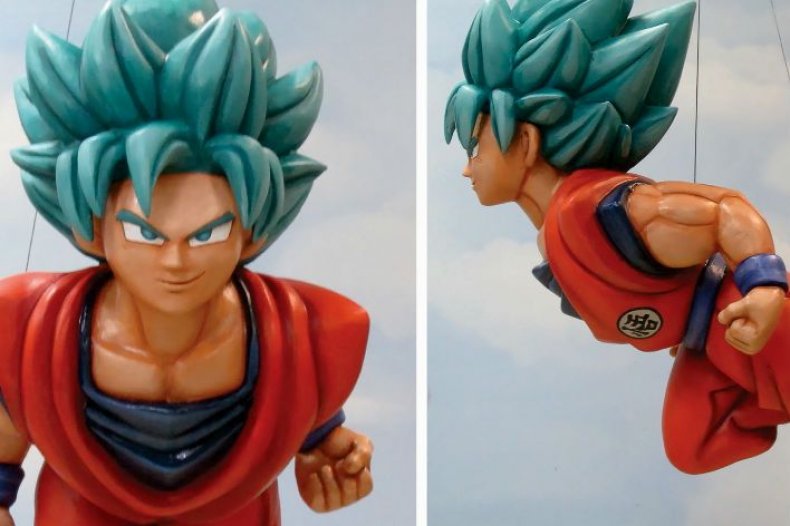 Goku joins Pikachu, the most recognizable Pokémon, as the only other Japanese fictional character in the Macy's Parade balloon lineup in 2001.
The Legendary Super Saiyan's inclusion in the parade commemorates the release of the 20th animated film in the series' history, Dragon Ball Super: Broly. Set to release in North America on Jan. 16, 2019, Broly will give fans more background on the history of the Saiyans and how the villainous Frieza fits into Broly's origins.
Broly was a movie-only villain who debuted in the 90s with the film Broly: The Legendary Super Saiyan. However, the character wasn't part of the series' canon which is something that series creator Akira Toriyama wants to change.
This upcoming film will bring Broly into the Dragon Ball continuity proper and even introduce Goku's mother for the first time.
The 92nd Macy's Thanksgiving Day Parade will go from 9 a.m. to 12 p.m. EST on Thursday, Nov. 22. If you can't make the parade, the festivities will be broadcast nationwide on NBC.
What do you think of the Goku balloon coming to the Macy's Thanksgiving Day Parade? How do you think it looks? Let us know in the comments section below.