Boasting an endearing cast, a sumptuously detailed world and an engrossing story that spans more than 100 hours, Dragon Quest XI: Echoes of an Elusive Age has made its mark as a serious contender for the best RPG of 2018, if not one of the best games of the year, period.
Series Creator and Designer Yuji Horii, Producer Hokuto Okamoto and Director Takeshi Uchikawa spoke with Newsweek about what makes Dragon Quest unique within the RPG genre, the process of crafting the game's story and environments, and everyone's favorite character, the smiling knight Sylvando.
This interview has been lightly edited for brevity and clarity.
From a design perspective, what were you able to create or accomplish in Dragon Quest XI that hasn't been possible in previous games?
Yuji Horii (YH): In the past, I quite enjoyed getting creative when there was a need to come up with a solution when something was considered impossible. Until now, there were certain aspects within the world that were left up to the player's mind and imagination. Hardware advancements have allowed us to express things in a more realistic manner. For example, showing monsters in their habitat, or generating the overall atmosphere of the world, such as how the water flows or how the wind blows… we were able to express the world with an elevated sense of reality.
Hokuto Okamoto (HO): With Dragon Quest XI, we set out to incorporate all the good aspects from past titles, considering this title was meant to be a culmination of sorts for the series. I still remember Horii-san mentioning we shouldn't be afraid of incorporating all the good aspects from the franchise when we started developing this game.
YH: Right. And, since this eleventh entry was also meant to be a culmination of the series, the game incorporates many homages to previous titles, and this hasn't been done before. In that regard, there is a sense of nostalgia, but it also provides a ton of fun for new players.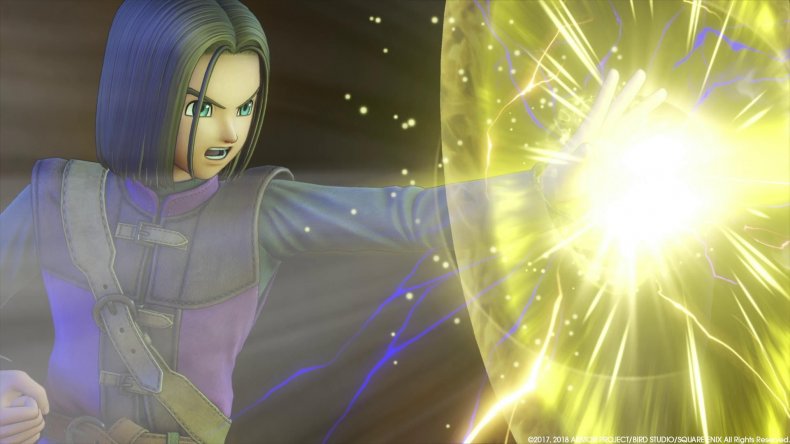 Was there any pressure or temptation for the team to move to a more action-oriented combat system?
Takeshi Ushikawa (TU): The topic did come up in our discussions, but in the end, it all came down to the concept for this title. Being able to play this game in the same manner as its predecessors was central to the concept, so we decided to move forward with the turn-based combat system.
YH: There are people who are good at action-based games, and there are those who are not. And, those who are not good at action may often find it hard to clear those games. On the contrary, the turn-based combat system allows players to take time and think through their strategy—as long as they give it their best, they can essentially conquer the game. This is why we adopt the turn-based combat system.
The Western release of the game has a number of tweaks and enhancements, like voice acting. Could you tell me about some of those features, and why the team felt it was important to include them?
YH: [When it comes to implementing voice acting], this has to do with the difference between Japanese and other languages. In Japanese, various emotions, personalities, and characteristics can be communicated through text alone, but we've noticed that in other languages, a character's personality really shines through based on the way they speak or the tone of their voice. As such, we felt that it would be better to implement voiceovers when releasing the game in the West.
HO: As for other features, we made the menus graphical and implemented a dash function to improve playability. Furthermore, as Horii-san mentioned earlier, in an effort to create a game that anyone can complete, the overall game balance is set so that it can be played comfortably and with ease. That said, we understand that some players may wish for a bit of a challenge, so we implemented Draconian Quests, essentially a hard mode that increases difficulty. I just listed up the additional features, but we felt it was important to implement these when you think about the most recent Dragon Quest games experienced by overseas players, either Dragon Quest VIII or Dragon Quest IX. We felt it would be necessary to deliver a game that has been updated from the more recent titles, and at the very least, believed it would be necessary to support features that were available in Dragon Quest VIII.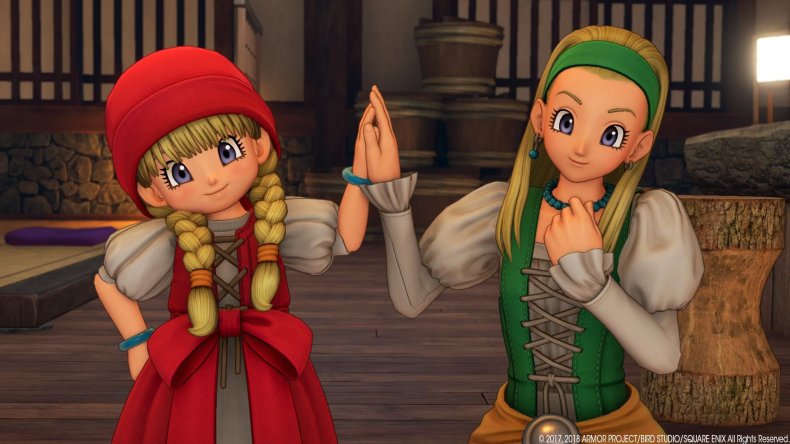 Dragon Quest XI has a complex, moving and epic story. How would you describe it to someone who hadn't played the game yet?
TU: In terms of the story concept, we would receive the overall direction from Horii-san, and that would serve as the central pillar. From there, we would come up with the content for each individual episode, and during this process, we placed importance on variety to ensure players will be continuously engaged. As such, you'll discover a wide range of episodes, those focusing on relationships between parent and child or friends, heart-pounding adventures, as well as romance. Simply put, I wanted to generate a feeling close to reading a weekly manga magazine from the stories told throughout.
YH: Adding to that, I think players can look forward to the twists within the story that take you by surprise when you feel like the story's settling in a given direction.
There's a lot of focus family members in Dragon Quest XI, exploring characters' bonds with parents, siblings and grandparents. Could you talk about why this was important to the story you wanted to tell?
YH: With Dragon Quest, we have mainly depicted what we call human dramas, stories that focus on the relationships between characters, throughout the series. Particularly with this title, the protagonist is the Luminary (the reincarnation of a legendary hero) and he is surrounded by friends who help him throughout his journey. Each of them are destined with their own fate, but I wanted to depict a story that showcases they are not alone … Furthermore, Echoes of an Elusive Age is the subtitle of this game, and I created this game hoping those who play it will also take this opportunity to reflect back on the past 30 years of their life (since it's also been 30-plus years for players who have been with the series from the start). So many things occur in one's lifetime, but nothing should be deemed wasteful in that everything has meaning.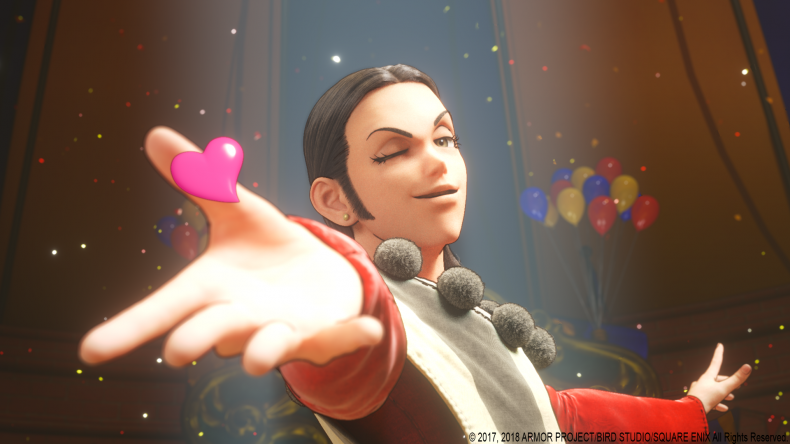 The cities and locations of the game are clearly inspired by real-world culture and history. Could you tell me about the creative process behind their design?
TU: Similar to the process mentioned earlier, when creating the world, we would generate the overall direction with Horii-san, then build out each individual location. We started brainstorming ideas pertaining to what type of cities or regions we'd like players to explore. In doing so, we actually created a document on Erdrea, similar to a travel guidebook, that outlined the culture, architectural style and ideology, along with other information. The document was shared among the staff and helped us build out various aspects of the world in detail.
Furthermore, we wanted players to feel like they were on a trip around the world, so in that sense it may be similar to the thought behind Dragon Quest III. The DQIII world took on a form similar to a real world map, enabling players to feel as though they're globe-trotting. With DQXI, we wanted players to get a similar feel, which was one of the reasons for implementing locations with varied cultures.
I adore Sylvando, but I imagine he was a tough character to get right. Did his aesthetic or personality shift at all over the course of making the game?
YH: Sylvando's visual appearance and personality has not changed throughout the course of creating this game.
HO: Yes, he hasn't changed at all, but as mentioned, he is a tough character to get right, so we took extra care in crafting him so he won't be misinterpreted.
YH: We created him to be a wonderful character that has both masculine and feminine qualities; the former represented by his chivalry, and the latter represented by his attentiveness and caring nature. He's truly a character that comes with all the good characteristics associated with both men and women.
TU: Among the characters that join your party, he isn't led by fate or destined to accompany the Luminary; he's a character that happens to simply cross paths with the hero during his travels and decides to join the party on his own accord. His motivation to take on this journey is to make his dream a reality. In that sense, there's a part of Sylvando that really syncs with those of us developing the game. I felt that I was able to empathize with this character more than the others, and I'm personally glad that we were able to take everything to the finish line with that feeling in tact as well.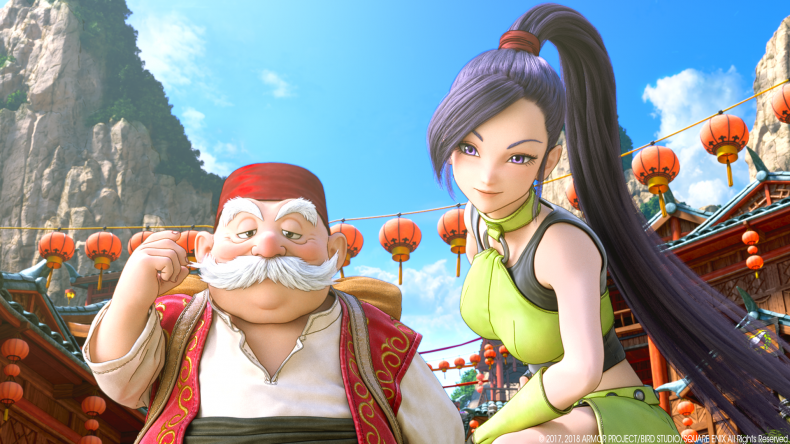 What sets DQXI, or Dragon Quest as a series, apart from other RPGs out there?
YH: When I first set out to create Dragon Quest, role-playing games were still quite niche – they're fun, but it wasn't quite clear what needs to be done. When thinking about how we could guide players, I decided to implement a story that would serve as a rail. Adding a story element to role-playing games probably became an earlier form of what we call JRPGs today … But, not sure if this is what sets the game or the series apart from other RPGs …
TU: I feel like making the game easy to understand and aiming to develop a game design that enables anyone to play are aspects that haven't changed from the time you initially started developing this game, and that may be what sets it apart from others.
YH: Well, I also wanted to note that we had set this rail, but I feel like I had also created the fun of veering off that path. I think that might be an aspect that's unique to Dragon Quest. There is a story, but players can go wherever they want and they can even answer "no" – they can essentially play at their own will, but there's this sense of reassurance which is unique to Dragon Quest. Also, the fact that the game can be completed by virtually anyone.
Dragon Quest XI: Echoes of an Elusive Age is available now for PlayStation 4 and PC.