As they seek to take down Republicans this November, Democrats are taking a leaf out of the president's playbook, vowing to make good on some of Donald Trump's most tantalizing campaign promises: "drain the swamp," crack down on corruption and restore integrity and moral uprightness to the seat of democracy.
Since it entered the White House, the Trump administration—beset with a series of political scandals—has only helped its opponents build a case for letting someone else have a try at cleaning up the mess. But Democrats will still have to convince voters they should be the ones to do it.
On Monday, the party announced "A Better Deal for Our Democracy" would be Democrats' key message on the campaign trail—the one they believe has the best shot of winning them back at least one arm of Congress. The rollout comes with a suite of policy platforms, which include plans to fix campaign finance law, strengthen voting rights and reinforce the nation's ethics laws.
"Washington, D.C., has been out of vogue for some time," Rodell Mollineau, a partner at Rokk Strategies, a bipartisan political consulting firm, told Newsweek. "No one's ever lost votes by bashing Washington."
Mollineau thinks campaigning on repairing the country's "broken political system," taking "power back from special interests" and reviling Washington's "business as usual"—all part of Democrats' grand plan—could prove especially effective for first-time candidates, many of whom already see the benefit in portraying themselves as political outsiders in the current climate.
"I think this works better probably for challenger candidates running for the first time against sitting incumbents," Mollineau said. "It's much easier to rail against D.C. when you're not a part of D.C."
But even those who see the advantage to drawing attention to Trump's swampy Washington, D.C., believe any message about the president and his administration's missteps should come second to the kitchen table issues at the top of voters' minds.
"I don't think you'll see this pushed in the same way, nor should it be, but factored into Democratic messaging at a more minor level will also be the revelations about Republican corruption," Andrew Bates, the deputy communications director at the progressive research and communications organization American Bridge, told Newsweek last week, ahead of Monday's announcement. "It won't be the main takeaway."
Bates said health care and taxes should be foregrounded in Democratic campaigns because they "touch on voters' daily lives in a way other issues can't."
"Both are a way to motivate the base and reach out to people who haven't voted for Democrats in recent elections," he added.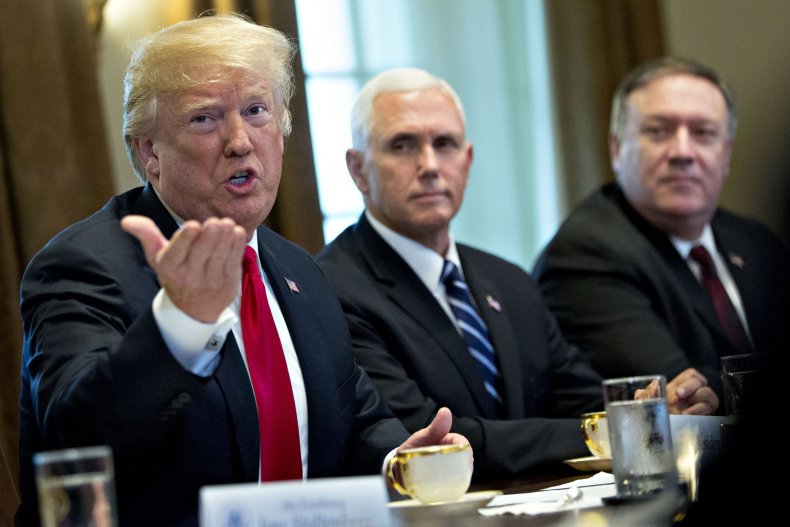 A Democratic spokesperson in the House, who shared the "Better Deal" plan with Newsweek, said the party's decision to focus on corruption and moneyed interests in Washington aligns with recent findings. In April, polling from Suffolk University found 68 percent of unregistered voters and "registered-but-unlikely" voters abstain from the political process because they believe it's corrupt. And a Pew Research Center poll from the same month reported that 61 percent of Americans believe the United States government needs "significant changes" to its fundamental "design and structure" in order to function properly.
Other surveys, like a recent one from American Bridge that showed Enrivonmental Protection Agency head Scott Pruitt with a mere 29 percent approval rating, showed Americans are taking seriously Trump administration officials' abuse of power and taxpayer money. Pruitt's office has been roiled with scandals over the EPA administrator's spending: His receipts include a $43,000 soundproof phone booth, a $3 million 24-hour security detail, $40,000 for a five-day trip to Morocco with his aides and tens of thousands of dollars more spent on other private flights.
Meanwhile, in the Department of Housing and Urban Development, Secretary Ben Carson bought a posh new dining room set priced at $31,000. Secretary Ryan Zinke, of the Interior Department, wanted to spend $139,000 on doors before negotiating down to $75,000 in the face of criticism. And former Health and Human Services Secretary Tom Price stepped down in September after spending roughly $400,000 on chartered flights.
The swamp, it seems, has only gotten danker under Trump.
Amid these data points, Democrats hope to have found a message—"if not the message," the Democratic spokesperson emphasized—that will help them cut a path to victory in November. With it, the Democrats have one eye trained on their core base, and the other on apathetic voters who stayed home in 2016 or cast their vote for Trump only to be later disillusioned by his presidency.
"Voters see our government as a 'pay to play' atmosphere and they're looking for someone to come to them with real solutions," the spokesperson said.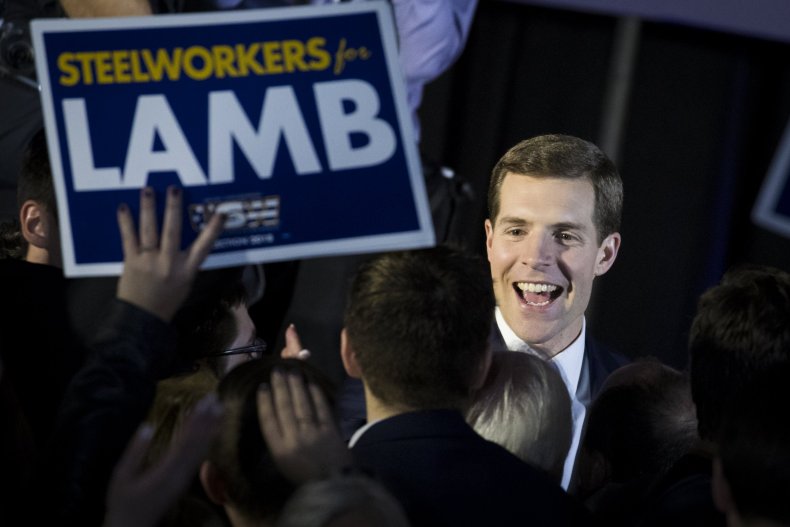 For many Democratic strategists and consultants, Conor Lamb's campaign, which in March won him a Pennsylvania House seat in a Republican-held district, is a potential model as the party seeks to flip 23 more House seats. But the lessons from that victory may not perfectly align with Democrats' new message.
"It wasn't like he had some sort of revolutionary playbook," a source who worked on Lamb's campaign told Newsweek on Monday. "He talked about the issues people were most concerned about in his district."
In Pennsylvania's 18th district, the source said, those issues were Medicaid and Social Security. Messaging about "wealthy special interests having undue influence" in Washington was one that resonated with voters across party lines, the source added, but it wasn't usually the first thing they wanted to talk to Lamb about.
"When people have a chance to ask their candidate or congressman one thing, it's usually about something like retirement security, jobs, pay, union issues, the cost of health care...." he said. "Those really are some of the biggest and most pressing issues people encounter every day."
Mollineau said there's a sense in which choosing a message for Democrats isn't that complicated. It involves listening to the voters in the district and being "authentic," a word political strategists have emphasized as November draws near. But more than anything, Mollineau added, it requires staying on-message—whatever the message is.
"They could've come out today with 'candy canes and unicorns for everyone,' but it's not so much about the message as it is the ability to commit to it, and amplify it concisely and consistently over a period of time," Mollineau said Monday. "That's what makes it effective. And that's what they need to focus on."