Are Bella Hadid and Drake Dating? Model Responds to Rumors
Victoria's Secret model Bella Hadid took to Twitter Friday to dispel rumors she was dating Toronto rapper Drake. The lyricist raps about dating a model on his new album Scorpion, and many assumed he's talking about Hadid.
Hadid responded to a story written by celebrity blogger Perez Hilton. The title of the story reads: "Is Drake Caught Up on Bella Hadid?? The Lyrical Evidence!" A Twitter user replied: "Probably, who hasn't he banged?"
That's where Hadid got involved. "Not me!!!" she wrote back. "That's disrespectful. Why can't people be friends without all the insinuation?"
The speculation started after he seemingly raps about her on the track "Finesse." He spits: "I want my baby to have your eyes, I'm going against my own advice / Should I do New York? I can't decide / Fashion Week is more your thing than mine."
Some people further assumed he was talking about Hadid since Drake supposedly talks about her sister, Gigi Hadid, who is also a model. "You stay on my mind / You and your sister too hot to handle," he says.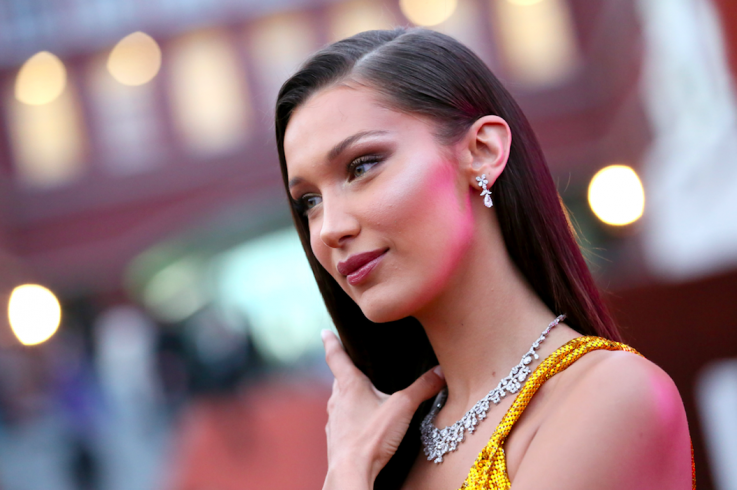 Arguably, the biggest reveal on the album is when Drake confirms he fathered a love child with former adult star Sophie Brussaux.
"From empty souls who just wake up and look to debate / until you staring at your seed, you can never relate," he says. "Breaking news in my life, I don't run to the blogs / The only ones I wanna tell are the ones I can call / They always ask, 'Why let the story run if it's false?' / You know a wise man once said nothing at all."
He confirms his son on the Mariah Carey-sampled track: "Look at the way we live/I wasn't hiding my kid from the world, I was hiding the world from my kid."
Rumors of a love child circled for months, but Pusha T resurfaced the allegation when he released his diss track, "The Story of Adidon." "You are hiding a child, let that boy come home/ Deadbeat m********** playin' border patrol, ooh," Pusha says on the song.
Are Bella Hadid and Drake Dating? Model Responds to Rumors | Culture