From Drake to Babymetal: 10 April Albums We Can't Wait to Listen To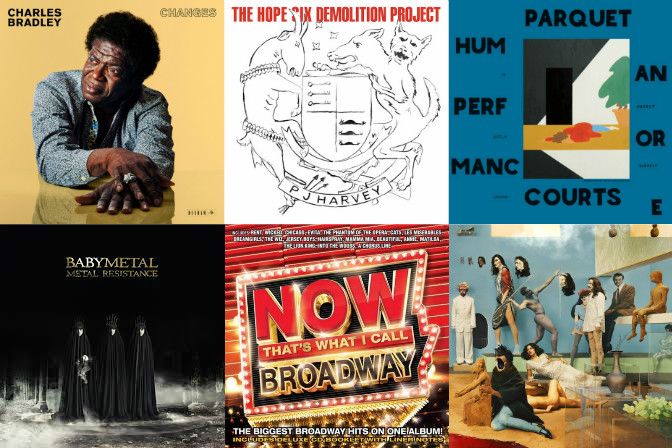 April typically brings the arrival of spring, and what better way to celebrate the onset of allergy season than with music, sweet music? Whatever your pleasure, you can find it hitting shelves sometime in the next 30 days. There's soul, funk and hip-hop. There are Japanese schoolgirls singing along to doom metal. A two-disc set will take you through the Nigerian rock scene of the '70s, while the latest NOW! compilation provides an overview of Broadway's most memorable show tunes. Of all the great music with release dates forthcoming, here are the 10 albums we're most excited to drop the needle on.
Charles Bradley, Changes
Release Date: April 1
Label: Daptone
Not many artists release their debut album at the age of 62, but such was the case for Charles Bradley when Daptone Records put out No Time For Dreaming in 2011. The label's co-founder, Gabriel Roth, had discovered Bradley performing in Brooklyn nightclubs under the name Black Velvet, recognized his powerful wail and James Brown-like swagger and invited him into the studio. Since then, the "Screaming Eagle of Soul" has wowed live audiences around the world with his magnetic stage presence, surprisingly spry dance moves and effusive appreciation for his fans. His new album, Changes—his third, following 2013's Victim of Love—features more of the stirring soul jams we've come to expect from Bradley. The title track, as you probably (definitely didn't) guess, is a cover of the 1972 Black Sabbath ballad of the same name.
Yeasayer, Amen & Goodbye
Release Date: April 1
Label:Mute
Is indie rock dead? Nobody bothered to tell late-aughts darlings Yeasayer, whose new album, Amen & Goodbye, has just dropped. It's the follow-up to 2012's bold but jumbled Fragrant World and has been preceded by the creepy, alien-filled video for "I Am Chemistry" (sculptor David Altmejd was recruited to visually interpret the album). Amen has been praised for recapturing some of the spirit of 2007's now-classic All Hour Cymbals; if Yeasayer is lucky, it'll recapture some of the 2007-era buzz as well.
Babymetal, Metal Resistance
Release Date: April 1
Label: RAL/Sony
If you haven't had the ironic pleasure of listening to Babymetal yet, you should know it's a Japanese three-piece that combines metal instrumentation with Japanese "idol" vocals—think really aesthetically minded pop, like Tokyo Girls' Style. The result does what it says on the label and is as jarring as that sounds: a mix of demonic guitars (played by a backing band as the girls just sing) and sugary, kawaii choruses sung by three schoolgirls between the ages of 16 and 18. Babymetal has already opened shows on Lady Gaga's 2014 ArtRAVE tour and count Marilyn Manson and Skrillex among its fans. There's obviously a heaping helping of novelty behind Babymetal's rise, but Metal Resistance single "Karate" actually wails, and the band's optics are still refreshingly weird—even if the joke ends up wearing off by this time next year.
Parquet Courts, Human Performance
Release Date: April 8
Label:Rough Trade
It's hard to know what to expect from Brooklyn smartasses Parquet Courts. Sometimes, like on 2013's Light Up Gold, they're stoner punks mining and mocking over-educated millennial ennui. Other times, they're going by Parkay Quarts (and retaining only the original lineup's two frontmen), leaning alt-country and getting pissed off about hot takes, like on 2014's Content Nausea. And still other times they're telling everyone to go fuck themselves, like on last year's discordant, mostly instrumental Monastic Living EP. Two impressive new singles they've released off Human Performance, "Outside" and "Berlin Got Blurry," suggest they also have a New Wave side, and it's executed so confidently you'll wonder if they've actually sounded like the Attractions the whole time and you only just noticed.
PJ Harvey, The Hope Six Demolition Project
Release Date: April 15
Label: Island Records
Last we heard from Polly Jean Harvey (poetry notwithstanding), she was winning the Mercury Prize for 2011's war-torn Let England Shake. She returns five years later with The Hope Six Demolition Project, an album that has much in common with its predecessor (unusual instrumentation, a preoccupation with human suffering) but fast-forwards about a century in terms of lyrical focus. Harvey traveled to Kosovo, Afghanistan and Washington, D.C., for the project, and the songs bear the fruit of her research and travels.
Acapulco Lips, Acapulco Lips
Release Date: April 15
Label:Killroom Records
Traditional three-piece bands are hard to find these days, but when you're furiously churning out nothing but psychedelic surf jams, a guitarist, a bassist and a drummer are all you really need (a few effects pedals aside). Joining a burgeoning Northwest surf-rock scene led by bands like La Luz and Guantanamo Baywatch, Seattle's Acapulco Lips have put together an infectious collection of '60s-inspired garage jams that barely takes time to breathe in the course of just over 30 minutes of action. If you're the turntable type, their self-titled debut is available in limited-edition pink vinyl.
Wake Up You! The Rise and Fall of Nigerian Rock
Release Date: April 15
Label:Now-Again Records
In the late '60s, while the United States was fighting overseas, the West African nation of Nigeria was fighting within its own borders. As was the case in America, a countercultural undercurrent ran through Nigeria during its time of midcentury bloodshed, and also like America, it was fueled by music. Fela Kuti would emerge from the country's burgeoning rock scene to become an international star, but he couldn't have done it without several other seminal Nigerian bands that have been all but forgotten in the West. They were funky, they were soulful, they were psychedelic, and, at the time, they drew the attention of everyone from Cream's Ginger Baker to Paul McCartney. Now, musicologist Uchenna Ikonne has compiled two volumes of essential tracks representative of the era to go along with two picture-filled books telling its story. The Afro rock of the '70s was so much more than just "world music."
Cate Le Bon, Crab Day
Release Date: April 15
Label:Drag City
Wales-bred, Los Angeles-based artist Cate Le Bon's first album on Drag City—and fourth overall—was, according to Le Bon, "lovingly formed in the mouth of the Pacific Ocean, as it quietly mocked us with its magnitude." If any musician can be said to defy classification—a rare feat these days—it's Le Bon, who can express love for something mocking her, discover life while confronting death and weave countless contradictions throughout her wonderfully eccentric songs. She describes Crab Day as a "coalition of inescapable feelings and fabricated nonsense." Never has nonsense made more perfect sense.
NOW That's What I Call Broadway!
Release Date: April 29
Label: Now
The first NOW That's What I Call Music! was released in the United States back in 1998 and included tracks like "As Long as You Love Me" by the Backstreet Boys, K-Ci and JoJo's "All My Life," Janet Jackson's "Together Again" and "Barbie Girl" by Aqua. Nearly two decades and dozens of pop music compilations later—including NOW 58, also due out April 29—comes the first NOW That's What I Call Broadway! According to Jeff Moskow, head of A&R for the NOW album series, "We set out to find 18 songs that represent and celebrate the rich history of Broadway from the last 40 years." They came up with such musical theater mainstays as "Seasons of Love" (Rent); "One" (A Chorus Line); "All That Jazz," featuring Chita Rivera (Chicago); "The Music of the Night," featuring Michael Crawford (The Phantom of the Opera); "Defying Gravity," featuring Idina Menzel and Kristin Chenoweth (Wicked); "Mamma Mia!," from the musical by the same name; "Circle of Life" (The Lion King); and "Memory" featuring Betty Buckley (Cats). The last show—once the longest-running on Broadway—is set for a revival this summer, joining several musicals featured on the NOW compilation that are still running or have revivals up.
Drake, Views From the 6
Release Date: TBD
Label: Cash Money
Though the album has been hinted about since summer 2014, it seems we're finally in the homestretch of waiting for Drake's first full-length since 2013's Nothing Was the Same. (That is, if you don't count last year's Future collaboration, What a Time to Be Alive, or Drake's surprise mixtape If You're Reading This It's Too Late—which you shouldn't, though both were great.) After a bunch of seeming fits and starts (Complex has a solid timeline) and some pretty out-there leaked tracks, including the unfinished Beyoncé collaboration "Can I," a series of billboards around the rapper's native Toronto and hints posted to his Instagram indicate the long-awaited album is coming this month.