Dramatic Body-Cam Video Shows Moment Crash Victim Saved From Submerged Car
Dramatic police body-cam footage has shared the moment a crash victim was rescued from a car submerged in a Florida canal.
In a Facebook post shared by the Martin County Sheriff's Office (MCSO) on Wednesday, February 1, police explained the 38-year-old man became trapped following the crash.
Officers were alerted to an automated crash distress signal from a cell phone on Tuesday night, according to the post.
Police found the location on Google maps using coordinates and located the vehicle in a canal near Indiantown, a village 36 miles northwest of West Palm Beach.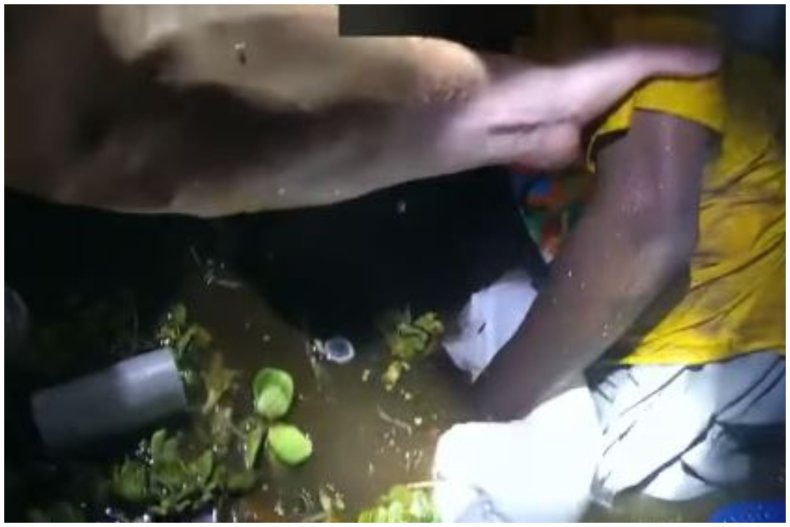 According to the Jack Bernstein Injury Attorneys website, there were 401,533 vehicle accidents in Florida in 2021. It represented an average of 1,100 accidents per day. This was an increase from 2020, with 933 accidents per day on average in the state.
The statement read: "When units arrived to the area, they found a vehicle upside down in a canal. They could hear cries for help coming from inside the vehicle.
"Without hesitation, deputies jumped into the water and rescued the injured man. The rescue was caught on MCSO body cam."
Police said the victim, who was not identified, to a nearby hospital, where he is expected to recover.
In the video, the crash victim's cries could be heard coming from inside the vehicle as officers worked to force the door open.
Seconds later, the man could be seen partly submerged in the water, while police officers moved closer to free him.
"There we go, buddy," one officer said, before another reached out to the victim and worked to get him out from the vehicle.
The man complained about being cold, as police officers continued to encourage him until, seconds later, he was brought out.
Officers said the man steered into the canal "in an attempt to avoid an animal in the road." The crash then prompted the phone to send out an S.O.S. alert.
Since being shared on the MCSO Facebook page, the clip has been shared more than 18,000 times.
Another incident where a police officer pulled a crash victim out of a submerged vehicle was captured on camera in May 2022.
Joanne M. Tanner, 61, had apparently been speeding when her Ford Explorer SUV careened off the road through a fence and into the water in Le Ray, New York.
Dramatic footage of the rescue showed a trooper battering his way through the sunroof glass to get to her.
Tanner, who was close to drowning, was rescued from the vehicle and was later issued with an appearance ticket.
Newsweek has contacted the MCSO for comment.