Dramatic Photos of California's Devastating Carr and Mendocino Complex River and Ranch Fires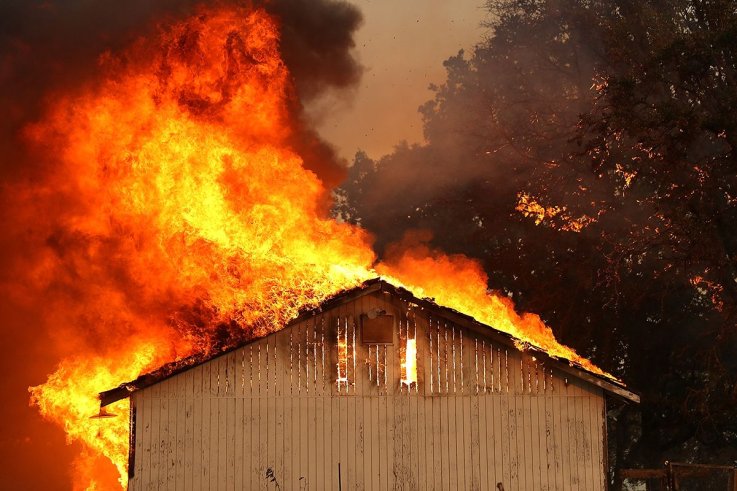 There are 94 wildfires burning across 13 U.S. Western states, from Texas to Alaska, according to the National Interagency Fire Center. California, with 17 large active blazes reported, has been one of the hardest hit, with a volatile mix of triple digit-temperatures, erratic winds and drought-parched vegetation fueling intense wildfire activity.
However, fire officials in northern California hope, if weather conditions allow, to let more residents back into their homes on Wednesday. Lighter winds gave a boost to firefighters battling a pair of fires at the southern end of Mendocino National Forest, where some 12,200 people are under mandatory evacuation orders.
Those blazes, dubbed the Ranch and River fires, have charred more than 80,000 acres, with containment measured at 12 percent for the two together.
Calm winds are also expected in the Carr Fire area, about 150 miles (240 kilometers north of Sacramento, the National Weather Service said. Temperatures above 100 degrees Fahrenheit (37 Celsius) and low humidity are to likely to persist.
"Repopulation of communities affected by evacuations will continue as conditions allow," The California Department of Forestry and Fire Protection (CalFire) said in an advisory on Tuesday.
The Carr fire has claimed six lives, including two firefighters, since gale-force winds whipped the blaze into a flaming cyclone that jumped a river and roared with little warning into Redding and adjacent communities in the scenic Shasta-Trinity region on the night of July 26.
Four people are still missing in the fire zone, but 16 people listed as missing turned up safe, a Redding police official said.
Some 965 dwellings and more than 400 other buildings have been reduced to ruins by the blaze, which is now ranked as the sixth most destructive wildfire in California's history, according to CalFire. A mechanical failure of a vehicle caused the fire, CalFire said.
Diminished winds on Tuesday helped some 4,100 firefighters gain significant ground on the fire. They have cut containment lines around 30 percent of the fire's perimeter, up from 5 percent during much of the past week, even as the footprint of scorched landscape grew to almost 113,000 acres (46,000 hectares). The conditions allowed some evacuees to return home, though as many as 37,000 remain displaced.
— Reuters.