Dramatic Pictures and Videos Show Worst Unrest in Northern Ireland Since Good Friday Agreement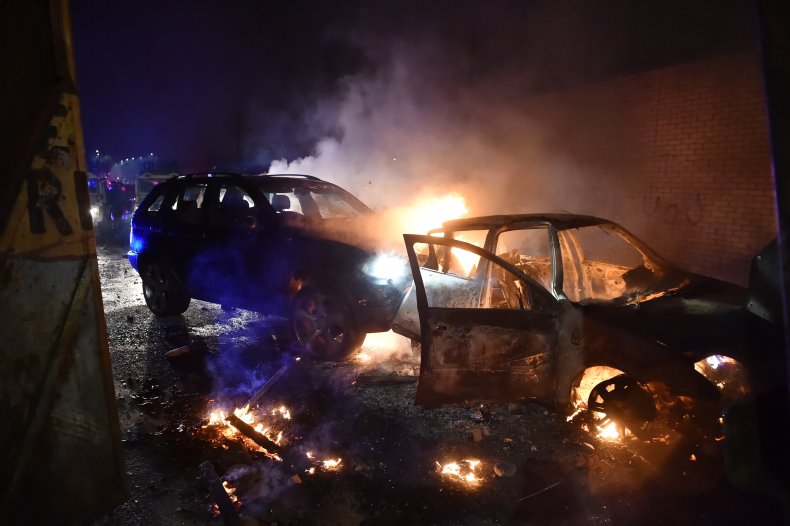 Scenes of chaos have emerged from Northern Ireland as it experienced another night in a week of unrest Wednesday in Belfast, the worst since the Good Friday Agreement was signed in 1998.
A bus was hijacked and set on fire Wednesday in one of many instances of violence due to tensions mounting over Brexit and fueled by clashes between British protestant loyalist communities and Irish nationalist Catholics, according to the Associated Press, as they attacked each other and law enforcement.
"We are gravely concerned by the scenes we have all witnessed on our streets over the last week, including those at the Lanark Way interface last night," a statement from the Executive Office, a government department a part of the Northern Ireland Executive, said on Thursday. "Attacks on police officers, public services and communities are deplorable and they must stop."
Videos and photos on social media captured the attack on a Translink Metrobus in which petrol bombs were hurled at it by attackers before it caught fire.
Translink on Thursday said that the driver of the bus was uninjured but "badly shaken."
"A moving bus on fire surrounded by a large crowd could have led to members of the local community being seriously injured," Police Service of Northern Ireland (PSNI) Assistant Chief Constable Jonathan Roberts said in a statement Thursday that condemned the recent violence that also involved bottles, masonry and fireworks.
Roberts said that a press photographer was assaulted Wednesday and had his equipment damaged by two masked men. An investigation is underway.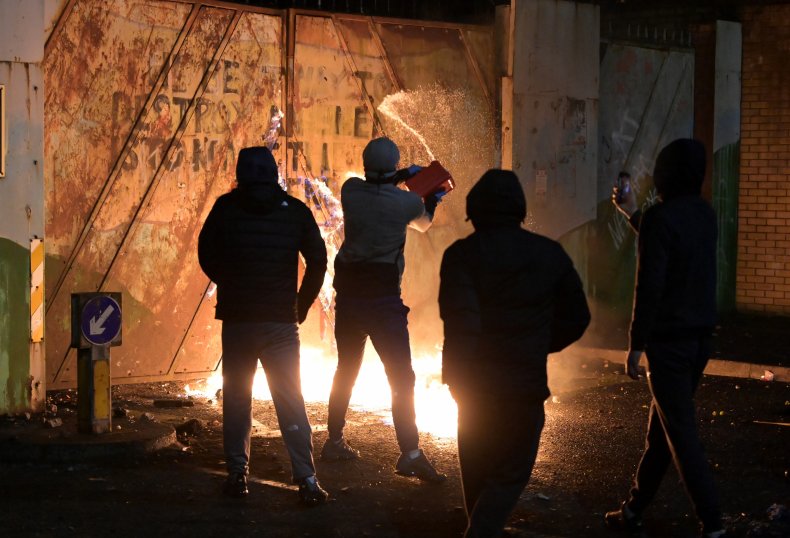 U.K. Prime Minister Boris Johnson took to Twitter on Wednesday to express his concern over the unrest, "especially attacks on PSNI who are protecting the public and businesses, attacks on a bus driver and the assault of a journalist. The way to resolve differences is through dialogue, not violence or criminality," he wrote Thursday*.
Many of the violent clashes occurred over a "peace wall" in West Belfast that separated loyalist protestant neighborhoods from an Irish nationalist area, according to on .
"Whilst many of those involved in the disorder last night were adults, it is clear there were many young people involved," Roberts said. "Young people were being encouraged to commit criminal acts by adults, who stood by clapping and encouraging the violence."
In sharing a video of the violence on Twitter on Wednesday, the Police Federation for Northern Ireland said, "These are scenes we hoped had been confined to history."
Dr. Jennifer Cassidy, a politics lecturer at Oxford University, tweeted Wednesday morning to recall how the "impossible was achieved" when the Good Friday Agreement was signed and said regarding the recent unrest that "hope is dying."
The Police Federation for Northern Ireland has been contacted for comment.
There have been occasional violent outbreaks in Northern Ireland since the Good Friday Agreement ended what was termed "the Troubles"—"decades of Catholic-Protestant bloodshed over the status of the region in which more than 3,000 people died," according to AP.