Dramatic Rescue of a Kayaker Stranded on a Lake Hailed As 'Miraculous'
The dramatic rescue of a stranded kayaker in the middle of a lake by a quick-thinking woman has been hailed as nothing short of "miraculous."
Sally Wallick was kayaking on Okanagan Lake, British Columbia, Canada, when she spotted a man who looked like he was in trouble.
The 27-year-old, who had a head camera, spotted the man in the water next to his capsized kayak, and it seems as if he'd been there for quite some time.
She later theorized he'd been submerged for around 45 minutes, as she told Global News: "I noticed right away he wasn't really okay. I tried to keep it light not to panic him. He was passed the point of... being panicky which was concerning. I tried to keep it light, but inside I was like, 'Oh no, this guy needs help right away.'"
Wallick's camera captured the incredibly calm rescue, as she shouts to him: "You in a little bit of trouble? How you doing? How long have you been out here for?"
Realizing he was in desperate need of assistance, she told him to grab onto her boat, as she tried to get him to shore as quickly as possible. The man seemed concerned about his own kayak as Wallick told him to ditch it, reassuring him: "We're just going to leave your kayak, we're just going to drop it. It will wash up to shore.
"This boat is really tippy but we need to get you to shore, because your lips are purple. You're really cold, leave the kayak. We'll find it I promise. Grab onto my boat, actually grab onto the front, the tip, so I can see you. I'll grab your paddle. Is there anything important in that bag you want?"
Wallick, a musician, later added the man had come out on the 84-mile long lake prepared, adding he had a phone with him, but had been caught out by the weather, calling it "unlucky."
She set about trying to paddle to shore, telling him to "hug" the boat, adding he was "doing great." The clip captures her telling the stranded man "kick a little bit to keep warm," "remember to breathe" and "can you keep your eyes open for me."
But things take a turn for the worse in the five-minute long video, as Wallick quickly change tactics after his condition deteriorated. "His eyes started closing and [he] started to really go limp. That's when I was like, 'What do I do now?' because he is about to let go of the boat," she told the news outlet.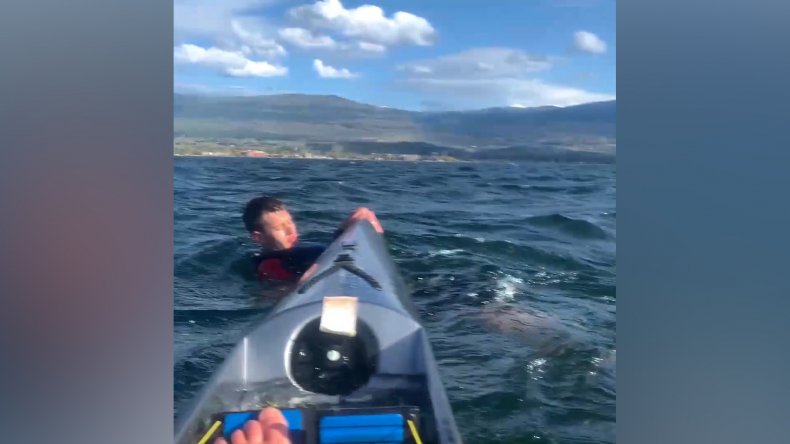 In the clip, she says: "We're going to try something else, come here. Can you lean on my boat? Hold on to my boat." She tries to get the beleaguered man to lie across her kayak, but disaster looms when her vessel also tips over.
As Wallick got into the water with him, she draped him over her kayak and incredibly, spotted another boat nearby, who she flagged down to help.
The video records the moment she yells out to the fellow sailors, saying: "He needs help." After they made it back to shore, Wallick later added she thinks the man made a full recovery, but she warned people about the unpredictability of the lake.
"The most important thing is to understand, especially this time of year, is how unpredictable weather conditions are. You should have someone with you. You should have people [on shore] know you are out there. I do kind of think about what would have happened maybe if the pontoon boat didn't come," she added to Global News.
The clip was initially uploaded in May, via Storyful, but was shared to TikTok on Tuesday, where it's already amassed more than a million views. Human Kind uploaded the clip, captioning it: "Dramatic rescue of a kayaker."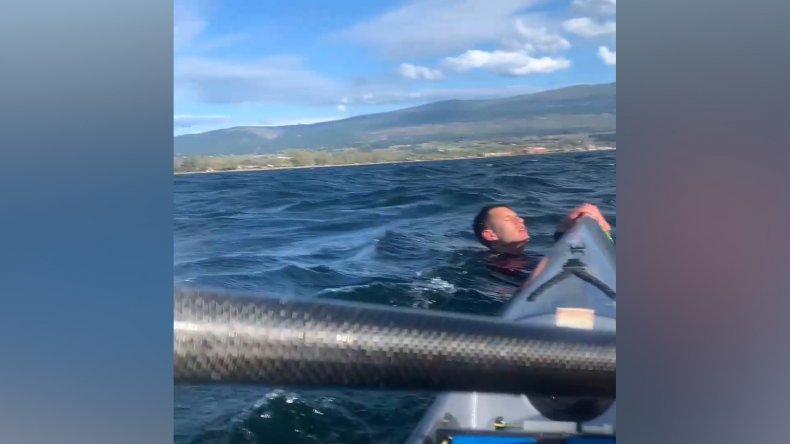 Numerous people praised Wallick's actions, with Kara commenting: "She was his guardian angel that day."
Traci J revealed: "I lived in Okanagan for about 2 years. That lake is cold even in summer. Lucky he wasn't in there too much longer."
Kaitlin S thought: "This is crazy! So glad she was there because if she wasn't & his lips were blue he probably wouldn't have made it!"
While Brivalde wrote: "What are the chances that you were at that exact place at the right time?? Miraculous!"
And Amber Roy-Lemaigre added: "He must have been so scared. Thank god for Sally."
Newsweek reached out to Wallick for comment.