Dramatic Video Captures Police Officers Rescuing Man From Flames Before Truck Explodes
Dramatic video footage captured Texas police officers rescuing a man from a burning truck moments before the vehicle exploded.
In the video, an Austin police officer is seen smashing in the driver's side window of a burning grey truck before opening the door from the inside. Another officer then approached the vehicle with a fire extinguisher.
Both officers can be heard telling the driver that the truck has caught on fire and instructing him to get out. When the man seems unresponsive, the officers go in to grab him, repeatedly yelling "pull."
The two officers dragged the man away from the truck before the vehicle exploded and black smoke engulfed the truck. People at the scene were heard screaming.
The fire visibly became bigger before the video showed firefighters attempting to extinguish the flames.
The Austin Fire Department identified the two police officers as Chandler Carrera and Eddie Pineda.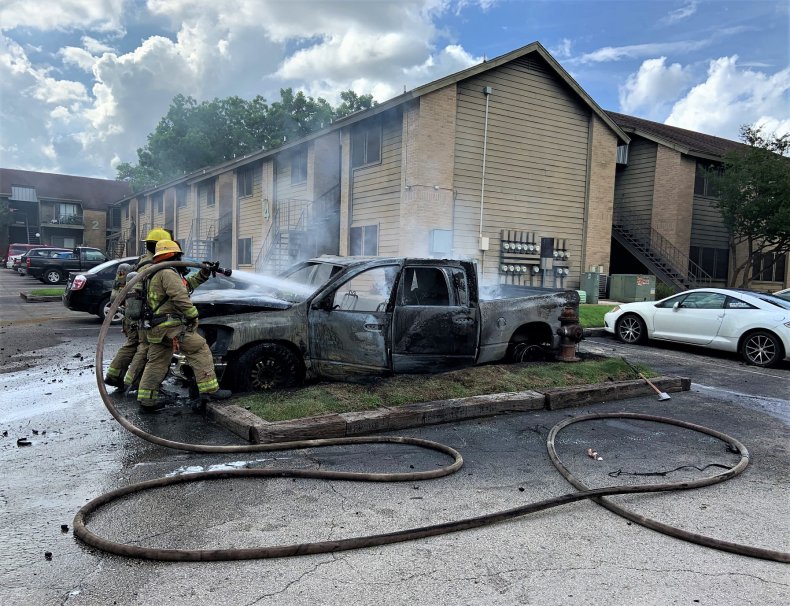 The fire department said several B-shift crews were called to the Enclave apartment complex in south Austin on Monday afternoon after receiving reports of a car fire with a person trapped inside.
Officials said the fire broke out when the driver suffered a medical emergency while backing into a parking spot. Because the driver's foot was still on the accelerator and he was unable to move it, the tires continued to spin in place, causing the blaze.
Police arrived at the scene before the fire department, and quickly responded to the emergency.
"Two Austin Police Department officers—Chandler Carrera and Eddie Pineda—arrived on scene just before our crews did and bravely risked their own lives to rescue the driver, smashing the window to open the door and then dragging the man from the truck to safety just before it became completely engulfed in flames," the Austin Fire Department wrote in a Facebook post.
"We salute our brothers in blue for their heroic and selfless actions during this incident!" the department added.
Authorities said the driver was subsequently transported to the Dell Seton Medical Center by Austin-Travis County Emergency Medical Services with serious, potentially life-threatening smoke inhalation injuries.
"The whole thing was crazy," Tony Farmer, who watched the scene unfold from the third floor of a nearby apartment, told the Austin American-Statesman. "Those cops... there's no doubt about it-- they risked their lives and they're heroes. There's no doubt about it."
Newsweek reached out to the Austin Police Department for comment, but did not hear back before publication.