A mako shark 30 miles off North Carolina's Outer Banks tried its best to make a meal out of a boat. Thankfully for those on board, including a bevy of marine researchers, the hull's steel withstood its sharp teeth, according to the Raleigh News and Observer.
Mako sharks are not known to be aggressive, but this one had a definite cause for complaint. It had been captured and tagged on the first day of a research expedition that was intended to evaluate the impact of longline fishing on local mako numbers. Led by Brooke Anderson of Arizona State University and Mischa Schultz of the University of Missouri, the expedition, which began on April 17 and ended on April 20, was funded by the National Oceanic and Atmospheric Administration Bycatch Reduction Program.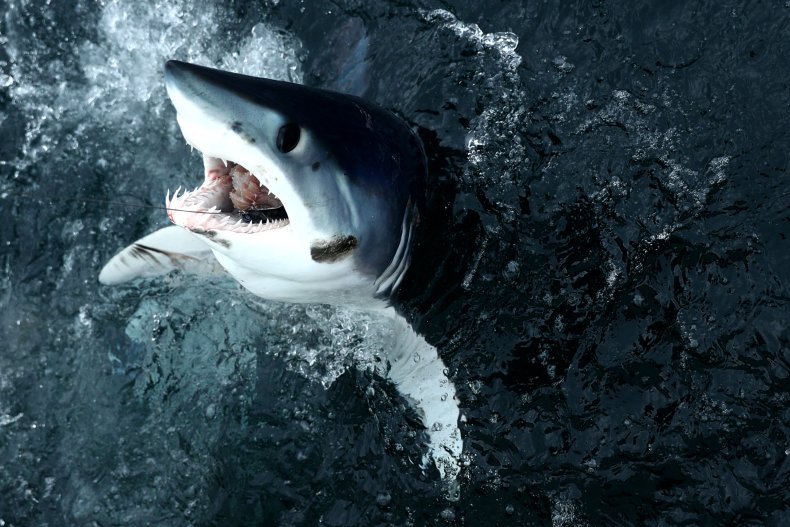 "Bycatch" refers to sea animals that are unintended casualties of commercial fishing. Longline, which can stretch as far as 28 miles, often ensnares sharks, whales, turtles, and dolphins, according to NOAA.
In order to collect data, the researchers crewed aboard a local fishing boat, the Sarah Brent. Captained by Gordy Elliot, the boat sailed out of the community of Wanchese on Roanoke Island.
In total, the researchers caught and tagged 19 makos over the course of the expedition, the smallest of which was four feet long and the biggest of which was eight feet long. The tags, which are attached to their first dorsal fins, will record their movements for 28 days and then "pop off," Sulikowski told Raleigh News.
The attack, which was caught on camera, occurred immediately after the mako was released back into the ocean. In the clip, the shark makes what the researchers described as a "U-turn" and comes after the Sarah Brent, chomping on its hull before swimming away after about 30 seconds.
But the attack didn't faze the researchers in the slightest.
"It was pretty awesome," James Sulikowski of the Sulikowski Shark and Fish Conservation Lab at Arizona State University, one of the members of the expedition, said. "We were excited to see it being released in great condition, then to see it turn around in typical mako fashion and bite the boat was spectacular. It was making a statement: 'You caught me, now I'm going to catch you so we're even.'"
Despite the stress they endured, all 19 of the captured and tagged sharks are still alive, he said.
"We did not observe any post-release mortality. All indications now are that makos have a high survival rate," he told the outlet.