Dramatic Viral Video Shows School Bus in Flames After Driver Rescued All 34 Kids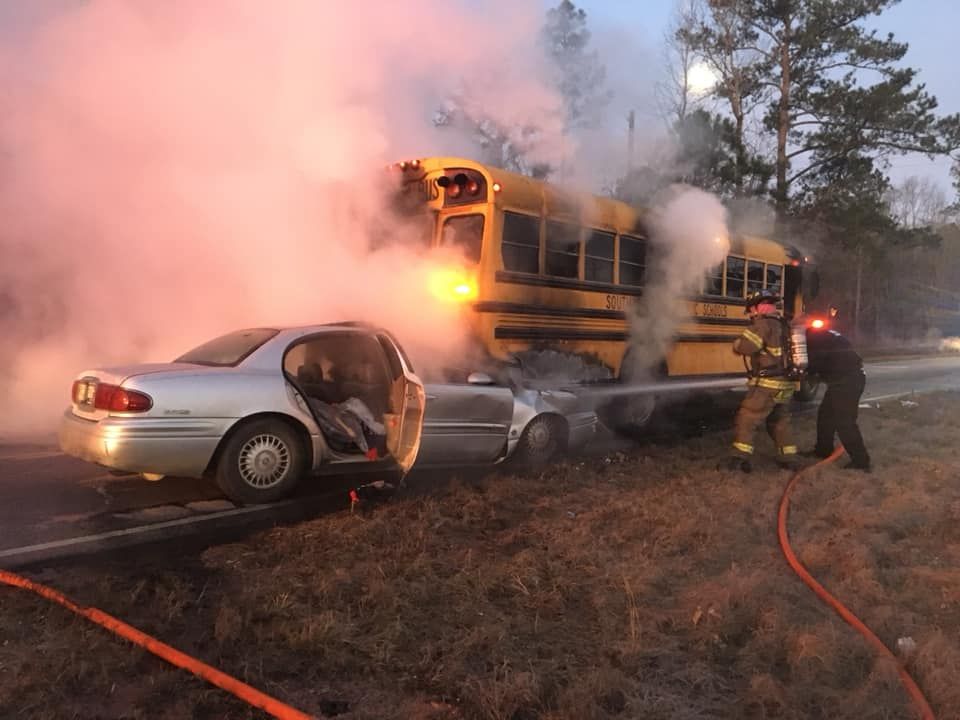 A school bus in South Carolina burst into flames Tuesday with 34 children inside. All were rescued by the bus driver, according to officials, and escaped serious injury.
A car crashed into the back of the bus as it was driving through Darlington County, Darlington County Schools Public Information Officer Audrey Childers told WBTW. It was headed to Brunson-Dargen Elementary School and Cain Elementary School.
South Carolina Highway Patrol spokesman Corporal Sonny Collins told NBC-affiliate WMBF News the car was a Buick and struck the bus around 6:30 a.m.
Read more: North Carolina pastor encounters knife attacker, prays with him before suffering cuts to face
Dramatic images from the scene shared by the local fire department show the bus in flames, with thick clouds of smoke rising from the body of the vehicle. A smashed and burned-out car can be seen by its side.
In a video of the incident filmed from a car in the surrounding traffic that was shared on Facebook, sirens wail as emergency services work to get the fire under control.
"That's crazy!" a woman is heard saying of the fire.
Another Facebook user, who claimed to be the mother of one of the children on the bus, wrote below the video, "It caught fire while they was on the bus!!!!! My daughter was on it along with my niece and a BUS FULL of kids.... My child has asthma and that smoke triggered it she hit her face from the impact cuz she was at the back of the bus we gettin checked out now."
On its Facebook page, Palmetto Rural Fire Department and Medical Transport praised its staff, adding: "But a special shout out to the bus driver who got all the kids off the bus! No one was seriously injured in this incident!"
The parents of the school children were all alerted to the incident, Childers told WPDE.
The crash caused a traffic jam on East McIver Road and Riverview Roads, on the Florence County line, which cleared by around 9:30 a.m, WMBF reported citing South Carolina Highway Patrol.
The driver of the car was taken to hospital, according to Collins. He told ABC-affiliate WPDE that the driver was traveling too fast for the conditions.
It is unclear whether the driver of the car was arrested. South Carolina law states drivers caught exceeding the speed limit for the first time can be fined between $15 to $200, face a prison sentence of up to 30 days or have their license suspended for between three to six months.