What Draymond Green Said About Sparking Fergie Reaction Gif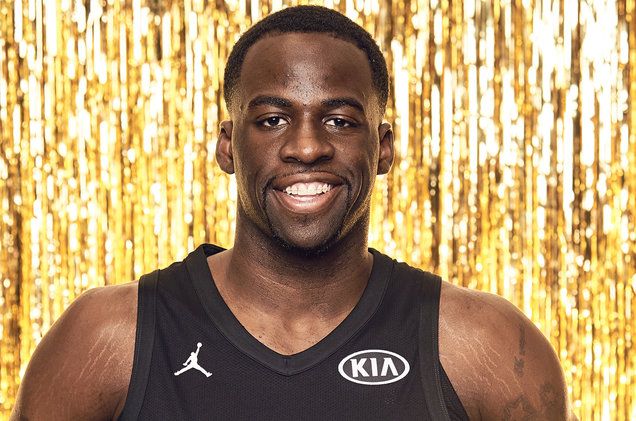 On Sunday, Golden State Warriors player Draymond Green couldn't keep a straight face while Fergie sang the national anthem at the NBA All-Star Game at the Staples Center in Los Angeles. As the "Big Girls Don't Cry" singer hit her final notes, Green cracked a smile—and his reaction became a viral gif, garnering thousands of shares on social media.
Most fans assumed Fergie's bizarre version of "The Star-Spangled Banner" made 27-year-old Green laugh, though he didn't confirm the suspicion during a post-game interview.
When he was asked about his response going viral, Green brushed off reporters. "I was just chillin', man," he said with a grin. When asked to explain further, he didn't add much: "I don't know. It's the national anthem."
Team LeBron James bested Team Stephen Curry with a close score of 148–145.
But it wasn't just netizens who ripped apart Fergie's routine. Comedian Roseanne Barr took to Twitter, referencing her rendition of the national anthem at a San Diego Padres game in 1990. "Who saw Fergie's national anthem performance at the NBA All Star Game? I think mine was better lowkey," she tweeted on Monday.
The criticism resulted in Fergie, 42, releasing a public apology. "I've always been honored and proud to perform the national anthem and last night I wanted to try something special for the NBA," the former Black Eyed Peas singer told TMZ on Monday. "I'm a risk taker artistically, but clearly this rendition didn't strike the intended tone. I love this country and honestly tried my best."
Green's reaction wasn't the only one that went viral. "Bodak Yellow" rapper Cardi B was accused of enjoying Fergie's version of the anthem, bopping her head and eating popcorn. In turned out, however, that she was jamming to her hit song, "Bartier Cardi."