Draymond Green: Kevin Durant Spat Will Make Warriors 'Stronger'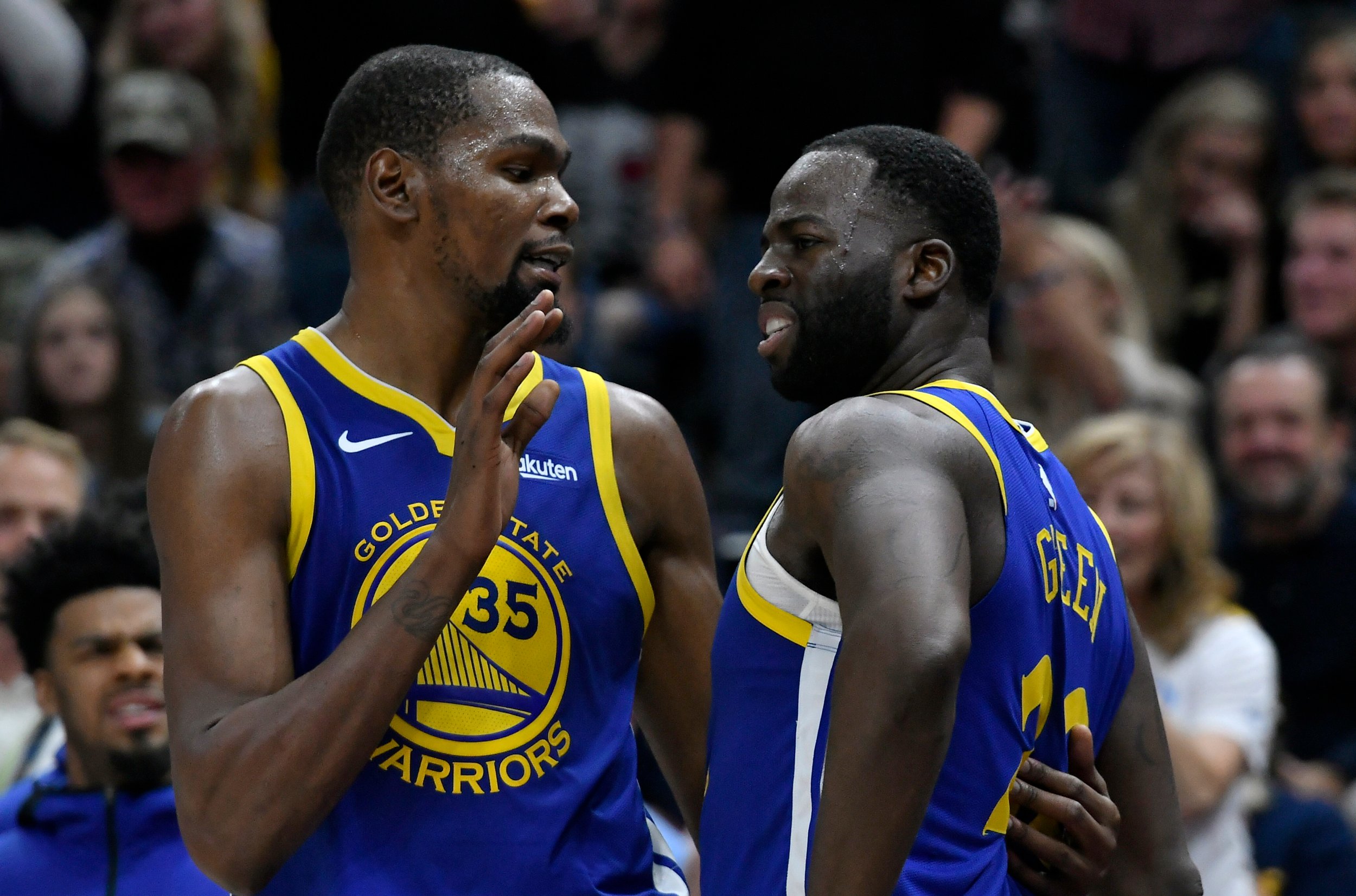 Golden State Warriors forward Draymond Green revealed that he's spoken with teammate Kevin Durant since their on-court argument and locker room alrercation during the team's shootaround on Thurday.
Green, who called himself "an emotional player," said that he doesn't intend to change his playing style and the team should be able to work through the incident.
"Kevin and I spoke. We're moving forward," Green said in a lengthy statement to media members during the team's shootaround on Thursday. "I think there's no secret that I am an emotional player. I wear my emotions on my sleeve. I play with that same emotion. Sometimes it gets the best of me and it doesn't work to my favor.
"I am going to live with that. Because it works in my favor to the good, as my résumé speaks, and this team's résumé speaks, more so than it doesn't. So I am never going to change who I am. I am going to approach the game the same way that I always do. And like I said, we will continue to move forward."
Green was suspended without pay for one game following his late-game exchange and locker room spat with Durant during Monday's loss to the Los Angeles Clippers.
The two players were seen arguing on the court and the confrontation carried into the team's locker room after the game, which reportedly included some teammates loudly confronting Green for his decision-making during the final play of regulation, league sources told ESPN's Adrian Wojnarowski and Marc J. Spears.
According to ESPN, witnesses described the altercation as "one of the most intense of this Warriors era."
Head coach Steve Kerr revealed that the team had a short meeting prior to the shootaround which addressed several issues including the altercation between Durant and Green.
Kerr said the mood of the players -- specifically Green and Durant -- was still "pretty quiet," but he is confident that the two All-Stars will be able to work out their differences.
"We met in the locker room before practice and went through our usual game-day routine, addressed some things that will remain private," Kerr said. "I know Kevin and Draymond have spoken and that's as much as I'm going to reveal.
"I can tell you that I am extremely confident in this team's ability to get through any adversity. And last time we were in this building, we won a Game 7 on the road against a great team. We were down 15 in the second quarter. I know what this team's made of. I know the character of the group. I know the history of this group. And it's way too strong and way too powerful to be upended by the type of adversity that can hit any team in the season. So we're going to get through this."
Durant's impending free agency was believed to be one of the reasons for his teammate's locker room outburst. However, Green doesn't believe the altercation between the two will play a deciding factor in the former NBA MVP's decision of whether to re-join Golden State next Summer.
"I have read a lot about how, 'Is this the end of the run?' or 'Is it over?' or 'Did I ruin it?' or 'Did I force Kevin to leave?'" Green said. "You know, at the end of the day, as I've said before, whatever Kevin decides to do, whatever Klay [Thompson] decides to do, whatever who decides to do, we had great years together and I support everybody wholeheartedly, 100 percent. Because as a man, as a human being, you got the right to do what you want with your life. So I will never question that."
Green also attempted to push the focus back toward basketball, claiming that the Warriors would become stronger after Monday's incident.
"What you must know is nobody in this organization, from a player -- not myself, not Kevin, not anybody else -- is going to beat us," Green said. "So if you one of them other 29 teams in this league, you got to beat us. We're not going to beat us. We're going to continue to do what we do.
"I am sorry if that ruins everybody's stories. I know everybody got a job to do. I apologize for ruining y'all's stories if it did. But if this only makes Kevin, myself and the rest of my teammates stronger, that's what it's going to do. You think you saw something before? Good luck with us now. We're not going to crumble off of an argument. We are going to move forward. So that's all I have got to say. Anybody want to talk basketball, I am here. If not, it's been real."
Golden State still remains the top team in the Western Conference with an 12-3 record. The Warriors have also won three of the last four NBA championships and made four consecutive NBA Finals appearances since 2015.