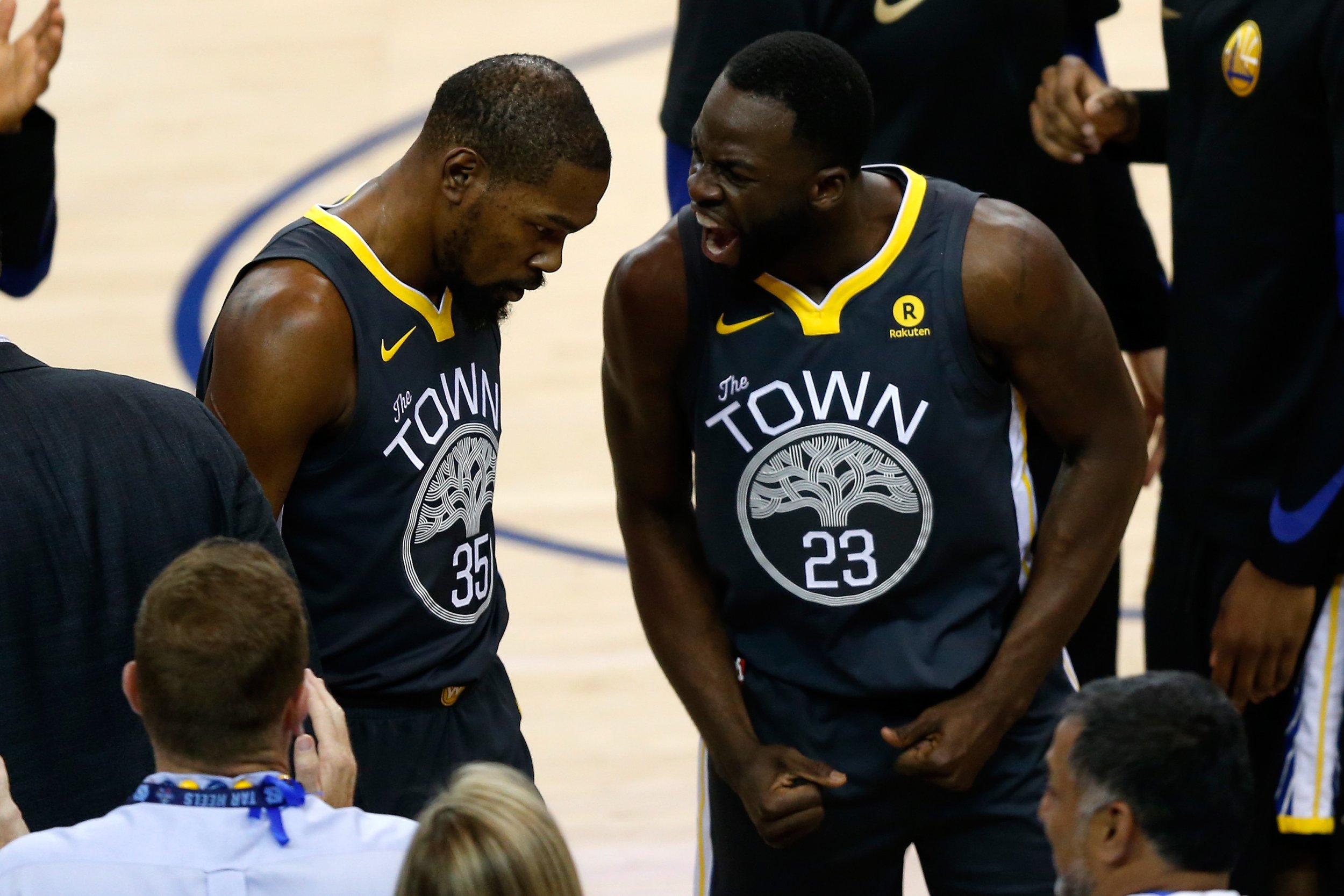 Golden State Warriors forward Draymond Green is expected to miss Tuesday night's game against the Atlanta Hawks due to his verbal confrontation with teammate Kevin Durant.
Green will reportedly be suspended without pay for one game following his late-game exchange and locker room spat with Durant during Monday's loss to the Los Angeles Clippers, according to ESPN.
The two players were seen arguing on the court and the confrontation carried into the team's locker room after the game, which reportedly included some teammates loudly confronting Green for his decision-making during the final play of regulation, league sources told ESPN's Adrian Wojnarowski and Marc J. Spears.
According to ESPN, witnessed described the altercation as "one of the most intense of this Warriors era."
With the score tied at 106 and four seconds remaining in regulation, Green beat Durant to a defensive rebound to reclaim possession.
Durant was shown calling for the ball on the ensuing play, but Green seemingly ignored him, instead dribbling up the court and eventually coughing it up as time expired, despite having Andre Iguodala and Klay Thompson wide open on both sides of him.
Durant and Green appeared to be exchanging words as the teams returned to the bench prior to overtime. Intially, Green seemed to be the agressor as Durant didn't return eye contact to his teammate.
The two-time MVP instead seemed to crack a sardonic smile before turning toward his teammate. Thompson -- who sat between the two -- and Iguodala attempted to play peacemaker during the ordeal.
Neither Durant -- who finished with 33 points, 11 rebounds and 10 assists -- nor Green spoke to the media after the game. Point guard Shaun Livingston, however, attempted to minimize the incident.
"Just team spirit," Livingston said. "Team spirit. Guys wanted a different outcome than what happened. Obviously, Dray had the turnover, guys might have thought they were open or wanted the basketball, didn't get it. Things happen like that in sports. But it was good to see some fire, some emotion."
Prior to the incident, Golden State had mounted a big comeback, which included a 19-5 run to force overtime. However, the Warriors fell short, losing 121-116.
Golden State still remains the top team in the Western Conference with an 11-3 record. The Warriors have also won three of the last four NBA championships and made four consecutive NBA Finals appearances since 2015.
Golden State will extend its consecutive sell-out crowd streak to 300 games during Tuesday night's game against the Atlanta Hawks, which began with a Dec. 18, 2012 game against the Hornets, who were still from New Orleans at the time.
Uncommon Knowledge
Newsweek is committed to challenging conventional wisdom and finding connections in the search for common ground.
Newsweek is committed to challenging conventional wisdom and finding connections in the search for common ground.