My Sister Has Called America Home for 20 Years—Now You Want to Deport Her? | Opinion
I was born in the United States, and, for most of my life, I thought my older sister was too.
I learned about my sister Yatziri's immigration status one afternoon when I found her crying in the kitchen. She was crying because she was not going to be able to go to college. I asked why. She explained, "I don't have papers."
I didn't understand at first. But I quickly learned. At the age of 12, I realized that my older sister could one day be taken away from me.
From that day, I understood that I had enormous privileges that set me apart from my sister, despite the fact that she had lived in the United States since the age of two.
Growing up, I had always been jealous of my sister. Yatziri always had the better grades, she was always the best behaved, and she had so many friends. I never realized how jealous she was of me, because I was born in the United States.
In 2012, Obama announced Deferred of Action for Childhood Arrivals (DACA), which completely change Yatziri's life. I saw my sister learn how to drive, travel, and last year, I attended her college graduation. Despite not being able to access financial aid, she worked hard to support herself, holding down two jobs while finishing her studies. First hand, I saw how day after day my sister strived to succeed in this country.
DACA allowed my sister to not feel fear; and I knew that she was safe from deportation.
But we both knew this safety net was not foolproof, since it did not provide permanent protection.
Seven months ago, our concerns were proved right when Trump terminated DACA. With this reckless act, Trump put my sister and 800,000 immigrant youth at risk of deportation.
Trump's action to terminate DACA has affected thousands of lives—not just of the people with DACA, but everyone close to those people who have been stripped of the program.
I cannot fathom the idea that one day my sister may not be in the United States, the place she has called home for over 20 years. I can't imagine not being able to spend the afternoon with her, going to the movies, walking our new puppy, or even her not being able to attend my college graduation.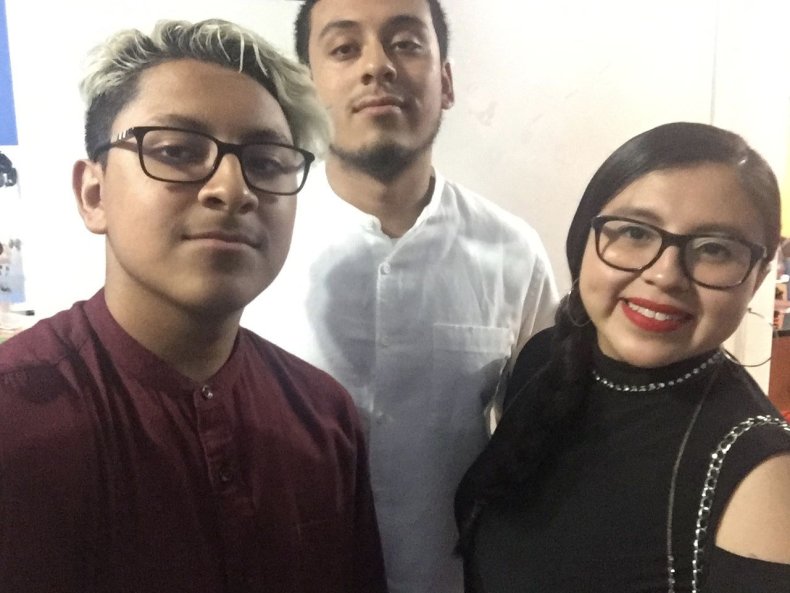 Trump's actions to end DACA were cruel and inhumane. Just as bad were his efforts to blow up all bipartisan negotiations to create a path to citizenship for Dreamers—which he did over and over by trying to hold them hostage to get funding for his racist wall, undoing our family-based immigration system to reduce the number of immigrants from Latin America, Africa, and Asia, and increased criminalization and enforcement to target undocumented people.
To me, this last point is most troubling: Trump is blackmailing my family by pitting my sister's future against the future of our parents and other undocumented relatives, many of whom would suffer from any further increases in deportations.
Already, my parents have not been able to visit me at college during "family weekends," or any family college event because they are scared of traveling to upstate New York and being stopped by ICE officers. I would rather my family not visit me than have them put themselves at risk of being detained, or worse, deported.
Yatziri has become a rock in my life, someone who I can always go to for advice or to learn something new. Every day, my sister, who now works at the immigrant rights organization Make the Road New York, goes out and fights for our community and demands dignity and respect for all. She grew up in a country where the odds were stacked against her, and she has fought not just for herself, but for the rights of all those around her.
Our parents taught us the value of hard work and good character. Neither Trump nor Sessions, or anyone for that matter, will ever make my sister or I turn our backs on our parents.
To members of Congress, I say: it has been over 200 days since Trump ended DACA and of your inaction, we cannot wait any longer. 20,000 immigrant youth have already lost their DACA protections, and this will number will continue to increase day by day. The time to act is now.
While my sister can't vote, I, as a U.S. citizen, can. And so too can hundreds of thousands of children, brothers, sisters, and friends of Dreamers whose lives Congress left in limbo. As we get closer to November, know that we are paying attention.
The need for permanent protection is urgent. Congress, pass the Dream Act. As Trump continues trying to blackmail my family, my request is simple: do not allow my sister to be taken away from me. And do not pit her future against the future of my parents.
Alexis Tovar is a member of Make the Road New York, the largest grassroots community organization in New York offering services and organizing the immigrant community. On Twitter: @MaketheRoadNY
The views expressed in this article are the author's own.​​