Even Republicans Want Dreamers to Stay in America and Be Citizens, New Poll shows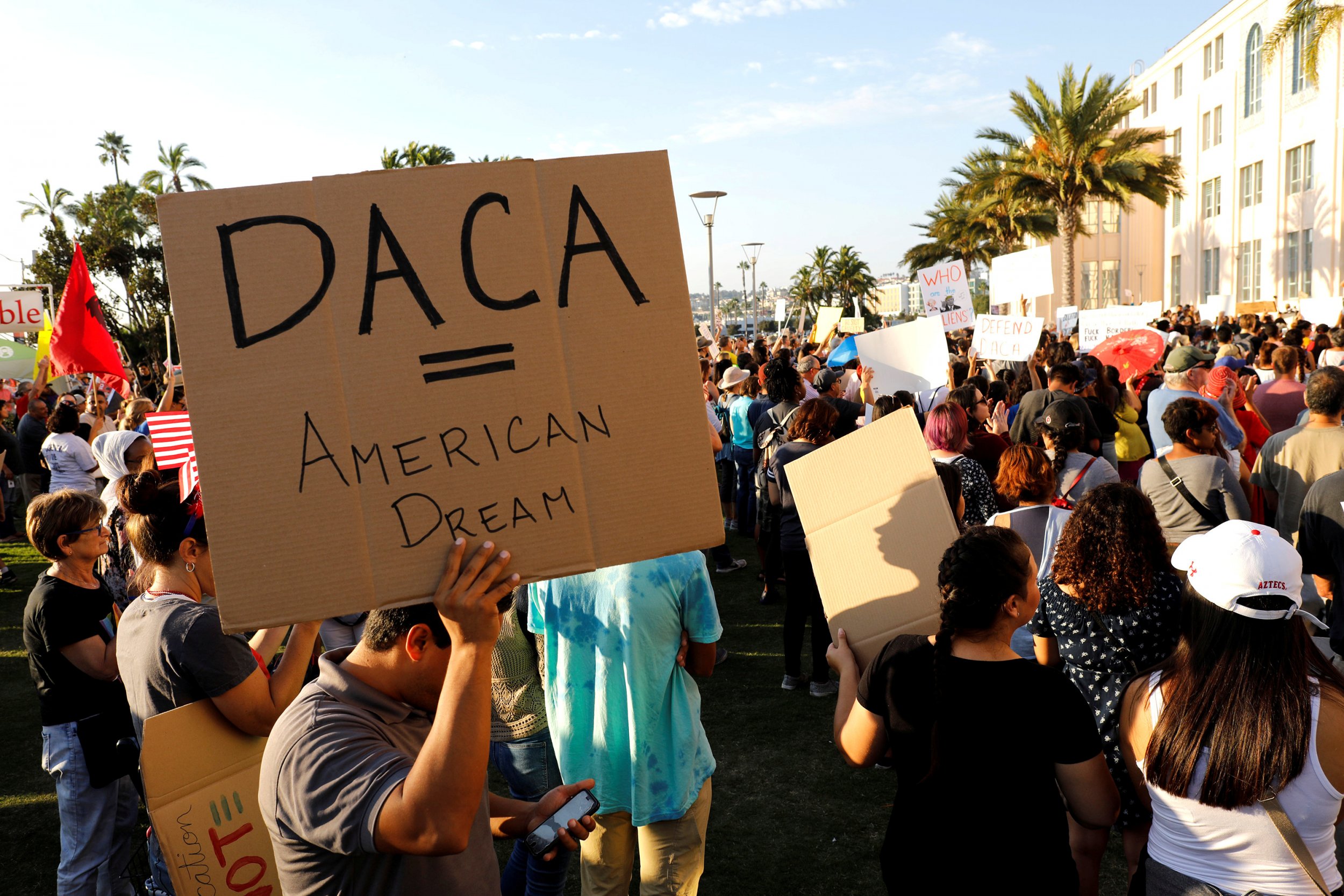 An overwhelming majority of American voters, including even Republicans, believe the so-called Dreamers should be allowed to stay in the country, a new poll shows, as President Donald Trump and Congress consider changing the nation's immigration laws.
Overall, 82 percent of voters support the roughly 800,000 Dreamers—undocumented immigrants who were brought to the U.S. when they were children—remaining in the country, including 69 percent of Republicans, a Quinnipiac University Poll released Thursday showed.
"For Dreamers feeling unwanted, 82 percent of voters say 'Keep the dream alive,'" Tim Malloy, assistant director of the Quinnipiac University Poll, said in a statement.
When presented with three possible ways to deal with the Dreamers, the majority of respondents supported creating a path to citizenship. Sixty-eight percent said Dreamers should stay and eventually gain citizenship, while 19 percent said they wanted them to be deported and 9 percent said Dreamers should stay but have no way of attaining citizenship.
Furthermore, a strong majority of voters supported Trump's decision to reach across the political aisle and work with Democrats to solve the long-running issue. Seventy-two percent believed the president was correct in reaching out to Democrats to find a permanent solution, compared to 19 percent who were against the idea.
The poll also found 57 percent of voters did not want legislation that helps Dreamers stay in the country to include funding for Trump's proposed wall along the Mexican border. Thirty-seven percent supported including funding for a wall.
Earlier this month, fears that Dreamers, who are now adults and have known only the U.S. as home, could be deported were exacerbated after Trump's Justice Department announced it would end the Deferred Action for Childhood Arrivals (DACA) program enacted by former President Barack Obama.
Attorney General Jeff Sessions announced September 5 that the program would end in March, saying Obama's initial 2012 directive was illegal.
At first, the announcement appeared to be an example of Trump sticking to the hard-line stance on immigration that was a staple of his campaign last year, but the president took to Twitter just hours after Sessions took the podium and called for Congress to find a solution. Otherwise, he said, he would "revisit" the issue.
Trump later was said to have worked out a deal with top Democrats that would protect Dreamers in exchange for more security along U.S.-Mexican border, but that did not include border wall funding.
After Democratic Senators Nancy Pelosi and Chuck Schumer announced they had reached a deal with the president, White House Press Secretary Sarah Huckabee Sanders tweeted that DACA and border security had been discussed, but "excluding the wall was certainly not agreed to." Trump also backtracked.
A Republican response to the Dream Act was released this week. Called the SUCCEED Act (Solution for Undocumented Children through Careers, Employment, Education and Defending our nation), it contains many of the Dream Act's requirements but is stricter about the path to citizenship, according to NPR.