Dressing Down For Halloween With Comedian Judy Gold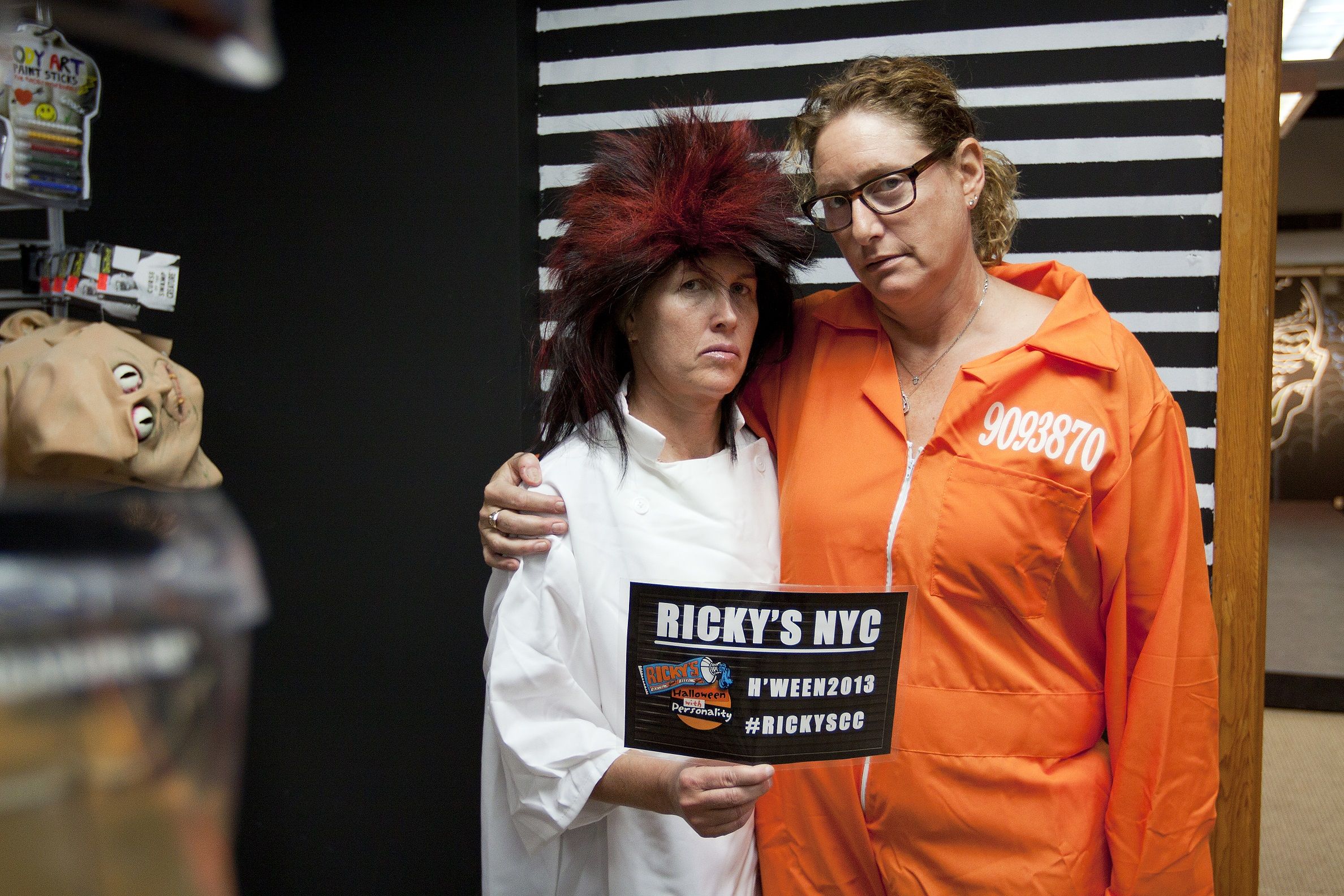 It's a week before Halloween, and the walls and display cases at Ricky's Halloween Costume Superstore in New York City's Tribeca neighborhood are covered in images of stripped-down cops, naughty nuns and fetishized skeletons. The models' pouting lips, gigantic breasts and exposed midriffs sell to shoppers of all ages a hoary paradigm of womanhood – no, girlhood – as whoredom.
Comedian and actress Judy Gold is having none of it.
"To dress like a slut is easy, and it's disturbing," says Gold, who has two critically acclaimed off-Broadway shows under her belt, The Judy Show – My Life as a Sitcom and 25 Questions for a Jewish Mother. She wears dark jeans, New Balance sneakers and a navy top, her curly brown hair tied back in a ponytail. "Halloween is an opportunity to be really creative." As a comedian, Gold knows firsthand that appearances matter: "Female comics cannot dress provocatively on stage. Because A, women will hate them, and B, the men will want to fuck them and won't listen. It's a spoken-word art form."
She and her partner, Elysa Halpern, a licensed clinical social worker, came to Ricky's to pick out costumes for Bette Midler's annual "Hulaween" bash that benefits her charity, New York Restoration Project, which works to transform open spaces in underserved communities. Gold is hosting the event, which will take place on October 31 at the Waldorf-Astoria in Manhattan.
Ricky's resident costume concierge, Zachary Garfinkle, 29, who also works as the company's manager of field promotions, greets Gold and Halpern looking like he knows exactly what he's doing: brown hair greased into tall spikes, tattoos cascading down his head and neck, stud earrings, four inches worth of bangles on each wrist and rings for every finger. He takes them around the store looking for inspiration.
"Pop culture is great," Gold says.
"Who do you really hate right now?" Garfinkle asks.
"The GOP in general," Gold replies.
They settle on a riff off of Orange Is the New Black, the hit Netflix show about a young woman sent to prison for transporting drug money. Judy will be a prisoner.
"And I could be a screwdriver!" Halpern jokes.
(If you've seen the show, you know how hilarious this comment is.)
"Darling," Gold says, pausing, treating the word as an entire sentence.
By the time Garfinkle is done with both of them, they have transformed. Gold, who is six-foot-two, sports an orange prison jumpsuit, handcuffs and white socks. (When Halpern suggests she needs more accessories, Gold refuses: "I just want to be a prisoner so I can get on the show.") Halpern decides to dress up as the show's Russian prison cook, Galina "Red" Reznikov (Kate Mulgrew). The moment she slinks out of the changing room – wearing a white chef's jacket, baggy blue prison-style pants and a perfectly hued red wig – everyone gasps.
"Oh my god, that looks exactly like her!" Gold shouts.
"I run this place here," Halpern says in Mulgrew's thick Russian drawl. "You will eat the shit that I give you to eat! Give me a manicure and pedicure right now. I crush you. I crush you. Ugh, I love you!"
"Darling, if you're going to be this fucking character all night I'm not going," Gold replies.
"Baby, I'm going to twerk you," Halpern jokes.
As Gold said when I asked her if she likes dressing up, "It's fun to be someone else. Who the hell wants to be yourself?"