Donald Trump Menaces Drew Barrymore in 'Scream' Parody
Drew Barrymore is seen being terrified by President Donald Trump in a new spoof of the iconic opening scene of the movie Scream.
Barrymore's character Casey Becker is memorably killed after receiving a phone call from an unknown caller, who goes from flirtatious to sadistic, at the start of the 1996 slasher.
But in a reimagined version of the scene, recently shared by comedian Samantha Bee, the caller terrorizing Barrymore's character is none other than the president.
"Hard to believe it's been over twenty years since the movie Scream came out and even longer since Trump took office," Bee, the host of Full Frontal with Samantha Bee on TBS, wrote alongside the clip on Twitter late Tuesday night.
"Don't believe us? Here's scream queen @DrewBarrymore and the president having a perfect phone call," she added, in a reference to Trump's repeated assertion that his phone call with Ukrainian President Volodymyr Zelenskiy, which led to his impeachment, was "perfect."
In the two-minute clip, a phone starts ringing as the title card saying "Scream 2020" appears on screen.
"Hello?" Barrymore asks as she picks up the phone.
"We just had news," Trump is heard saying.
"Yes?" says Barrymore.
"I am at my all-time high," the president continues.
"Who are you trying to reach?" Barrymore then asks.
"The support that I've had now...," Trump goes on.
"What number are you trying to reach?" Barrymore asks.
"The best numbers in history!" Trump says.
"I think you have the wrong number," Barrymore says.
"It happens. Take it easy," she says before ending the call, as Trump's voice is heard saying, "No, listen to this!"
When the phone rings again and Barrymore picks up, Trump is then heard speaking about the investigation of Russian interference in the 2016 election.
"There's no obstruction, there's collusion, there's no nothing," Trump says.
"What do you want?" Barrymore asks.
"This is the greatest witch hunt...," Trump goes on.
"Dial someone else, OK?" Barrymore snaps before ending the call.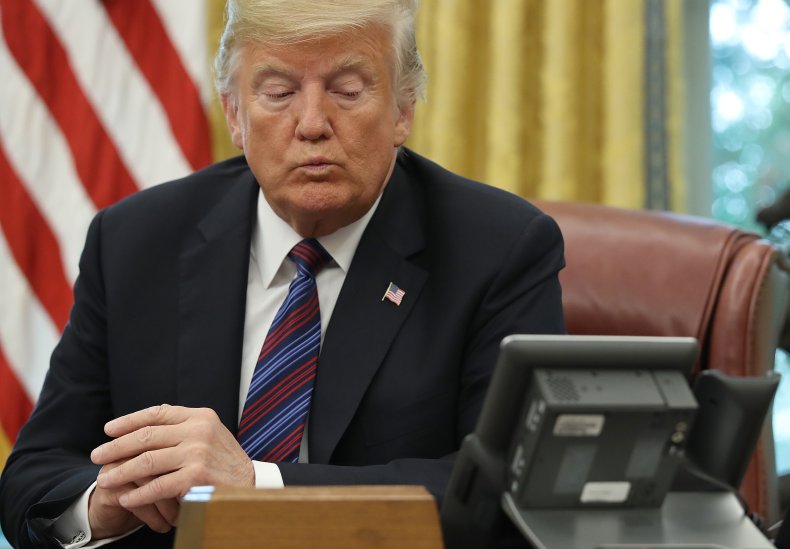 When it rings again, she answers. "Listen, a**hole...," she says before she is cut off by Trump.
"I was put here by people to do a great job, and that's what I'm doing, so how do you impeach based on that? No, Russia did not help get me elected. I got me elected!" Trump says.
Barrymore then asks: "Is this some kind of joke?"
"There's no quid pro quo! There was no high crime and there was no misdemeanor. Investigate the Bidens! Article II gives the president powers that you wouldn't believe!" Trump says.
As Barrymore is seen running from the kitchen and crouching next to a television screen showing footage from Trump rallies, he continues: "Take a look at what's been happening to the United States... we're doing a lot of work on healthcare."
Trump continues talking as Barrymore pulls a cable out of an outlet and begs for him to stop.
"We're being very strong on the border, the borders are closing, the wall is being built! And I think in November, we're going to do extremely well," Trump says.
"NO!" Barrymore screams as the clip ends.
Representatives for Bee and Barrymore have been contacted for comment. The Trump campaign has also been contacted for comment.