Drew Brees, New Orleans Saints Quarterback, Records Video Produced by Anti-Gay Group Focus on the Family
Drew Brees, quarterback for the New Orleans Saints, is being criticized for recording a public service announcement for Focus on the Family (FoF), an evangelical organization with a history of opposing LGBT rights.
Released Thursday, the video sees Brees encouraging students to participate in FoF's "Bring Your Bible to School Day" on October 3 to "share you love of God with your friends."
The clip appears on the organization's Facebook page, as well as on participating churches' pages, reports Big Easy Magazine.
Founded by evangelical leader James Dobson in 1977, FoF has long lobbied against marriage equality, backing Prop 8 in California and other legislative bans on same-sex marriage. Dobson has claimed that "same-sex relationships undermine the future generation's understanding of the fundamental principles of marriage, parenthood and gender" and warned that if marriage equality is legalized, "the institution of the family will cease to exist."
FoF has also sponsored conferences advocating conversion therapy, opposed the repeal of Don't Ask Don't Tell and fights against anti-discrimination bills that include gender identity and sexual orientation. Its current campaign encourages children to bring Bibles to school, offering free guides, as well as designs for posters, stickers and t-shirts and information on their First Amendment rights.
On Twitter, some groups expressed their disappointment Brees was teaming up with the group.
"It's disappointing he's lending his face to a video targeted at schools on behalf of an bigoted organization that presents a threat to the lives of kids who weren't born to fit into their little Christian box."
On Tuesday, Big Easy Magazine launched a hashtag campaign, using #SaintsDontHate #IsitTrueDrew, while supporters used #StandWithDrew.
Brees, 40, has not commented publicly on the video, which is not labeled with Focus on the Family logo. He has spoken in the past about being a born-again Christian: "I remember sitting in church on my 17th birthday," he told the Christian sports site The Increase. "I was locked in on the pastor as he was talking about how the Lord was looking for a few good men to carry on His Kingdom, to spread His Word, and to live the life that He had planned for them, and that spoke to me."
At that moment, he added, "I accepted Jesus Christ in my heart and knew that there was something bigger planned for me than just sports."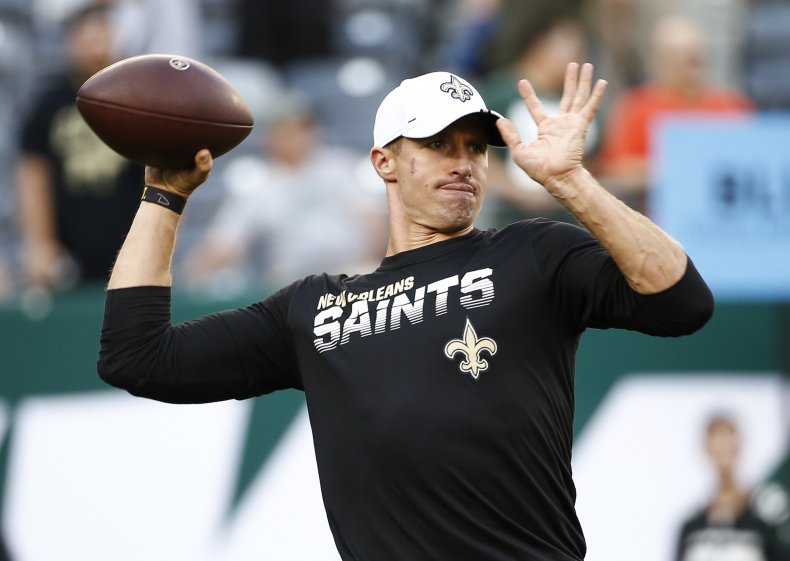 Brees is considered one of the greatest quarterbacks in pro football history. After a record-setting career at Purdue, he was a second round NFL draft pick in 2001, when he signed with the Chargers. He joined the Saints in 2006 as a free agent, but led the team to their first Super Bowl that same year—and was named MVP.
He's set a host of league records, including most career pass completions, most career passing yards and most consecutive games with a touchdown pass. He was named Sports Illustrated's Man of the Year in 2010.
In 2003, Brees and his wife founded the Brees Dream Foundation, which supports cancer patients, victims of Hurricane Katrina and other causes. In 2010, President Obama appointed him co-chair of the President's Council on Fitness, Sports and Nutrition.
That same year, he recorded an anti-bullying PSA that appeared on Ellen. "Making fun of someone because they're different, that's not tough—that's ignorant," Brees said. "Appreciating people for how they're different from you—that's what it takes to be a friend."
After a rash of suicides by queer teens, Brees reportedly also appeared in an It Gets Better video.
In addition to his career in the NFL, he owns a variety of restaurants and stores, including Walk-On's, a sports bar chain, and nine Jimmy John's stores. In 2010, Bree wrote the best-selling book Coming Back Stronger: Unleashing the Hidden Power of Adversity.
Focus on the Family has partnered with NFL players before: In 2010, it bought airtime during Super Bowl LXIV, running an anti-abortion ad with Gators quarterback Tim Tebow.