Drew Brees Gets Heartfelt Salute From Teammates, Opponents on His Retirement
Drew Brees went to New Orleans in 2006, just when the city needed him most. The New Orleans Saints had a long history of losing, but the city hit a low point in 2005 after a levee broke and flooded the city after Hurricane Katrina.
The team played home games in other cities during 2005, and former owner Tom Benson baited his team to other places—like San Antonio—for perhaps a permanent location.
The Saints hired Sean Payton as their head coach for the 2006 season, and Payton wanted a leader on his team. They signed Drew Brees to be their quarterback.
Brees spent 15 seasons as their leader, helping them to their first NFC Championship game that season, and a Super Bowl title following the 2009 season. And, the city remains in New Orleans to this day.
Brees shot up the career passing charts into stratospheres hardly seen or ever once thought of. He led the Saints to a first-place divisional finish in 2020 and an unprecedented perfect record in the NFC South.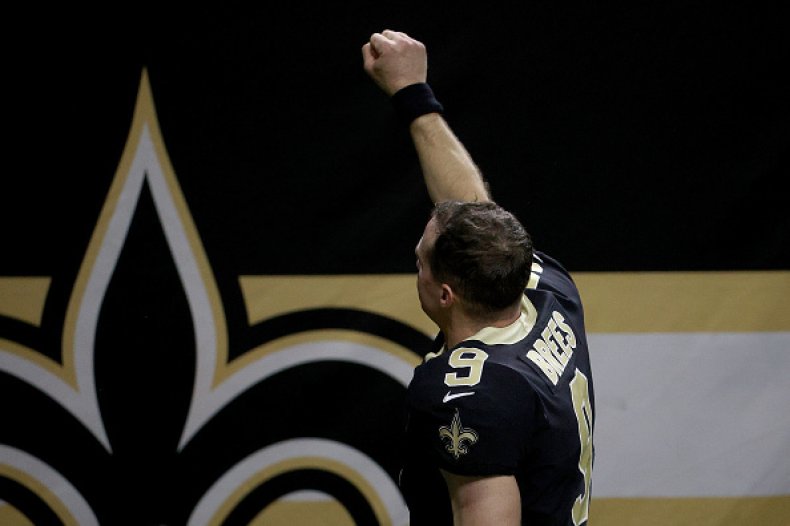 After the Saints lost to the Tampa Bay Buccaneers in the NFC Divisional Round last January, Brees trotted around the field and waved at fans in the stands. It was a way to say thank you to the loyal Saints fans. He later returned to the field with his family to soak up more time on the field with Buccaneers quarterback Tom Brady.
Brees hinted at retirement after the 2020 season, but there had been no further word. On Sunday, it became official.
Drew Brees retires from the NFL as one of the most prolific signal callers of all time. On Sunday, he was thanked for his time in the league. He was thanked by former teammates and former opponents. He was thanked by fans and politicians. He was thanked by the LSU Tigers, and he was thanked, of course, by the New Orleans Saints.
Among the first who congratulated Brees and thanked him was Brady, who went on to win his seventh Super Bowl this year.
"Congrats my friend on an incredible career. Thank you for the inspiration and dedication on and off the field! Look forward to seeing what's next," Brady tweeted.
The Saints probably said it best when they tweeted this heartfelt message Sunday evening:
"You came to us at our lowest point. You led us to our highest. You represented our state, city, and team with incredible professionalism, class, and toughness. We are forever grateful for the immeasurable impact you and your family had on this city."
U.S. Senator Bill Cassidy of Louisiana retweeted it while saying, "One word: legend ... Thank you, Drew."
Here are some of the things said and tweeted about Brees, who will go down as one of the best quarterbacks to ever play the game.