Drew Brees Passes Peyton Manning For Most TD Passes in NFL History
Drew Brees on Monday night became the NFL all-time leader in touchdown passes when he passed Louisiana-born Peyton Manning, and it happened in New Orleans. Brees tossed a touchdown pass to cbcvdgfyfu for Brees' 540th touchdown pass of his career, making him the all-time leader. At least for now.
Brees connected with Josh Hill early in the third quarter to give the Saints a 27-0 lead, and it made Brees the league's all-time leader in touchdown passes. He later threw a touchdown pass to Taysom Hill to extend his lead to 34-0.
Brees entered the night two touchdown passes shy of Manning's 539 total. Tom Brady of the New England Patriots stands pat at 538, and will likely surpass Manning next week and jockey alongside Brees for the top mark until they Brady.
Brees accomplished the feat against the team most-notably guided team by Manning for more than a decade. Brees defeated Manning and the Indianapolis Colts in the Super Bowl 10 seasons ago in Miami, which ironically, is the site of this season's Super Bowl.
Should the Saints win Monday, they will be 11-3 along with three other teams in the NFC. This means the Saints need to keep winning in order to stay in the race for the NFC's best record, which would mean home-field advantage through the NFC playoffs. New Orleans will get at least one home game in the playoffs as they clinched the NFC South on Thanksgiving Day.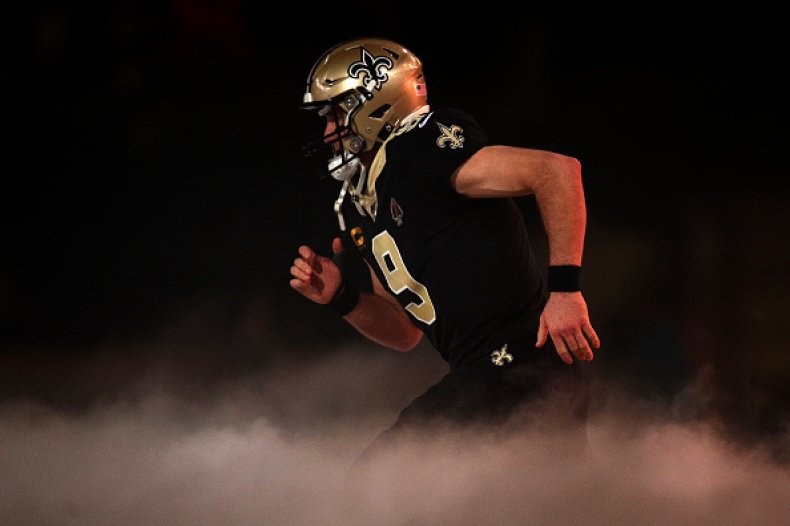 Here are the major passing records, and the top five in each (active players in BOLD):
Touchdown Passes
541 — Drew Brees
539 — Payton Manning
538 — Tom Brady
508 — Brett Favre
420 — Dan Marino
Passes Completed
6,972 — Drew Brees
6,335 — Tom Brady
6,300 — Brett favre
6,125 — Peyton Manning
4,967 — Dan Marino
Pass Attempts
10,169 — Brett Favre
10,063 — Drew Brees
9,926 — Tom Brady
9,380 — Peyton Manning
8,358 — Dan Marino
Passing Yards
76,577 — Drew Brees
74,079 — Tom Brady
71,940 — Peyton Manning
71,838 — Brett Favre
61,361 — Dan Marino
Passer Rating
102.9 — Aaron Rodgers
101.4 — Russell WIlson
98.0 — Drew Brees
97.1 — Kirk Cousins
97.1 — Tony Romo
Completion Percentage
67.5 — Drew Brees
67.0 — Kirk Cousins
66.0 — Chad Pennington
65.9 — Dak Prescott
65.5 — Kurt Warner
Brees went to Westlake High School in Texas, just outside of Austin, and led the Chaparrals to a state championship in 1996. He led the Purdue Boilermakers to a Big Ten title and Rose Bowl berth following the 2000 college season, and he was drafted by the San Diego Chargers.
After five years with the Chargers, he was picked up by the Saints—after Hurricane Katrina devastated New Orleans, ripped apart the Superdome and left the Bayou State rebuilding hope.
Brees and new coach Sean Payton seemed to be the perfect storm of rebuilding the city, and by 2009 they built the perfect team and hoisted the Vince Lombardi Trophy as Super Bowl champions.
The Saints went to their only Super Bowl in Miami that season, beating the Colts and Manning in the process. Now they are accomplishing a major feat—yet again versus the Colts.