On Tuesday, New Orleans Saints head coach Sean Payton suggested that 2020 will be the final season for the team's quarterback, Drew Brees.
"The unique situation with our team and with our quarterback Drew Brees is he's announced he's coming back for his final season," Payton said while appearing on ESPN's Get Up.
Payton's comments took many by surprise as Brees recently signed a two-year contract. Prior to signing the contract, many speculated that Brees was considering retirement, but the quarterback confirmed via an Instagram post on February 18 that he was returning for his 20th NFL season. Brees has never publicly indicated that he plans to retire after the 2020 season.
Payton's comments on 2020 being Bress' final season came as he was discussing the team's future plans for backup quarterback Taysom Hill. During the 2019 season, Hill played a number of different positions ranging from wide receiver to an option quarterback. During his interview Tuesday, Payton assured fans that the team considers Hill to be a quarterback.
"First and foremost, we still view him as a quarterback, and we spent a lot of time this offseason discussing our vision for him this season," Payton said. "I think Taysom sees himself as being a starting quarterback in this league and we do too."
The Saints also recently lost another backup quarterback, Teddy Bridgewater, to free agency. Bridgewater helped fill in for Brees while he was recovering from an injury during the 2019 season, but recently signed a three-year deal with the Carolina Panthers.
The Saints' Director of Football Communications, Doug Miller, pointed Newsweek to a conference call on Wednesday, when contacted about Payton's comments.
At 41, Brees continued to impress during the 2019 season. Despite losing in the National Football Conference (NFC) Wild-Card Game to the Minnesota Vikings, Brees finished his season with 2,979 passing yards, 27 touchdowns and four interceptions.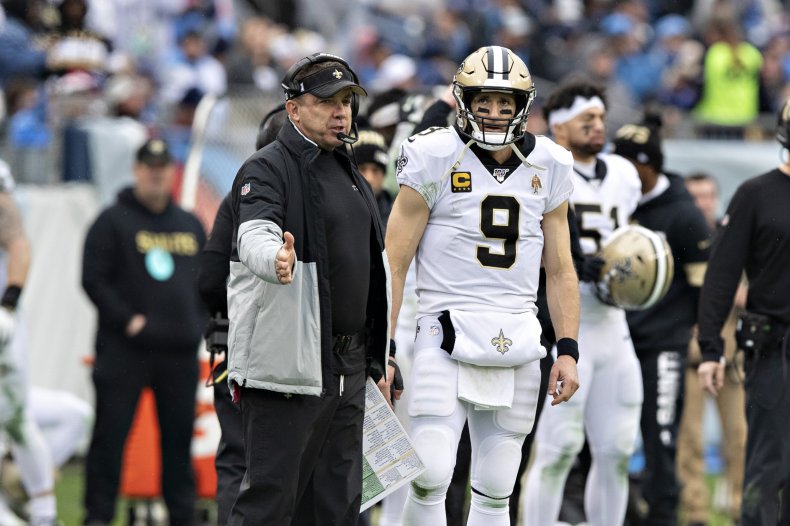 Whether or not Brees' retires following the 2020 season, he will go down one of the best quarterbacks in recent years. Over the course of his 19 NFL seasons, Brees has garnered 13 Pro-Bowl selections, 2 Offensive Player of the Year honors, 1 Super Bowl championship, as well as the Super Bowl XLIV MVP.
In addition to his numerous accolades, Brees holds several different NFL records at the quarterback position. He is the NFL leader for most career passing yards, most career pass completions, most career touchdown passes, most consecutive games with a touchdown pass and the highest career completion percentage.
Uncommon Knowledge
Newsweek is committed to challenging conventional wisdom and finding connections in the search for common ground.
Newsweek is committed to challenging conventional wisdom and finding connections in the search for common ground.
About the writer
Matthew Impelli is a Newsweek staff writer based in New York. His focus is reporting social issues and crime. In January 2023, Matthew traveled to Moscow, Idaho where he reported on the quadruple murders and arrest of Bryan Kohberger. Matthew joined Newsweek in 2019 after graduating from Syracuse University. He also received his master's degree from St. John's University in 2021. You can get in touch with Matthew by emailing m.impelli@newsweek.com. Languages: English.