Drinking This Much Coffee During Pregnancy Could Damage Your Baby's Liver, Study On Rats Suggests
Pregnant women who consume too much caffeine could risk damaging their baby's liver, according to scientists who studied rats.
Consuming caffeine was found to disrupt the development of the liver before and after birth, revealed the authors of a study published in the Journal of Endocrinology. This could be because the babies of the rats exposed to caffeine had lower levels of a liver hormone and higher levels of the stress hormone corticosteroid when they were born. The scientists believe this could trigger non-alcoholic fatty liver disease in offspring later in life.
Scientists gave pregnant rats a dose of caffeine equivalent of two to three coffees or a dose the same as six to nine coffees. The team examined the liver function and hormone levels of the rats' babies.
The equivalent of two to three cups of coffee appeared to raise the risk of the rats' offspring developing liver disease later in life by affecting growth hormones.
Yinxian Wen, co-author of the study at Wuhan University in China, explained that compensatory mechanisms kick in after birth that speed up growth and restore normal liver function.
"Our work suggests that prenatal caffeine is not good for babies and, although these findings still need to be confirmed in people, I would recommend that women avoid caffeine during pregnancy," Wen said.
The American College of Obstetricians and Gynaecologists says evidence suggests it is safe for women to consume 200mg or less of caffeine per day. That's around 2 cups of instant coffee.
Ling-Wei Chen of the School of Public Health at University College Dublin, who has also studied the effects of consuming caffeine during pregnancy but wasn't involved in this paper, told Newsweek: "Animal studies are useful for deciphering the potential mechanisms as it is not ethical to subject the human fetus to putative harmful substances."
However, he said the research was limited because the team only followed up on the pregnant rat group given a very high, human-equivalent dose of caffeine.
"Given the current caffeine recommendation guidelines for human pregnancy, perhaps it will be more useful to investigate whether a low-to-medium dose of prenatal caffeine exposure also induces similar metabolic abnormalities/changes in offspring during the postnatal period," said Chen.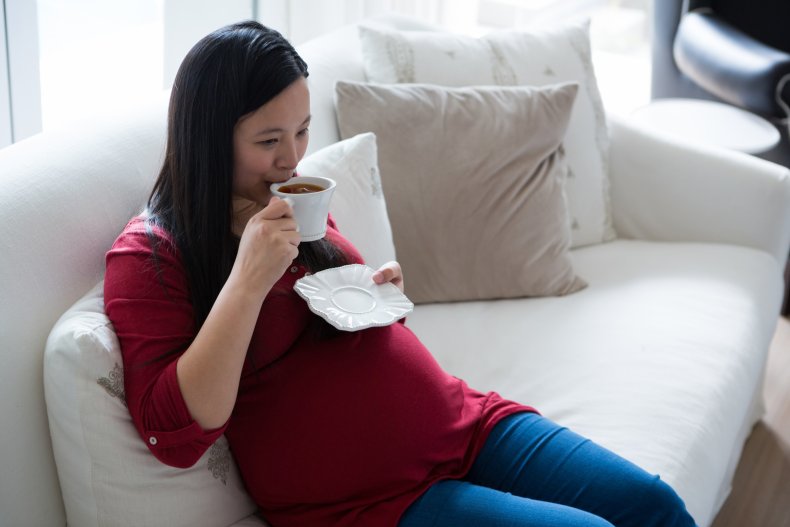 Anne Lise Brantsaeter, a senior scientist at the Norwegian Institute of Public Health, who has worked on several epidemiological studies on prenatal caffeine exposure and health outcomes in children, told Newsweek: "This research is a valuable contribution to the current knowledge and adds support to the recommendations to limit or avoid caffeine in pregnancy."
She added: "The study adds supporting evidence to the recommendation to limit or avoid caffeine intake during pregnancy. This includes coffee, tea and caffeinated drinks and dietary supplements containing caffeine. Caffeine is also present in chocolate, but the amount is small. Green tea and herb tea also contain little or no caffeine."