Drive-Thru Coronavirus Testing Clinic Set Up in Hard-Hit Seattle
Workers at a health care system in Seattle—the area of the U.S. hardest hit by the new coronavirus—are being tested for COVID-19 at a special drive-thru facility.
Staff at the garage-turned-clinic at the University of Washington's UW Medicine can test can healthcare workers for influenza A, B, respiratory syncytial virus, as well as COVID-19, every five minutes, and provide results within about a day, NPR reported.
Only those showing symptoms of COVID-19, such as a dry cough or a fever, can be screened. Other countries have also tried drive-thru testing, including South Korea and the U.K..
Seth Cohen, of the infectious disease clinic at UW Medical Center Northwest, told NPR the team has diagnosed many flu cases and a few of coronavirus.
The centre is operating against a backdrop of climbing COVID-19 cases in the U.S., where 557 people have been confirmed sick according to Johns Hopkins University which pools data from local health departments as well as the U.S. Centers for Disease Control and Prevention (CDC) and the World Health Organization. Washington has borne the brunt of the fatalities, with 19 of the total 22 dead in the U.S. according to a New York Times case tracker. Of those, 16 are linked to the Life Care nursing facility in the Seattle suburb of Kirkland.
According to NPR, signs and cones direct workers to the makeshift clinic, made up of three medical tents on the first floor of the garage, in a well-ventilated area—which is important when testing sick people. Waiting there are workers dressed in personal protective equipment, such as plastic face masks, who take swabs from each of the person's nostrils and send samples off to a nearby lab.
Jan Nakahara, a nurse who works at the University's Hall Health Center, told NPR those with symptoms fill out an online survey, and are given an appointment at the drive-thru that day if they are considered a risk.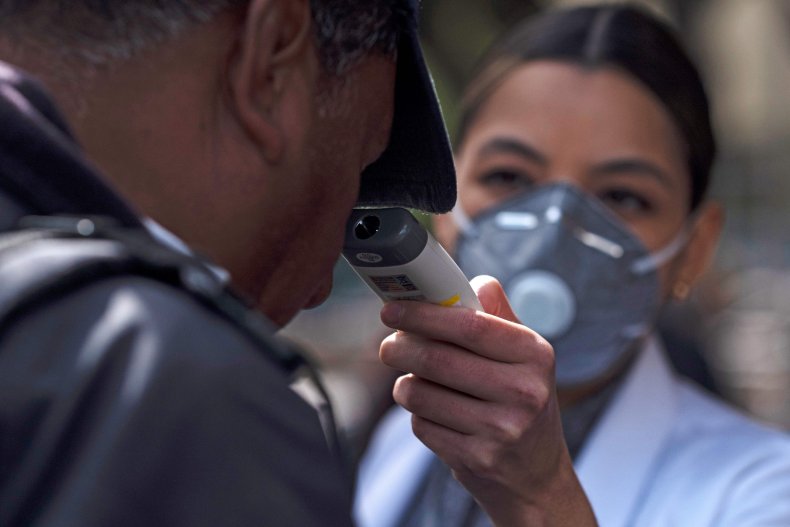 The clinic focuses on healthcare workers as it is vital to have as many on hand as possible amid the outbreak. It also plans to extend testing to first responders, NPR reported.
The initiative comes amid what one expert described to Newsweek as a "broken" system for testing suspected COVID-19 cases in the U.S which could have worsened the outbreak.
According to the Seattle Times, the Bill and Melinda Gates Foundation will provide home-testing kits in the Seattle area. Those who test positive will give information about where they have been and who they have been in contact with to help researchers track the spread of the disease.
Cohen told NPR such kits would be "fantastic," but as they do not collect samples from as deep inside the nasal passage as clinic tests, the results will need to be verified.
The efforts come as COVID-19 has killed over 3,800 people in 110,000 cases worldwide, with more than 62,000 people recovered. Most deaths have occurred in Hubei, China, where the outbreak started in the province's capital of Wuhan late last year. As shown in the map below by Statista the virus has reached every continent except Antarctica.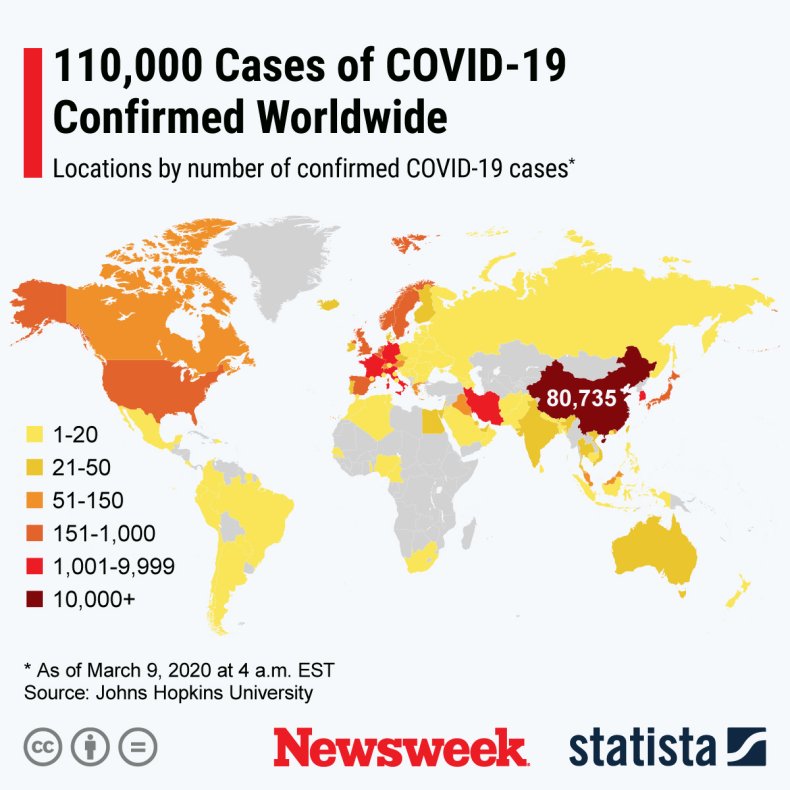 World Health Organization advice for avoiding spread of coronavirus disease (COVID-19)
Hygiene advice
Clean hands frequently with soap and water, or alcohol-based hand rub.
Wash hands after coughing or sneezing; when caring for the sick; before; during and after food preparation; before eating; after using the toilet; when hands are visibly dirty; and after handling animals or waste.
Maintain at least 1 meter (3 feet) distance from anyone who is coughing or sneezing.
Avoid touching your hands, nose and mouth. Do not spit in public.
Cover your mouth and nose with a tissue or bent elbow when coughing or sneezing. Discard the tissue immediately and clean your hands.
Medical advice
If you feel unwell (fever, cough, difficulty breathing) seek medical care early and call local health authorities in advance.
Stay up to date on COVID-19 developments issued by health authorities and follow their guidance.
Mask usage
Healthy individuals only need to wear a mask if taking care of a sick person.
Wear a mask if you are coughing or sneezing.
Masks are effective when used in combination with frequent hand cleaning.
Do not touch the mask while wearing it. Clean hands if you touch the mask.
Learn how to properly put on, remove and dispose of masks. Clean hands after disposing of mask.
Do not reuse single-use masks.
This article has been updated with a map.