The driver accused of causing a "mass casualty" traffic incident that left nine dead on Sunday was traveling at over 100 miles per hour, according to police.
During a recent press conference, North Las Vegas Police Officer Alexander Cuevas said that the suspect, identified as 59-year-old Gary Dean Robinson, was traveling "in excess of 100 mph" prior to the crash.
"Speed is considered a factor but impairment remains unknown," the North Las Vegas Police Department said in a press release obtained by Newsweek.
According to police, the driver was operating a Dodge Challenger and sped through a stoplight, crashing into several other vehicles. Fifteen individuals were involved in the crash, according to police.
During a press conference on Sunday, North Las Vegas Assistant Police Chief Jacqueline Gravatt said that there were two occupants in the Dodge Challenger, both of whom died, and that seven people inside a Toyota Sienna van "all succumbed to their injuries," as well.
"In this accident, we do know that the Dodge Challenger was traveling northbound on Commerce at a high rate of speed," Gravatt continued. "It was the only vehicle traveling northbound at this time. Witnesses on scene said that the Challenger did not stop at the red light. It went through the intersection, first striking two vehicles that were traveling eastbound, and due to that collision, three other additional vehicles were struck that were going westbound."
Because of the "magnitude" of this incident, the National Transportation Safety Board (NTSB) will be launching an investigation.
"The NTSB, in coordination with the North Las Vegas Police Department, is launching a go-team to investigate the fatal Jan. 29, 2022, multi-vehicle crash in North Las Vegas, Nevada," the NTSB Newsroom wrote on Twitter.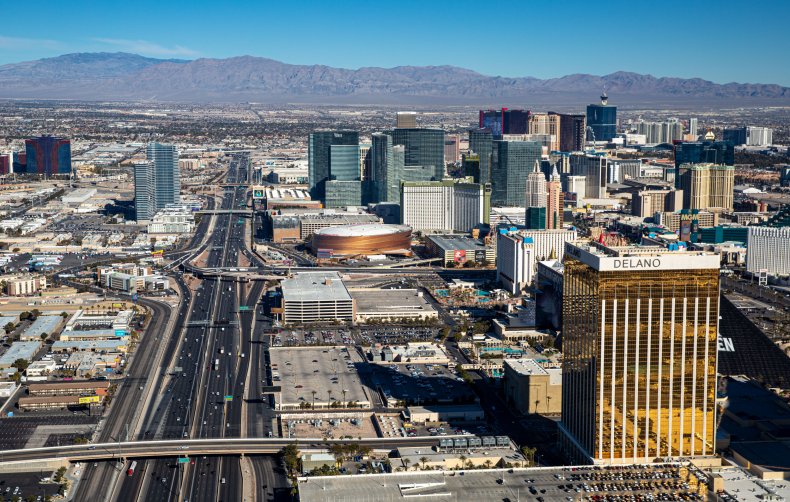 According to a press release from the North Las Vegas Police Department, "Of the six survivors, the injuries range from minor and non-life-threatening to serious."
Authorities released the identities of the nine who were killed in the accident, with ages ranging from 5 to 35 years of age.
North Las Vegas Mayor John Lee called the incident an "unprecedented loss of life."
"It was beyond sad. Each of these people was a relative, a husband, a wife, a child, a neighbor, a member of our community. A very valuable member of our community," Lee said during a press conference on Sunday. "We need to realize today that there's a lot of grieving taking place in North Las Vegas."