Driver in Car Accident Hit and Killed by a Second Vehicle While Waiting for Help
A driver waiting for emergency responders after a car accident left him injured was tragically killed when a second vehicle ran over and crushed him just minutes later.
Drivers on the Naivasha-Mai Mahiu road in Kenya witnessed the back-to-back wrecks on Wednesday. One stunned bystander, James Mburu, spoke to local outlet The Standard and reported what he saw on the typically busy road.
According to The Standard, two men driving trailers both heading to the town of Naivasha collided during their morning commutes. The now-deceased driver, who was kept anonymous by local law enforcement, required medical attention as the crash left him with obvious injuries to his legs.
Mburu explained that bystanders who watched the nasty crash rushed to help the drivers and passengers safely exit the vehicles and waited with them for police and medical technicians to arrive. He noted that the now-deceased driver was the only person injured in the accident.
However, as the car crash victims waited for help along the busy road, a third driver lost control of the vehicle and crashed into the group. The car crushed the already injured driver.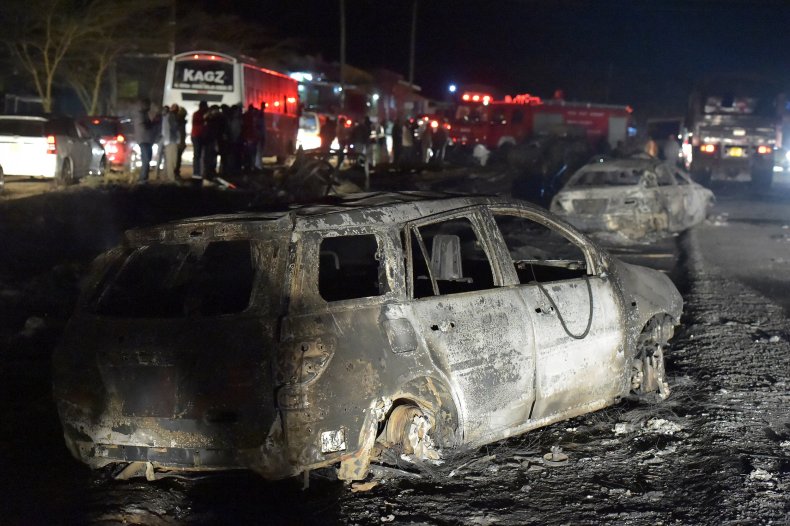 "The injured man was taken from the scene and as he lay by the roadside, waiting to be taken to hospital, another truck swerved from the road and ended up running over him," Mburu told The Standard.
Unfortunately, the man's injuries from both crashes were fatal and he died on the scene before he was transported to a hospital for treatment.
Mburu suspected that the third driver may have not been able to control the vehicle due to the amount of traffic the previous car accident had created on the road.
Naivasha's Officer Commanding Police Division spokesperson Samuel Waweru also revealed that the deceased body had been taken to the mortuary once the crime scene was contained.
"We had an unfortunate incident where a man who survived an accident in a trailer he was riding in was run over by another truck as he waited to be rushed to hospital," he confirmed to The Standard.
Just the day before in Ontario, Canada, another driver lost their life when an unstable highway sign fell and crashed into the car. Meanwhile, in the United Kingdom, a woman managed to survive a car wreck by the skin of her teeth after a driver ran into her home. She was left with a broken skull.