Driver Caught Smoking Heroin After Allegedly Falling Asleep Behind Wheel, Killing Cyclist
A 28-year-old man from Washington state is facing charges after he allegedly struck and killed a man who was biking on the road.
According to the Associated Press, Geoffrey Grayson Moore, 28, was charged Monday with vehicular homicide and felony hit and run in connection with the death of 63-year-old cyclist John Skubic.
According to a report from local newspaper the Kitsap Sun, Moore was driving on Central Valley Road in Poulsbo, Washington on Friday, January 21 when he allegedly struck Skubic from behind.
Moore allegedly told a Kitsap County deputy he had fallen asleep behind the wheel and that knew he had hit something but kept driving. Skubic was cycling on the shoulder of Central Valley road at the time of the crash, police said.
Skubic was wearing neon yellow bicycling clothing when he was struck and he was pronounced dead at the scene, according to police. Investigators were told by two witnesses that they reportedly saw a Jeep Cherokee drive onto the shoulder, hit Skubic, then keep driving, according to the Associated Press.
The Kitsap Sun reported that a deputy found the Jeep Cherokee in the parking lot of a nearby apartment complex and said he saw that Moore and a woman were inside, allegedly smoking heroin.
"They were in the process of smoking heroin by using foil and a lighter," according to court documents.
According to the Associated Press, Moore is being held on a $400,000 bail in the Kitsap County Jail.
This is not the first time a cyclist has been reportedly struck by a motorist in the area.
In March 2020, a 56-year-old man who worked at the Puget Sound Naval Shipyard was seriously injured when he was struck by a vehicle on Navy Yard City Highway near Bremerton, Washington in March 2020.
According to the Kitsap Sun, Brandalynn Rose Gehring, 19, pleaded guilty to misdemeanor reckless driving in August 2020 in connection with the incident. The newspaper reported that Gehring told police that she looked away from the road while driving to light a cigarette. When she looked back to the road, she noticed she was close to striking a 56-year-old worker who was cycling.
The report on the accident said that Gehring said she realized she was driving towards the cyclist and she "jerked" her car to the left to avoid him. However, she then reportedly said she realized she might hit another vehicle, so she "jerked" her vehicle back to the right in an attempt to get behind the cyclist.
"However, in doing so, Gehring struck the bicyclist," a Washington State Patrol trooper wrote in the accident report, which added that Gehring's vehicle did not stop until it hit a barrier and sign. Gehrig also reportedly told police she had used marijuana the night before the accident, the Kitsap Sun reported.
The driver had reflective material on his backpack, helmet and jacket, as well as a red flashing light on the back of his bicycle.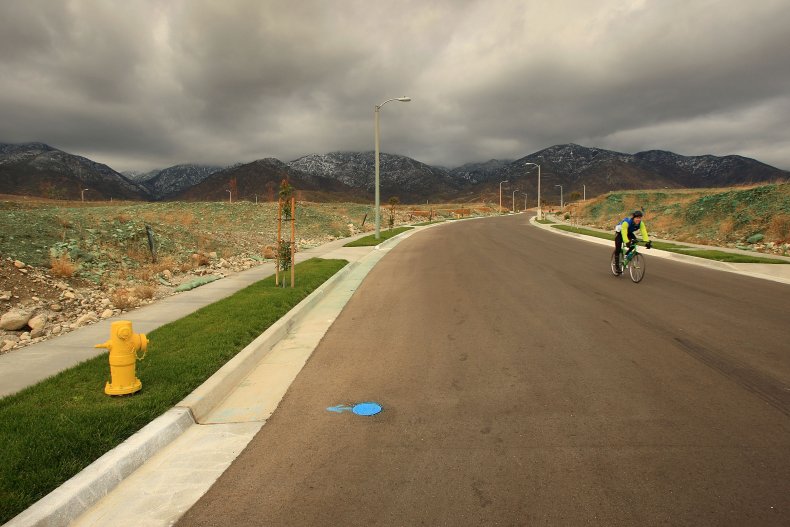 Gehring did not serve jail time, but she was required to complete a chemical dependency evaluation.
The cyclist, whose name was not released, survived the wreck and wrote a letter to the court describing his ordeal. "I am now damaged. With a broken leg and hand which may never be free of pain," he wrote. "Worst is the headaches. I used to awaken with a smile and clear thoughts."
In May 2020, another cyclist, Thomas F. Johnson, 56, was reportedly struck and killed by Shawn R. Damschen, while biking on Bethel Burley Road.
According to reports, Damschen, who was reportedly driving on a suspended license, fell asleep behind the wheel coming down from meth. According to the Kitsap Sun, Damschen also reportedly continued driving after the crash, dragging Johnson's bike under his car. He pleaded guilty to vehicular homicide and was sentenced March 2021 to nine years in prison.