Driver Hails Cab After Fiery Crash And Leaves Date to Burn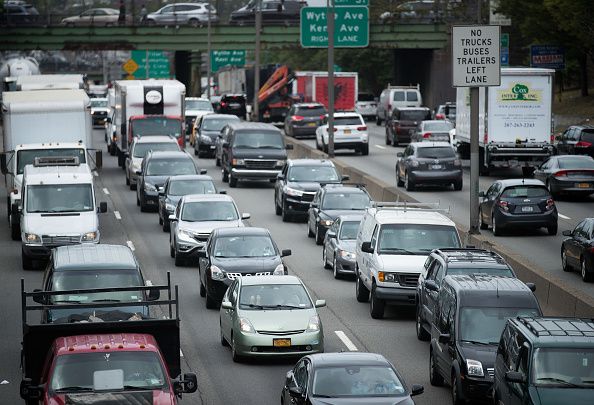 A driver who crashed his car and fled the scene after it burst into flames is now being charged with manslaughter for hailing a cab and leaving his date to die in the passenger seat.
Saeed Ahmad, a 23-year-old man from Brooklyn, New York was driving westbound on the Brooklyn Queens Expressway in the Red Hook-Carroll Gardens area around 4 a.m. Friday morning. Ahmad lost control of the vehicle and slammed his car into a concrete barrier, authorities say.
When the 2007 Infiniti G5 sedan caught fire, Ahmad fled, leaving 25-year-old Harleen Grewel of Queens, New York in the vehicle instead of helping her out of the car, the Patch reported.
Firefighters arrived to the scene to put out the flames, where the woman was found dead in the passenger seat, the FDNY said.
Exclusive footage obtained by ABC-7 New York shows Ahmad allegedly getting into a yellow cab in the middle of the expressway as the car burns in the background. Ahmad approaches the vehicle and asks if he can catch a ride.
"Can I get a ride?" Ahmad says.
Many people who were driving on the BQE that Friday morning were able to capture the scene and post it to social media.
"Shell of a car on fire heading south on the BQE...awful," said Twitter user @JBLangmore.
An NYPD spokesperson confirmed to the Patch that Ahmad hailed a cab and was taken to Maimonides Medical Center where police found him suffering from burns to his body.
Ahmad admitted to having a few drinks before the crash, but results of his blood test showed that he was not legally drunk, the Daily News reported. His family members said he was trying to save the woman, which is why he had burns on his arms.
"He said the girl that was in the car was stuck in there and he tried to get her out, that's why his arms were burned," said Saeed's brother Waheed Ahmad to the Daily News. "He couldn't...it was too late for her."
Ahmad is facing a slew of charges, including manslaughter, criminally negligent homicide, leaving the scene of an accident, aggravated unlicensed operator and a speed violation.
Grewel's family told ABC-7 Eyewitness News they are tremendously distraught over her death and they don't have much information on what really happened to their daughter.