Driver Killed at Mexican Border After Running Over 2 People and Slamming Into Metal Barrier
An American driver ran over two pedestrians before slamming into a metal barrier on the U.S.-Mexican border, fatally injuring himself, while speeding from Tijuana, Mexico to San Diego, California.
The unnamed 27-year-old Santa Ana, California man driving a gray sedan reportedly died instantly after striking a metal barrier at the San Ysidro Port of Entry around 2:15 p.m. on Tuesday. He hit two street vendors situated on the Mexican side of the border along the way, identified as a 70-year-old man and a 49-year-old woman who was using a wheelchair.
"There was an incident this afternoon at the San Ysidro Port of Entry at about 2 p.m. that resulted in fatal injuries," U.S. Customs and Border Protection said in a statement obtained by Newsweek. "A 27-year-old male, driving a grey sedan traveling northbound from Mexico at a high rate of speed, collided with a metal arm gate in a closed vehicle lane."
"There were no other injuries reported on the U.S. side," it continued. "California Highway Patrol is investigating the incident."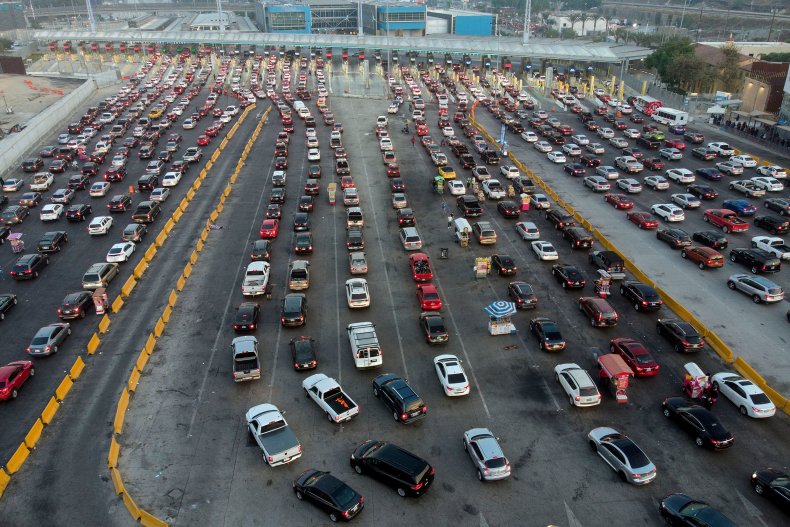 The Tijuana Fire Department reported that both pedestrian victims had moderate injuries and were transported to a local hospital in ambulances from the Mexican Red Cross, according to The Los Angeles Times. It is not clear whether the driver was intoxicated when the crash occurred, or why he was traveling in a closed lane at high speed.
Although high speed car crashes seem unlikely at the often congested and heavily guarded border, they are not entirely unheard of. A witness to the Tuesday's incident told Telemundo that a "similar" crash happened the day before, remarking that "people are very stressed and these types of accidents happen" in the days before Christmas.
Last year, a 29-year-old Utah man struck 17 vehicles, 5 pedestrians and 12 vendor booths with his Chevrolet Silverado on the Mexican side of the border, according to KNSD. The driver of the truck had allegedly started a fight with pedestrians and was fleeing the scene of the fight when the incident occurred.
Video taken in the aftermath of the rampage shows angry pedestrians smashing out the windows of the truck, pulling its two occupants outside the vehicle and beating them before Mexican police arrive to take them into custody.
The San Ysidro border crossing is the busiest land port of entry in the Western Hemisphere, although traffic has been down during the COVID-19 pandemic. The border sees an estimated average of 70,000 vehicles and 20,000 pedestrians traveling into the United States from Mexico every day, according to the U.S. General Services Administration.