Driver Steals Car During LSD Trip, Thinks He's Playing 'Grand Theft Auto' as Police Give Chase
A man high on the hallucinogenic drug LSD stole a car and ended up taking police on a lengthy and winding chase, often on the wrong side of the road, believing himself to be playing the video game Grand Theft Auto.
Anthony Joseph Clark, 23, of Grants Pass, Oregon, faces multiple charges over the incident Saturday night and remains in jail over allegations.
Jackson County Sheriff's Office said its deputies and Oregon State Police troopers were responding to a large gathering around Emigrant Lake over reports of alcohol and drug abuse. One man—Clark—was reported as exhibiting strange behavior.
At the same time nearby, deputies who had made DUI arrests were waiting for vehicles to be towed away. Clark is alleged to have seized the opportunity, jumping into an impounded 2003 Toyota Camry and driving away, evading a trooper who tried to physically stop him.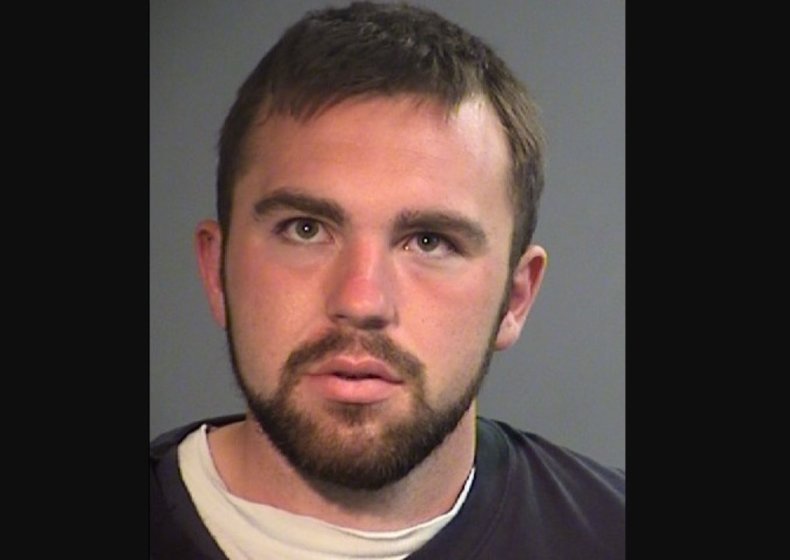 Police gave chase after Clark, who "drove off the roadway, evading law enforcement vehicles nearby, then drove toward Ashland on Highway 66. He turned onto Interstate 5 at exit 14, driving north on the shoulder of the southbound lanes," Jackson County Sheriff's Office said. "Clark turned around on the freeway near mile marker 16 and drove south, back toward exit 14."
The pursuit continued, even as Clark "crashed through multiple industrial gates," but the chase was later terminated when his vehicle entered a populated area, said police.
After driving again on the wrong side of the road, with police keeping their distance to avoid a high-speed chase, officers used spike strips to deflate Clark's rear tires.
"Clark drove north in the southbound lanes of Main Street (Highway 99) through the city of Phoenix," sheriffs said. "A Phoenix Police Department officer was able to successfully deploy spike strips near the intersection with Northridge Terrace, deflating the front tires."
Medford Police Department and Jackson County deputies blocked off roads ahead of Clark and eventually stopped his vehicle in the 3400 block of South Pacific Highway 99.
Clark attempted to ram a patrol car, police said, and then ran from his vehicle. Troopers chased and apprehended him as he allegedly tried to steal another vehicle from the Glenwood Mobile Home Park.
Jackson County deputies took Clark into custody where they said he admitted to taking LSD earlier in the day and that he thought he was in the video game Grand Theft Auto.
Charges against Clark include attempting to elude an officer in a vehicle and on foot, driving under the influence of intoxicants, unauthorized use of a motor vehicle, reckless driving and recklessly endangering another person. The case will be sent to the Jackson County District Attorney for prosecution.